Vodafone has teamed up with the UK's leading learning disability charity Mencap to create the innovative Connected Living project, which uses technology to enhance the quality of life for people with learning disabilities.

Co-designed by Vodafone Business Venture, Connected Living has so far been successfully piloted by 127 people with a learning disability who Mencap supports, as well as more than 120 support workers and service managers.
The pilot focuses on how to make everyday activities – such as household tasks, time planning and socialising – easier.
It has now been rolled out to supported living services in 30 locations across England.
Technologies, including a range of user-friendly, intuitive smart-enabled devices, were installed in Mencap supported living homes controlled by a bespoke app called Vodafone MyLife.
Unlike standalone devices, such as GPS trackers or fall detectors, the MyLife app offers a simple user interface that is integrated and accessible via a single tablet. It gives Mencap's clients control of their smart devices, while also enabling their support workers to have remote access.
In addition, the Vodafone MyLife app allows users to create visual guides for everyday tasks and a host of other features such as:
My Room – enables residents to manage smart plugs, smart locks and smart lights via the app.

How To – allows residents and support workers to create visual guides for everyday tasks.
My Day – is a personalised diary management tool that enables users to create daily reminders for everyday tasks.
My Talk – provides those with speech problems another way to communicate, via personalised images, text and a speech function.
Call Support – allows prompt remote support via a digital 'panic button' that allows two-way video calling between residents and support worker with one touch.
To Do List – enables tenants to create easy to manage to-do lists to encourage them to carry out and tick off tasks throughout the day.
My Front Door – enables residents to answer their front door and check who is calling from anywhere in the house.
Activity Sensors – which detect unexpected movement and alert support workers.
Smart Locks – which can be used to provide residents privacy and a sense of security in their own rooms.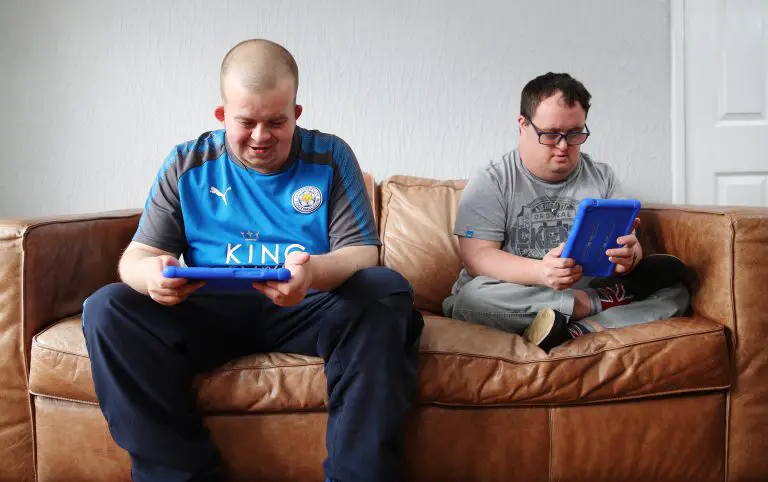 Adam, aged 32, who has Down's Syndrome and dyslexia, has been part of the Vodafone Connected Living pilot since July 2018. He currently lives in Loughborough with housemate Matt. Adam has lived in supportive living facilities for more than 15 years but has always been very independent.
Adam said: "The technology is really helpful, the 'how to' makes me feel clever. I can now cook using my tablet – for the first time I made dinner by myself. My Day says wake up at 9.15am and there's a photo to remind me to shower at 10.30am. I now shower on Tuesdays, Thursdays and Saturdays.
I use the Shopping List to help do my shopping to make sure I get everything. It is really easy. In my bedroom, I can also play with the lights and with the colours and the brightness. You can put it blue, red, purple. I like the blue one best because it is my football team Chelsea FC's colours. My housemate Matt, he likes to disco and he changes the colours so we can have a boogie!"
The Connected Living project pilot will continue into the rest of 2019 and early 2020. Vodafone Business Ventures and Mencap will then regroup and look at whether the solution will be offered more widely.
By Emma Purcell
More on Disability Horizons…