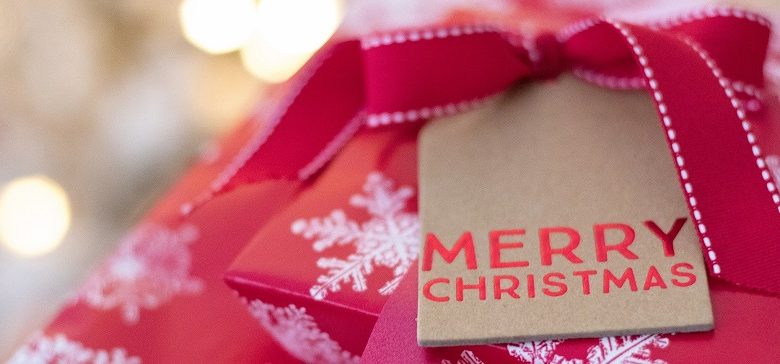 The Christmas season is upon us again and it's time to start looking for the perfect accessible gifts for friends and family who have a disability. Well, look no further! Here at Disability Horizons, our online shop is packed with fashionable, practical, accessible and unique products for disabled people.
To start the festive cheer, we wanted to share our top seven accessible gifts for disabled people this Christmas…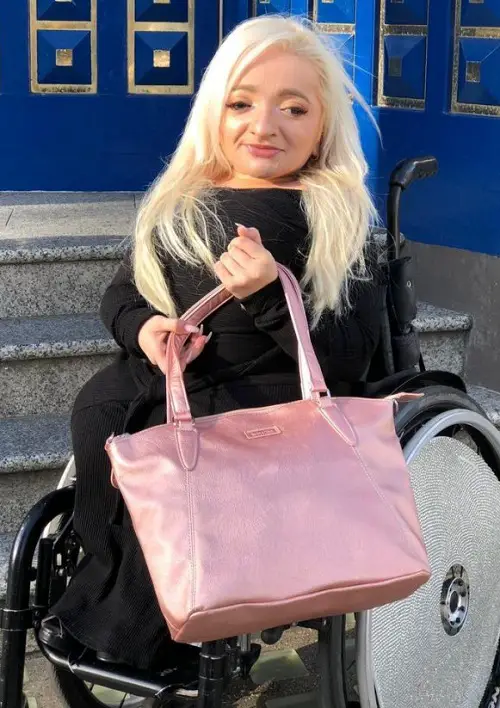 This gorgeous ladies handbag and matching clutch designed by actress, presenter and disability campaigner Samantha Renke is brimming with accessible features. Available in a palette of pretty, fashion-forward colours, its suitable for anyone with mobility problems, dexterity issues and/or sight loss.
The accessibility features include:
insulated bottle holder to help you stay hydrated
high-contrast interior lining to make finding items easier
hidden zip-pocket for private/sensitive items
mobile phone and pen pockets to stop you having to search for them
large, fabric zip-pulls that are easy to use if you have dexterity issues
elasticated key chain to stop you from losing important and regularly-used items
long shoulder strap with mobility clips to attach it to a wheelchair or wear across the body.
Stylish, yet practical, this is the perfect Christmas gift for anyone looking for an easy-to-use handbag that's as attractive as it is accessible.
Discover all the accessible features of the Sam Renke accessible handbag by visiting the Disability Horizons Shop.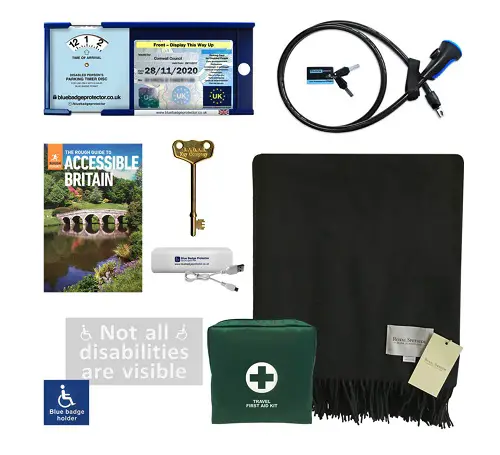 Designed to promote accessible, safe and stylish travel, this disabled driver's accessory set makes the perfect Christmas gift for a loved one or friend – or why not treat yourself?!
The set offers superb value with the contents valued individually more than £90. All of the items have been selected using only the best quality materials and suppliers from within the UK.
The disabled driver's accessory set includes:
portable power charger
travel first aid kit
double Blue Badge anti-theft device
accessible 'NKS/Radar' toilet key
two Blue Badge driver stickers
the Rough Guide to Accessible Britain book
royal Speyside 100% woollen blanket to keep warm in emergencies.
This disabled driver's accessory set would be a particularly good present for someone who has recently passed their driving test or for those who travel the country a lot.
Find out more about exactly what's included in the disabled driver's accessory kit.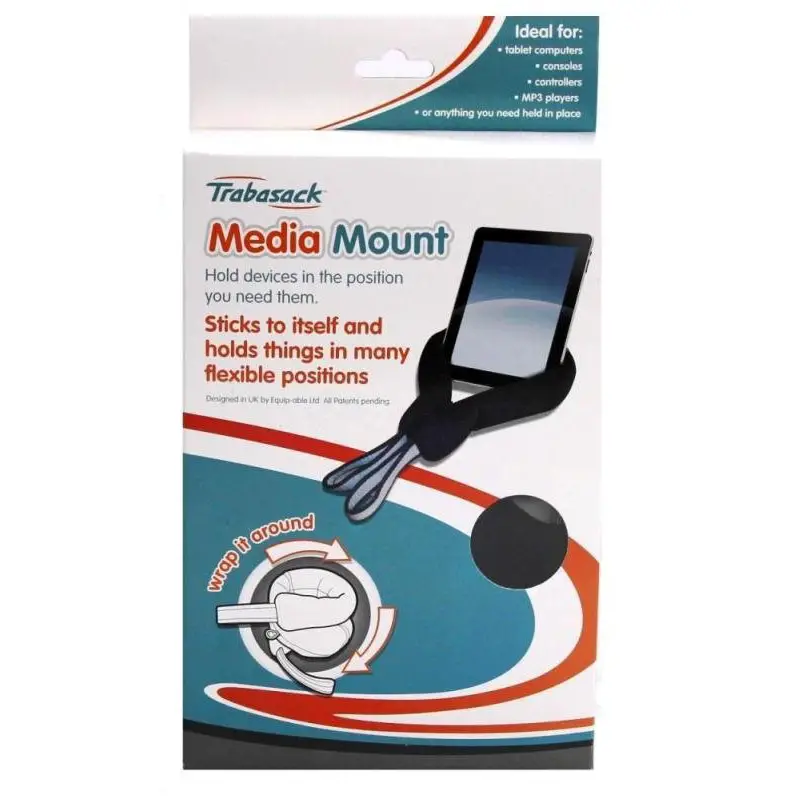 The Trabasack Media Mount is a superb gift for any technology users who may have mobility or dexterity issues.
This flexible and multi-purpose device stand, which is designed to be used with the Curve Connect and Mini Connect lap trays, is really useful for supporting electronic equipment.
It can hold smartphones, tablets, kindles, remote controls and communication switches – keeping them at the perfect angle and safe and secure whilst in use. Plus, it is ideal for holding other everyday items, such as books, toys, bottles and bowls.
The Media Mount can be used whether you're in a wheelchair, lying on a bed or sitting on a sofa.
Visit the Disability Horizons Shop to read more about the Trabasack Media Mount device stand.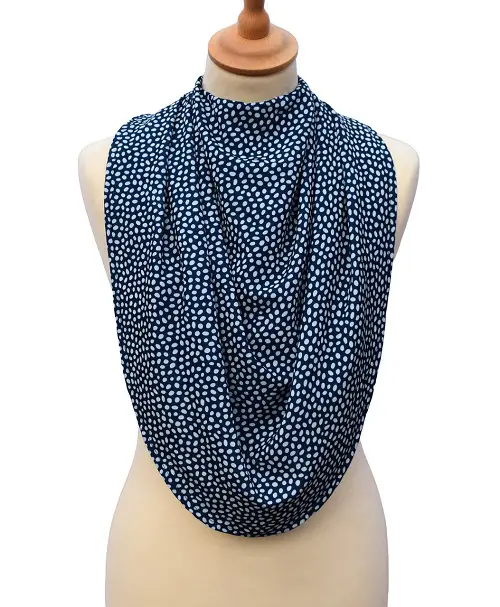 This beautiful Pashmina scarf-style clothing protector, which comes in a range of colours and patterns, offers an elegant solution for keeping clothes dry and clean. It is a chic and fashionable scarf combined with the practical protection of a waterproof clothing protector.
Made from a soft, luxurious, silk-like fabric, it is absorbent, wicking away moisture and helping to keep skin dry. It's also quick fastening at the back of the neck.
The cross-scarf clothing protectors are machine washable (40°C) and tumble drier proof. Their long-life and stay-smart material offers excellent long-term value.
See all the colour and pattern options, as well as sizes, for the Pashmina scarf-style clothing protector.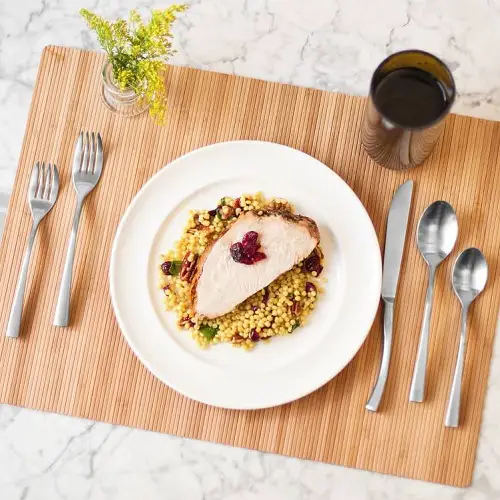 The innovative Knork is a fork that features a bevelled edge along one side, which allows you to use it as a knife. By applying a rocking motion and pressure to the side of the Knork, you can cut through all different types of food with ease without having to use a "sawing" motion.
The Knork is ideal for those who only have one hand available for eating, and totally removes the need for two pieces of cutlery when dining. Plus, because the bevelled edge is not sharp, it safe to use by anyone with limited dexterity and children.
This five-piece stainless steel cutlery set includes an original Knork, smaller salad Knork, knife, dessert spoon and teaspoon.
Find out all you need to know about the Knork knife and fork five-piece cutlery set on our shop website, as well as the other Knork sets available.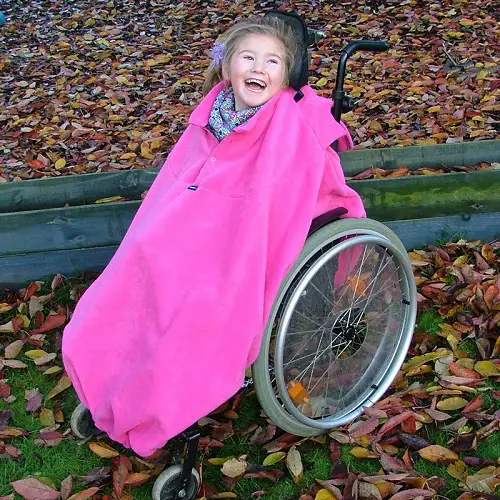 It is important to stay warm over these winter months, especially if you're a wheelchair user. That's why this fleece total wheelchair cover is perfect for protecting yourself, a friend or family member from the cold on outings.
The Seenin wheelchair cover is created from a plush, soft fleece that provides extra cosiness and warmth whilst out and about. It comes with four built-in velcro straps that can be attached to any bars on the wheelchair to ensure a secure fit from head-to-toe.
It is available in a choice of three different colours and sizes for both children and adults.
Take a look at the Seenin total fleece wheelchair cover to view all of the choices available.
Disability Horizons Shop
All of the products on the list can be bought using credit or debit cards, or through PayPal. Last posting dates for different companies featured on our site may differ, so please check to avoid disappointment.
If you would like to purchase any of these accessible gifts, or would simply like to browse the rest of our product selection, visit the Disability Horizons Shop.
For more gift ideas, check out our other Christmas gift guides on Disability Horizons.
By Disability Horizons
More on Disability Horizons…