Lifestyle
Strength through adversity for disabled businessman
Chris Goodwin, who was paralysed at the age of 18, has finally succeeded in his dream of owning an online business. Friends helped him through his challenges, so he hopes that his networking site, SchoolMates, will help others to connect with old friends and find new support. Find out more from Chris himself…
I always knew that I wanted to 'conquer' the world of the internet and fly high with my own online business. It's been a dream of mine since a child, and nothing was going to get in my way.
But, at just 18, after completing my studies in computer science, I suddenly faced a mighty blow that could have curtailed my drive and ambition. I was diagnosed with a spine-length tumour that required urgent, major surgery. It left me paralysed and using a wheelchair.
Despite what happened, I was determined to overcome hurdles and fulfil my dream. I don't like talking about my disability or my ambition, but if I can motivate one person, I feel it will have been worthwhile.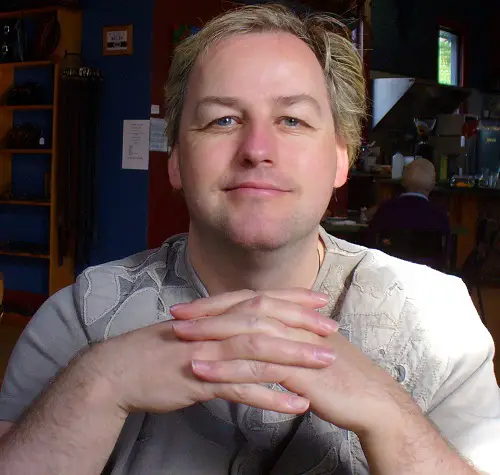 Creating my own business
One of the things that helped me to cope and move on with my new-found disability was connecting with old friends. It gave me the initial idea for a website that would help people to get back in touch with one another.
There is nothing more powerful, disabled or not, than a supportive friend.  But, as a disabled person, it can have added meaning, helping to beat loneliness and give you a much-needed lift.
Determination, focus and good friends pushed me to not only face the challenge of living with my disability, but to play also out my dream.
SchoolMates
Fast forward 32 years from my life-changing diagnosis, in September 2018, I launched a new networking site, SchoolMates, aimed at the 35 plus age group. 
A simple, niche platform, SchoolMates is free to join and already includes more than 32,200 educational establishments on board. This includes primary, secondary schools, academies, colleges and universities across England, Scotland, Northern Ireland and Wales.
It now has more than 20,000 users and continues to grow apace with more and more people signing up every day.
With SchoolMates, I believe we've created a truly exciting and simple way for old school and college friends to reconnect with each other. I want SchoolMates to become 'the place' for these friends to keep in touch.
SchoolMates differs from traditional social media in that it is more pared-back, with the focus on building more meaningful relationships and encouraging interaction.
It is dedicated to helping users get back in touch to reminisce, share conversations, in-jokes, stories, memories and photographs – all in one, easy-to-use website.
Users are encouraged to rekindle those relationships with school, college and university pals they've lost touch with and encourage positive interactions. 
The site is an extension of social media – but simpler. It caters for those who don't want to get swaddled and overwhelmed, but still want to feel part of the community.
It enables people to move away from those news-feeds that get clogged with trivial updates of food, dogs and holidays and get straight into re-connecting with friends, memories and laughs from the past.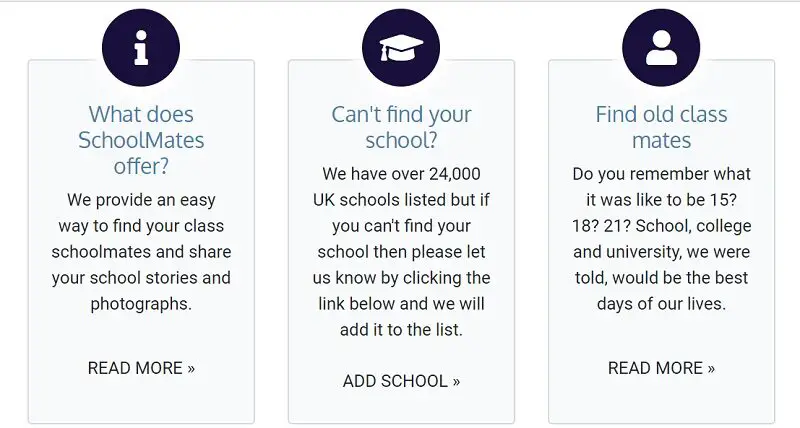 Very little information is required from new subscribers. People enter their name, email and password and then the school name, plus years attended. Users will then receive an email to alert them when other students from their year sign up.
SchoolMates is very different to Facebook where pages are primarily centred around individuals. Instead, the main focus is on memories, the school/college. In addition, everyone's contribution is important as it builds a picture of life there.
I don't want to compete with Facebook as I feel that SchoolMates is an extension to what Facebook offers. In fact, you can join SchoolMates using your Facebook profile or Twitter account.
Most importantly though, it also caters to those who don't want to be on those social media platforms but would still like to be part of the community.
The SchoolMates website can be used by anyone who attended school in the last 100 years. It is designed to be the number one place for school pals to keep in touch. The site will appeal to users in different ways depending on their stage of life.
To register visit the SchoolMates website.
By Chris Goodwin
More on Disability Horizons…