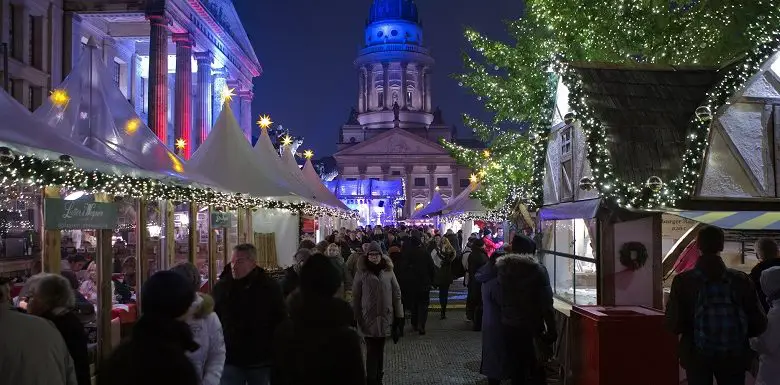 Wheelchair user Derry Felton, who has a spinal cord injury from C2/C3 level, has travelled all over Europe – France, Sweden, Holland, Spain, Belgium and Copenhagen. Here, he tells us about his trip to Berlin – an incredibly accessible and inclusive city, whether you're going for the Berlin Christmas markets or at any other time of the year.
Because of my injury, I cannot move anything below my neck. I also require the use of a ventilator for the majority of the day. So, as you can imagine, travel takes a lot of planning. But this has never stopped me.
Flying to Berlin
My three carers, my sister and I flew out very early from Luton airport to Schoenefeld airport in Berlin. It never gets any easier waking up at 2 am to catch a flight!
When we arrived in Germany, I was assisted out of the aircraft by the special assistance team, taken to the airport and then let loose. To my great relief, this was really easy.
Inaccessible taxis and accessible trains
Berlin city has no wheelchair-accessible taxis, which is incredible really for a country that is so rich and accessible elsewhere. So it became another challenge we had to overcome.
Two of my carers went off in a standard taxi to the hotel in Potsdamer Platz, and my third carer, sister and myself headed to the nearby train station.
After getting out tickets, a lady informed us that a train would be along shortly but that the majority of the public transport network was not running due to a strike. That meant we would need to get off a few stops earlier then we had anticipated and make our way to the hotel on foot.
The trains in Berlin are accessible as there are lifts down to the platforms and there is level access between the platform and the trains. If you can't drive your chair, you may have to get a guard to put a ramp down so that you can get on.
Once we arrived at the earlier stop, we took the platform elevator down to street level. Be aware that not every station is accessible, so it is best to plan your routes with this in mind.
Although we had to walk to the hotel, it was a very nice stroll and gave me an opportunity to see what Berlin's pavements and drop curbs are like. Most are similar to that in the UK, with the majority being very smooth and no bumps. We also had time to stop and have a Currywurst too (a Bratwurst sausage covered in curry)!
Berlin hotel
We booked to stay at the IBIS in Potsdamer Platz and were pleased to discover that is was as accessible as we hoped it would be. There was a low reception desk, an elevator for every floor, flat surfaces throughout and our room with nicely spacious.
After we unpacked our bags, we set out again to see what Berlin had to offer.
Berlin's attractions
Our first destination was the Brandenburg Gate. To get from the hotel to the gate you had to walk through Potsdamer Platz. This is a busy part of the city and is home to the Sony Centre (a large entertainment complex – see more on this below) and many bars and restaurants.
On the whole, Berlin is very inclusive, we didn't struggle to find accessible places to eat or drink, and it was the same with regards to attractions and shops. There were also accessible toilets dotted around, although I didn't use any of them.
We stopped and looked at two interesting sites in the area. The Memorial to the Murdered Jews is a collection of standing stones that you can walk among (there is also plenty of room for wheelchairs too) and pay your respects to the Jewish people who lost their lives in World War Two. Secondly, on the other side of the road were four remaining pieces of the Berlin Wall – more on this below.
Brandenburg Gate
The Brandenburg Gate itself was an amazing sight to behold. A number of tourists had gathered to look at this world-renowned gateway. It was built on the orders of Prussian king Frederick William II after the (temporary) successful restoration of order during the early Batavian Revolution.
Reichstag
After we had taken a few photos we moved on to the Reichstag. This is where the German government conducts business with leaders from across the world. We didn't go inside as it wasn't open that day, but we did visit the Reichstag Dome, which can be found behind the building. It has free entry and wheelchair users get to skip the queues.
The dome is very modern in appearance and allows visitors to take an audio-guided tour through Germany's rich history. There is also a circular ramp that you can ascend down to a large platform where there is a fantastic view of Berlin.
Afterwards, we looked around the local area before stopping to have something to eat in a nice cafe. Feeling full and tired after a long day we went to bed to prepare ourselves for tomorrow and another full-on day of exploring.
Berlin Olympic Stadium
I woke up early the next morning and prepared for my first full day in Berlin. We were going for a tour of the Olympic Stadium, which is outside the city centre.
Although I had planned this part of the trip prior to the holiday, it didn't stop us from getting lost a few times! After debating whether we needed to use the U-Bahn (underground) or S-Bahn (overground trains), we set off.
Once we arrived we walked, we joined a group of tourists and were taken around the stadium by an extremely knowledgeable tour guide.
We also had a special assistant on hand, which they organised once they knew a wheelchair user was coming. A really thoughtful touch. They made sure that I kept up with the party by taking me up in the elevators while the group took a non-wheelchair friendly route.
During the tour, we looked out over the pitch, visited the changing rooms, viewed the warm-up and cool-down areas and explored the press conference centre. We were given lots of information about the history of football and the stadium – it was extremely enjoyable.
After the tour, we walked around the complex and looked at the training pitches, monuments, swimming pool and a large amphitheatre-style area, where Adolf Hitler used to make speeches. It is now used for celebrations, such as New Year's Eve fireworks.
Berlin city centre
When we had finished we took the train back to Berlin city centre and walked around Tiergarten Park. It was a nice, sunny day so we took a leisurely stroll and looked at the different statues of important army generals dotted throughout the park. Probably the most spectacular of all was the Victory Column, which commemorates Prussian victory over the Danes in 1866.
From Tiergarten, we walked to Checkpoint Charlie. It is very small but it is an extremely important part of German history. Germany was once split in two – East and West and this is the most famous crossing point between the then two countries. You can have your photo taken with a solider here, although I think he may well have been an actor. It seemed to excite the tourists though!
We finished the day off with a quiet beer in a nearby bar and then headed to bed.
Shopping in Berlin
On the last day, we had a flight back at 6 pm, so we got up early in order to fit as much in as possible.
We first went to a nearby shopping centre for some brunch. I had a Frankfurter in the hottest sauce available, which turned out to be extremely painful! I love hot food, but that was something else. Note to self – try something less strong next time!
We then spent a little time admiring the Sony Centre shopping complex and the shops inside, which was all fully accessible. Next to it was Europe's fastest elevator, which enabled us to head to the top for a fantastic panoramic view of the city's skyline. The area also included bitesize interesting facts about the history of Berlin.
East Side Gallery and Berlin wall
I had decided to leave the best till last – the East Side Gallery. It is a part of the remaining parts of the Berlin Wall that we visited on the first day. To commemorate this monumental piece of history, a range of famous artists have drawn pictures on it, creating a unique outside gallery.
We walked slowly looking at each piece of art and it did not disappoint – it is probably one of the coolest things I have ever visited.
Getting lost on the way home
When we got back to the train station we got onto the wrong side of the track, so missed our train. We only had three hours before we had to board our flight home, so we were running out of time. I started to get very nervous. For the next two hours, we tried frantically to get to the airport.
After taking many wrong trains, we eventually got to the airport. We ran as fast we could to the terminal, where the flight had already boarded! Luckily for us, the EasyJet team kindly delayed the flight, so, to my great relief, we were able to board.
Once we managed to get our breath back and relax on the plane, we could then think about what a unique and beautiful city we had visited.
If you'd like to visit the city in winter to explore its famous Christmas markets, head to the Visit Berlin website and its dedicated page on Berlin Christmas markets.
By Derry Felton
More on Disability Horizons…