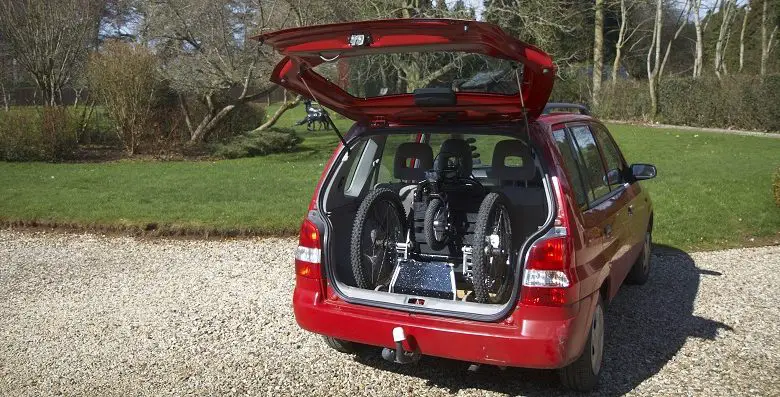 If you have an all-terrain wheelchair or trike, getting out and about is likely to be a key aim. But how do you transport it to where you want to explore? Mountain Trike, which sells all-terrain wheelchairs and trikes, explains the different options for taking your wheelchair out with you.
An all-terrain wheelchair is an exciting purchase. It gives you the freedom and independence you've craved and means you can access parks, travel through nature trails, woodlands, beaches or even urban settings. But how exactly do you get your wheelchair to where you want to be?
Wheelchair weight is important
If you haven't yet bought your wheelchair or trike, make sure you consider the weight. It's an important factor and the lighter it is the easier it will be to take out with you.
Our Mountain Trikes have been made with transportation in mind. It weighs just 20kg or 26kg and can be folded down to a cube size of 28 by 28inches (84 cms). This means it fits into the boot of a normal-sized hatchback.
Getting a light wheelchair into a car is easy for some people. If you have some strength, the right car and can lift and walk a little, you may be able to put the chair in the back of the car without any equipment.
Equipment to move or lift your wheelchair
If you are unable to lift a wheelchair into your car, one of the following may help:
a ramp to help push the wheelchair into the boot
a hoist that can lift the wheelchair into the boot
Alternatively, you could consider a trailer so that it can be towed behind. This can also be a good option if you need space in the boot for other equipment. If you have someone to assist, you could also consider a rack for the roof.
A good starting point is contacting a mobility centre. Some of these will have hoists and other equipment you can try before you buy. Some also carry out assessments to see what kind of equipment would suit you best.
We've searched high and low for practical transport options for our Mountain Trike products. We've also had some of our customers recommend solutions.
The Bak-Rak
The Bak-Rak is a rugged bike rack that sits on the outside back of the car mounted to the two bar.
Once in its folded position, the eTrike sits perfectly on the rack, freeing up space in the rest of the car for other essential items.
For more information visit the Bak-Rak website.
Telescopic wheelchair ramps
Telescopic wheelchair ramps are perfect for transportation purposes. The easy-to-use, two-section design has a simple locking feature that can be effortlessly extended or retracted, making the ramps full-length for use or folded away for storage.
They have a non-slip surface and an edge at each side for added safety. They're also available in a variety of sizes and are supplied as a pair.
We found them on the Care Go website, but do shop around to find the best deal or chat with your local mobility centre.
Wheelchair hoists
Mobility hoists are straightforward to use. One end of the mechanical arm will be permanently fixed in the boot of your car.
At the press of a button, this will then extend out to cradle and lift your wheelchair. All you need to do is make sure the harness is securely fitted to your wheelchair so that it can be lifted.
Once it is, the arm will fold back into the boot, using electronically powered motors, guiding the wheelchair as it goes. No manual lifting involved!
Large wheelchair hoists
The size and weight of your vehicle and wheelchair or scooter will be the deciding factor as to the best type of hoist will best suit you. Your local mobility centre will be able to help and recommend the right one for you.
One of our Mountain Trike customers had their wheelchair hoist supplied and fitted by Brook Miller, which is based in West Yorkshire, when they ordered her new Motability car.
The company was recommended by Auto-Chair following a conversation at a mobility show, where they were told that a lightweight hoist wouldn't be possible for their car.
Her car is a Skoda Fabia Estate automatic and the Mountain Trike fits into the boot without having to lower the back seats.
Mini hoist
For a smaller alternative, the 40kg mini-hoist from Auto-Chair is designed to lift manual wheelchairs and can be fitted to estates, MPVs and 4x4s.
The hoist is powered directly from your vehicles battery and the hand controls are very easy to use.
It's available in two and four-way powered options. The two-way powered hoist raises and lowers the wheelchair then requires the user to manually manoeuvre the equipment in and out of the boot.
The four-way mini hoist option will electrically take your wheelchair in and out as well as up and down.
This is a great lightweight wheelchair hoist adaptable for most cars. Visit the Auto-Chair website for more information available about the mini hoist.
Mountain Trike is also an accredited partner of Auto-Chair. if you would like to find out more about wheelchair hoist options, please use the unique Mountain Trike phone number, 0800 009 2895, and Auto-Chair will be happy to provide advice.
Auto-Chair makes excellent hoists that mount really neatly into the car boot and work very well for all our Mountain Trike products.
There are a host of transport options for wheelchairs, but these are just a few recommendations that we have found or think would work well for the Mountain Trike products.
If you find a great way of transporting your wheelchair or trike, please let us know using the contact form on our Mountain Trike website. We're always looking for additional ideas to share with our customers to help them explore and further their Mountain Trike adventures.
By Mountain Trike
More on Disability Horizons…