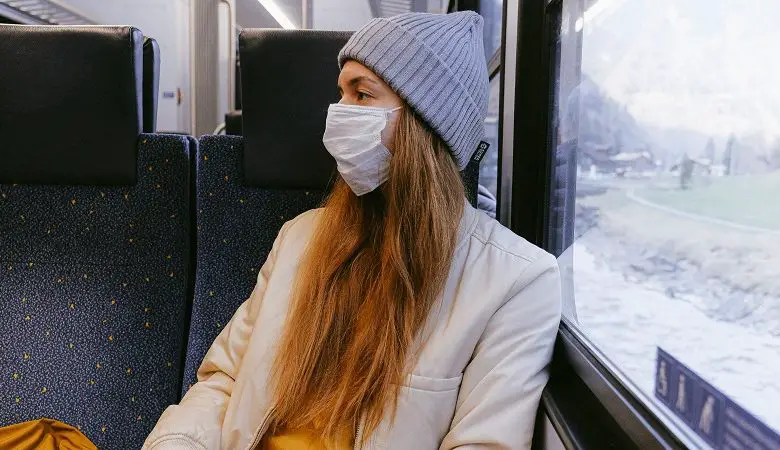 New face mask rules across much of the UK mean that everyone must wear a face covering when inside most public places. This includes on public transport, in shops and shopping centres, at many tourist attractions and entertainment venues, salons, and most recently, hospitality settings, such as restaurants and pubs.
But what if that is difficult for you to do because of a disability or health condition? We explain the new rules around face masks, who is exempt from wearing one and how our face mask exemption card helps to ensure you don't get fined.
LAST UPDATE: 24th September 2020
Since June, the UK has seen a number of changes to the rules around when and where face masks must be worn. As of 24th September, the list has expanded again and will now be similar in England, Scotland, Northern Ireland and Wales – although there are subtle differences.
The latest changes include pubs, restaurants and cafes, as well as taxis and private hire cars, but you'll be required to wear a face covering in most indoor public places, whether you're staff or a customer.
If you don't wear one when it's mandatory, you'll be fined £200, which has increased from £100. The fines will also double for each repeat offence – up to a maximum of £6,400.
However, in certain circumstances, disabled people and those with health conditions are exempt from wearing a face mask.
Read on for more information, and head to the Disability Horizons Shop to buy our face mask exemption card to help stop you being refused travel or entry.
You can also buy our social distancing lanyard and card or colourful sash to help you stay safe.
Face masks: the different types
There are a few different types of face masks or coverings:
Surgical/medical masks – these disposables masks are usually made from three layers of material. They help to stop large droplets infected with Covid-19 from spreading, for example, if they are coughed or sneezed out by the wearer. They also help to stop droplets from others getting to the wearer's mouth and nose.
Filter face masks – these offer additional protection by filtering out smaller droplets for both the wearer and others (depending on the type of filter).
Face shield and visor – plastic shields and visors either cover the entire face or top of it, stopping large droplets reaching the wearer. They can be worn with other types of masks for added protection.
General or fabric face coverings – made from a range of different fabrics, these also stop the spread of large droplets, protecting others from Covid-19 if the wearer has it – more on this below. These are the type the public is being told to wear.
Read our full guide to personal protective equipment explained (PPE) to find out more about the different types of face masks.
Head to the Disability Horizons Shop to buy PPE, including face masks, plastic gloves, aprons and face shields.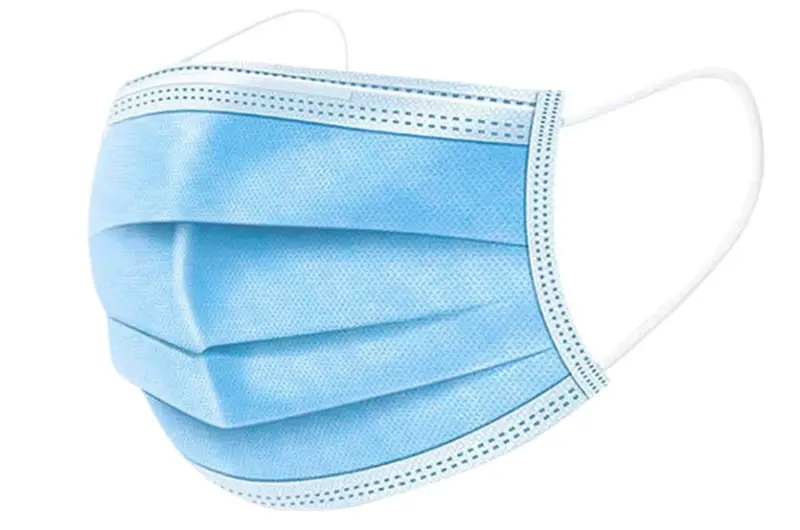 Face coverings
Face masks or coverings, also called general, cloth or fabric coverings, can be bought or made at home.
The most effective types have three layers of fabric – an absorbent layer on the inside, a middle layer that filters and a top layer that is water-proof.
They come in a range of patterns and colours, and can be made at home from old clothing. You can also simply use a scarf or balaclava, as long as it fits snuggly around your nose and mouth.
Although they limit the spread of droplets coughed or sneezed out by the person wearing one, there is little evidence to suggest that they protect the wearer.
The UK Government recommends that the general public wears these types of masks on public transport so that others are reserved for health workers.
You can find out more about these types of coverings and what the Government recommends in our article on PPE explained.
You can buy disposable face masks on the Disability Horizons Shop now. 
Face masks rules
Over the last few months, the rules on when you must wear a face mask have changed repeatedly. They have also been at odds depending on where in the UK you live – England, Scotland, Northern Ireland or Wales.
On 22nd September, the Government announced new additions to the rules and, for the most part, they are now the same wherever you are.
Broadly speaking, throughout the UK, face masks have to be worn by customers and staff in public indoor places, particularly where social distancing may be difficult and where you will come into contact with people you don't normally meet.
More specifically, face masks must be worn in the following places, with examples for each area:
public transport – aeroplanes, trains, trams and buses
transport hubs – airports, rail and tram stations and terminals, maritime ports and terminals, bus and coach stations and terminals
taxis and private hire vehicles – both customers and drivers
shops and supermarkets – places that offer goods or services for retail sale or hire
shopping centres – malls and indoor markets
bars, pubs, restaurants, cafes – except when seated at a table to eat or drink
places providing legal or financial services – post offices, banks, building societies, high-street solicitors and accountants, credit unions, short-term loan providers, savings clubs and money service businesses.
places offering personal care and beauty treatments – hair salons, barbers, nail salons, massage centres, tattoo and piercing parlours
visitor attractions and entertainment venues – museums, galleries, cinemas, theatres, concert halls, cultural and heritage sites, aquariums, indoor zoos and visitor farms, bingo halls, amusement arcades, adventure activity centres, indoor sports stadiums, funfairs, theme parks, casinos, skating rinks, bowling alleys, indoor play areas, including soft-play areas
funeral service providers – funeral homes, crematoria and burial ground chapels
community centres, youth centres and social clubs
exhibition halls and conference centres
libraries and public reading rooms
public areas in hotels and hostels
storage and distribution facilities
veterinary services
places of worship
The most recent changes are around hospitality, taxis/private car hire, entertainment venues and exhibition halls/conference centres.
UPDATE 5th November 2020: It is now compulsory for teachers and pupils in year 7 and above to wear masks in communal areas in schools across England.
The list above is from the Government website and for England, but they largely apply elsewhere too.
However, do keep in mind that there are differences in examples used by different Governments. For instance, Scotland and Wales reference gyms and indoor leisure centres, while England doesn't. In addition, some of the places listed above aren't explicitly mentioned elsewhere.
There are also a few specific points listed on each website that are worth mentioning.
In England, you need to wear a face covering in NHS settings, including hospitals and primary or community care settings, such as GP surgeries. This isn't explicitly explained on the other Government websites, but may apply.
Northern Ireland states that a face mask isn't mandatory in a business where you can maintain social distancing, for example, because there are appointments and time slots. This is also the case for banks or businesses operating as a bank. Shop or shopping centre staff also don't have to wear one.
On the Scottish website, it explains that people working in indoor premises who are physically separated by a screen or can maintain two metres distance from the public don't have to wear a face mask.
On the Welsh Government website, it says that face coverings are not required, "where you are inside a place to eat or drink." However, you need to wear one mask in other parts of the premises, where people aren't eating or drinking.
It is recommended across the UK that you wear a face mask when visiting care homes.
Please do, therefore, check the Government website for where you live:
If you're unsure whether a rule applies or not, we'd recommend wearing a face covering anyway if you are able to.
If you're caught without a face mask, you'll be denied access to the premises and fined £200 – up from £100. This can be reduced to £100 if it is paid within 14 days.
If you are a repeat offender, the fines will double each time – for example, £400 on the second occurrence and £800 on the third – and there won't be a discount. Fines can be issued up to a maximum of £6,400.
As an employee in other work contexts, it's up to individual businesses to assess whether PPE is necessary for any particular context, not listed above, so check the rules for your particular work setting with your employer.
This information is correct as of 24th September 2020.
If you're concerned about wearing a face mask and don't think you're exempt, try these face mask bracket inserts (pictured below) to help make breathing in a mask easier.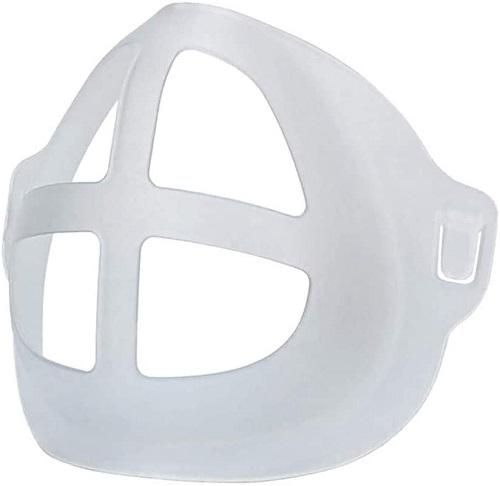 Face mask exemption
In England and Wales, these rules don't apply to children under the age of 11 – under 5 in Scotland and 13 in Northern Ireland – and across the UK some disabled people or those with health conditions where there is a legitimate or reasonable reason not to, as listed under Government guidelines. This includes:
if you cannot put on, wear or remove a face covering because of a physical or mental illness or impairment, or disability
if putting on, wearing or removing a face covering will cause you severe distress
if you are speaking to or providing assistance to someone who relies on lip-reading, clear sound or facial expressions to communicate.
To put this into context, exemptions can apply if you have a disability or condition that would make it very difficult to wear a face covering.
For example, if you have respiratory condition, such as chronic obstructive pulmonary disease, you may find it too difficult to breathe through a face covering.
If you have a learning difficulty, sensory processing disorder or neurodivergent condition, wearing a mask could be too overwhelming.
If you have communication difficulties, speech impairment or find it hard to express yourself with a mask on, especially if you are non-verbal, a mask would be difficult.
This is list is not exhaustive and there will be many other disabilities, including invisible ones, that would make wearing a mask very difficult.
Other exemptions apply to some employees in indoor settings, such as transport workers, police and emergency workers, and some specific situations, such as if you're exercising and wearing one would impact your ability to participate.
You can also remove your mask for a short time in certain circumstances, such as:
if you are asked to do so for identification, for example in a bank or pharmacy
to receive treatment or services, such as when getting a haircut or medical treatment
because you need to eat, say because you're diabetic
to take medication.
Visit the Government website for the full list of reasons. These exemptions are similar in Scotland, Northern Ireland and Wales, although please do check for details where you live.
Face mask exemption card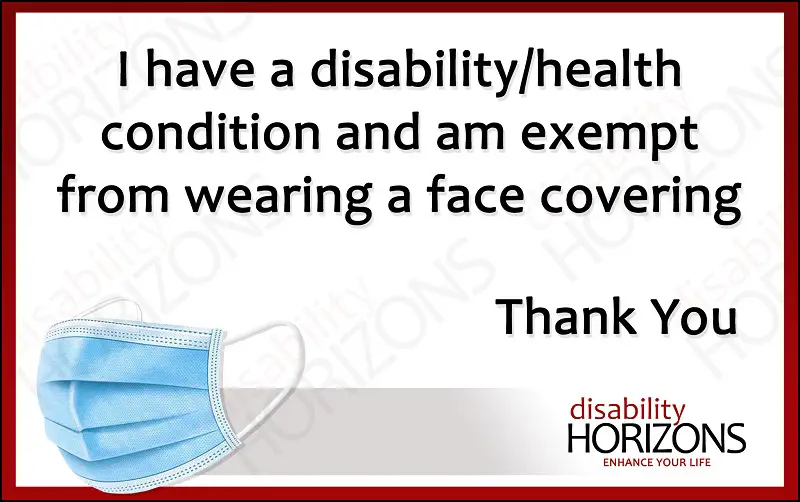 If you have a disability or condition that falls into one of the categories listed above, you can self-certify as being exempt.
To help ensure that you don't get fined when you're genuinely exempt for medical reasons, we've created an exemption card.
Our mask exemption card comes on a lanyard or badge clip. It is a durable, portable pass that you can wear around your neck or pinned to your coat or top while travelling or shopping.
It provides staff and others around you with immediate and simple-to-understand information regarding your mask exemption.
The bright red lanyard has 'MASK EXEMPT' written in white capital letters so it is easy to see. The credit card-sized ID badge further explains your mask exemption as being due to a "disability/health condition". Both can be seen and read at a safe distance.
There is also the option to purchase the ID card with a badge clip instead of a lanyard, which can be worn on shirts, tops or coats.
The pocked-sized design of the ID, badge clip and lanyard means it can be stored in your coat or bag making it easy to access and put around your neck or pin to you.
The badge costs just £2.95, the lanyard £3.95 and for it is £4.95 for both.
Head to the Disability Horizons Shop now to buy your face mask exemption card on a lanyard or as a badge to make sure you're covered when you travel and shop.
Please note, these cards are ONLY designed for people with a genuine reason for not wearing a mask. If you do not have a legitimate reason listed under Government guidelines, you're open to being fined.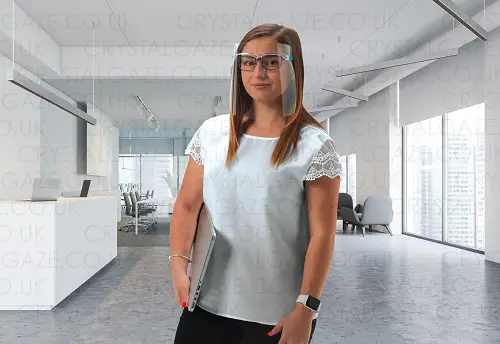 If you cannot wear a face covering, you might want to also consider our 'Crystal Gaze' face shield – pictured above. It is extremely lightweight (28g), has superb visibility and gives you some protection from the sneezes and coughing of others.
By Disability Horizons
More on Disability Horizons…