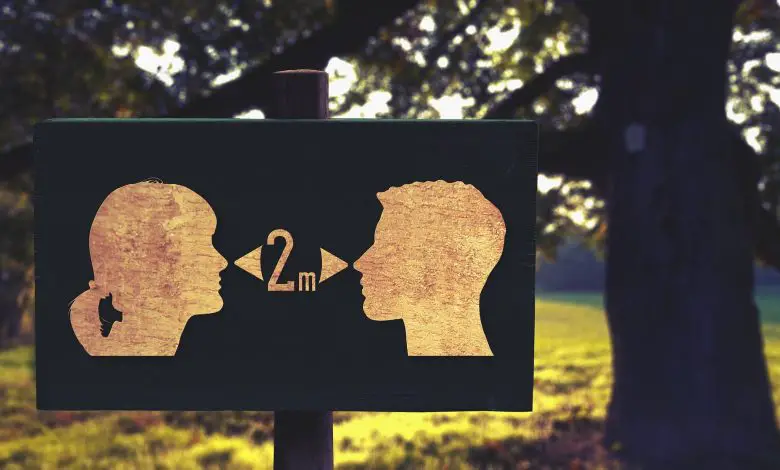 Here at Disability Horizons, we know all too well the problems disabled people and those with health conditions have faced throughout the Covid-19 pandemic. Just one issue is the fear of others not keeping their distance when you're out and about – a real concern if you're at particular risk if you catch the virus. That's why we've created 2M distance lanyards and social distancing sashes to help you stay safe.
Social distancing sign
The eye-catching design of our social distancing lanyard and card is an immediate, visual aid to help others understand the importance of keeping socially distant for you, whilst still keeping your personal space.
Large, bold lettering on the lanyard, in highly-visible red, states: 'KEEP 2M DISTANCE'. The card reads:  'PLEASE KEEP 2M DISTANCE. I have a health condition and am at higher risk if I catch Covid-19. Thank you.'
It could be particularly useful if you are unable to easily or quickly move away from someone who has come too close, for example, because you use a wheelchair or have limited mobility.
If you have a hidden disability or condition that makes you at greater risk if you catch Covid-19, it's also a good way to signal to others that social distancing is important for you.
If you are visually impaired and less able to keep distant from others yourself, it will help alert people to stay away from you.
It would be useful children with health conditions or disabilities and adults who might find it difficult to understand the new rules and importance of social distancing.
Made from recycled materials, the waterproof ID card and cardholder, along with 20mm wide lanyard, are robust, allowing you to use them anywhere, in all weathers, for months to come. This makes it a great addition or alternative to the printable signs available online.
There is also the option to purchase the ID card with a badge clip as well as the lanyard, which can be worn on shirts, tops or coats.
---
BUY our 2M distance lanyards NOW on the Disability Horizons Shop.
---
Social distancing sash
You might want to also consider our social distancing sashes as an even more visible way to remind others to keep at a distance.
Like to our lanyards, large, bold lettering states, 'KEEP 2M DISTANCE'. Our sashes are also available in two colours – red with white text, or yellow with black text.
Disabled people find social distancing difficult
Research by Scope found that 87% of disabled people are concerned that people will not respect social distancing.
James Taylor, Executive Director of Strategy, Impact and Social Change at Scope said: "We know many disabled people have been shielding for the last few months and they are extremely anxious about going outside again."
Similar research by sight loss charity the Royal National Institute of Blind People (RNIB) found that 70% of disabled people agree that it's difficult to social distance.
It also discovered that nearly two-thirds of people with disabilities feel their confidence in social distancing would likely increase if they wore a visual indicator, and 80% of people thought an indicator was a good idea.
Eleanor Southwood, Chair of Trustees at RNIB, said: "Social distancing has been difficult for many, and it's turned the world upside down for blind and partially sighted people.
Two-thirds of people with vision impairment we surveyed told us they felt less independent since lockdown started, largely due to challenges and anxieties around social distancing."
'Please Give Me Space' initiative
The Government has also launched a new initiative called 'Please Give Me Space' to help disabled you maintain a safe distance from others.
It has designed a collection of signs you can download and print for free with the words 'Please give me space. Be kind. Thank you for understanding.'
There are three options to choose from (see below), with white or black backgrounds and black or yellow text, and a symbol of a stick person with two arrows pointing away from it.
'Please give me space' social distancing badge to download and display on your mobile phone.
'Please give me space' social distancing badge to print out
'Please give me space' social distancing card to print.
As well as being useful for disabled people, these social distancing indicators are designed for anyone who feels anxious about social distancing.
Making social distance measures inclusive
A number of organisations and charities have supported the creation of social distancing signs and cards.
Justin Tomlinson, Minister for Disabled People, said: "As we begin to emerge from some of the restrictions of lockdown, it remains vital that people continue to practice social distancing where possible.
For those with sight loss or other reasons why social distancing is difficult or particularly important, this can present particular obstacles and prevent them from maintaining much-valued independence.
I hope that optional markers will provide greater confidence and reassurance to blind and partially sighted people, for those who want to use them, removing additional stress from their daily lives."
Jane Harris, Director of External Affairs at the National Autistic Society, said: "The 'Please Give Me Space' initiative will be a huge help for not only blind people, but others such as autistic people.
Some autistic people may not understand the rules around social distancing and others may be highly anxious about them. We hope these cards will also help shop owners, police and the public to recognise and understand the difficulties some people face with social distancing.
They could help many more autistic people and their families to be able to go out to the shops, parks and places they love without worries about people coming too close or confronting them unfairly."
Head to the Disability Horizons Shop to buy our 2M distance lanyard and card and social distance sash, and visit the Gov.uk website to download or print out its signs.
By Emma Purcell
More on Disability Horizons…