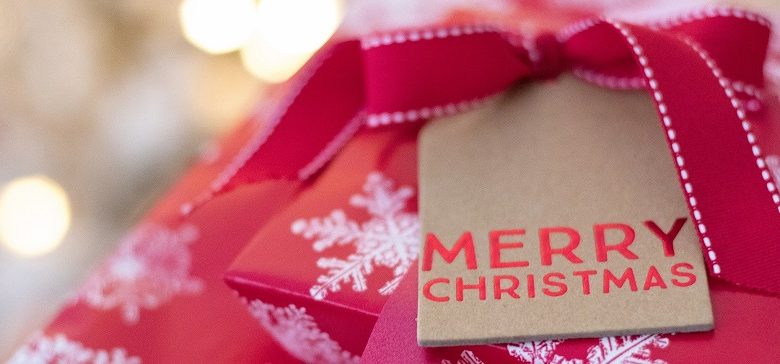 It's beginning to look a lot like Christmas everywhere you scroll, which is a sign that it's time to find some accessible Christmas gifts for your friend or loved one with a disability.  
Well, look no further! The Disability Horizons Shop is packed with gorgeous yet practical Christmas gifts for disabled people of all ages and abilities.
Below we share our eight accessible Christmas gifts for disabled people this Christmas…
***
Buttons 2 Button magnetic buttons can be fitted to almost any loose-fitting shirt or blouse with ease, and totally removes the fuss and stress of difficult-to-close buttons.
The Buttons 2 Button adaptive button kit is suitable for buttons larger than 9.5mm in diameter and smaller than 13mm in diameter, so can be used on almost any garment and reused again and again.
These no-sew magnetic button adaptors allow independence and dignified dressing if someone has dexterity issues and physical disabilities.
A perfect stocking filler for a friend or loved one who wants to continue to look smart for work or leisure.
Visit the Disability Horizons Shop to read more about the Buttons 2 Button – adaptive no-sew magnetic buttons
Biscuit Baking is a story that follows two young children – one who has a disability – as they bake biscuits with dad and get up to a little mischief on the way.
Filled with chocolate, baking and eating yummy treats, this book is engaging and entertaining while breaking down the fear of 'different'.
It will help all who read it – parents and children alike – to look past a disability or wheelchair to see the child.
Perfect for ages 2 to 5, this simple story is told with humour, bright stickman pictures and few words.
Biscuit Baking book for disabled children is available to purchase on the Disability Horizons Shop.
This cross-scarf clothing protector offers a stylish and dignified solution for adult men and women to keep clothes dry and clean.
The chic, contemporary style of a scarf combined with the waterproof protection of a bib means that it can be worn by anyone and anywhere with dignity.
Made from a soft fabric in a collection of subtle colours, it can be quickly fastened with a hook and loop on the front making taking it on and off easily.
A nice, fashionable gift that is stylish and practical for everyday use, when eating meals and out and about.
Check out the colour options for the cross-scarf clothing protector on the Disability Horizons Shop.
Knork's steak knives are the perfect kitchen aid for people with dexterity issues. They provide optimal balance and ease of use when cutting through tougher foods, such as steaks.
The black, heavy-duty handles are easy to grip and equipped with a unique finger platform to provide extra assistance with cutting leverage. Its finely sharpened, serrated edge offers extra power.
If you know someone with hand weakness or dexterity issues who loves to cook, or who might be in charge of cooking Christmas dinner this year, these Knork steak knives are the answer.
Find out all you need to know about the Knork steak knives on our shop website, as well as the other Knork sets available.
The Trabasack Max is a wheelchair bag and lap tray that makes eating and working easy in any location. It's also perfect for carrying larger equipment, such as 15.6″ laptops.
Part of a collection of unique and stylish lap and tray bags, the Max is the largest. It has a roomy internal capacity, is lined with deep burgundy satin and finished in a pure black trim, making the Max the most luxurious and stylish Trabasack to date.
It is an ideal gift for disabled people working from home or on the move, allowing them to store large equipment and valuable items as well as eat or use the equipment easily on their lap, without the risk of items falling off.
Read more about the Max wheelchair bag and lap tray on our shop website, and take a look at all of the Trabasack lap desk bags.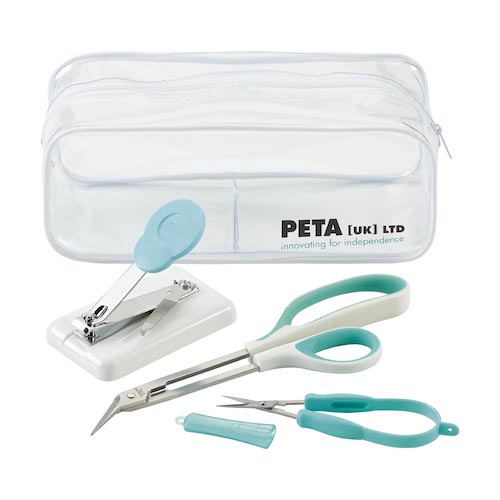 This fantastic easy-grip clipper and scissor set is designed for people with joint conditions and dexterity issues, such as arthritis.
Each Peta Easi-Grip nail care set includes:
Peta mini Easi-Grip scissors – lightweight, compact, self-opening scissors.
Peta tabletop Easi-Grip nail clippers – non-slip, mounted nail clippers for use on tabletops and work surfaces.
Peta long-reach Easi-Grip toenail cutters – comfortable, safe alternative to traditional nail clippers and scissors. It can be extended, long-reach shank eliminates the need to bend or stretch uncomfortably when trimming toenails.
This set is the perfect accessible Christmas gift for keeping at home or in a handbag to help your loved one feel pampered.
You can buy the Peta Easi-Grip nail care set on the Disability Horizons Shop.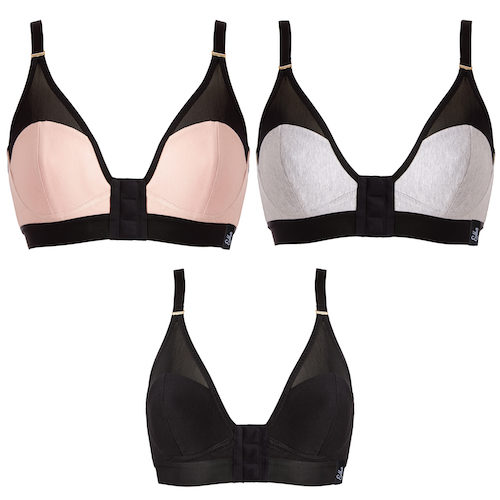 The stylish Elba Essential Bra, which comes in three different colours – grey, soft pink and black – is an innovative front-fastening bra designed to offer ease of dressing, support and comfort.
It's made from soft cotton and sheer performance mesh and has flexible side boning, making it super comfortable. For a touch of sophistication, the adjustable straps have gold edges on the hardware.
If you know someone who has difficulty dressing because of mobility and dexterity issues, then this front-fastening bra is particularly useful and will make them feel sumptuous too.
View all of the colour and size options for the Elba easy front fastening bra on the Disability Horizons Shop.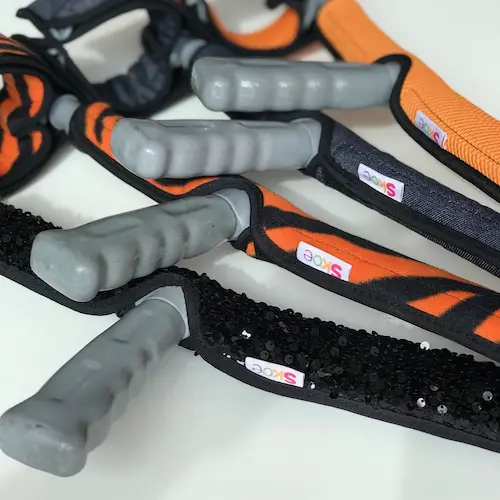 Skoe Wraps are a range of stylish, contemporary covers designed to add personality and panache to a traditional crutch.
Available in three exciting prints and fabrics, each Skoe Wrap has been created to add flair to a crutch no matter where they go.
They attach securely around the handle and pole of a crutch using hook and loop fastenings, making them secure too.
A beautiful and stylish present to jazz up your friend or family member's crutch this Christmas.
Take a look at the Skoe stylish crutch cover to view all the choices available.
This deluxe sock aid provides freedom and dignity to anyone who finds changing socks and stockings difficult by making it easy to do with speed.
Its extra-long 32-inch straps mean there is no need for bending, twisting or stretching in a way that may cause stress and strain on delicate joints and muscles.
It features large loop-handles that are comfortable to grip, even for those with limited mobility in their hands.
Lined with nylon to allow the foot to gently and smoothly slip into a sock, it is held-firm and steady by the terry cloth outer covering.
This is a useful and practical gift to help eliminate difficulty when dressing for anyone with limited dexterity, arthritis, knee pain and inflamed joints.
Go to the Disability Horizons Shop to purchase the Buckingham deluxe sock aid, as well as view the range of other Buckingham Healthcare products.
For more gift ideas, check out our other Christmas gift guides on Disability Horizons.
Disability Horizons Shop
All of the products on the list can be bought using credit or debit cards or through PayPal. Last posting dates for different companies featured on our site may differ, so please check to avoid disappointment.
If you would like to purchase any of these accessible Christmas gifts, or would simply like to browse the rest of our product selection, visit the Disability Horizons Shop.
By Disability Horizons
More on Disability Horizons…