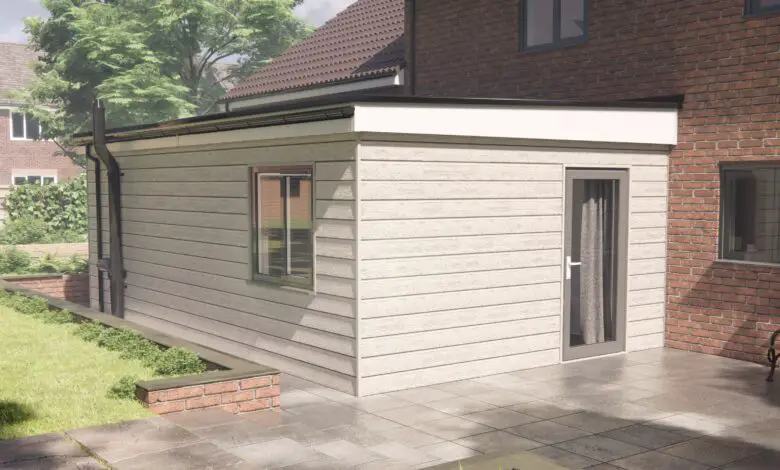 Lifestyle
Could modular home extensions be the answer to home adaptions?
One of the many things that the Covid-19 pandemic has taught us is just how important having the right home is. RISE Adaptions, which creates home adaptions, sensory rooms and Change Places toilets, explains how adapted modular house extensions could be the ideal solution to creating more accessible homes for disabled people.
The UK is in the midst of a housing crisis, with a shocking lack of adapted homes for disabled people and those who have been affected by life-changing injuries.
A recent YouGov poll that surveyed 2,014 people found that two-thirds of people in Britain have a home that is inaccessible to wheelchair users. Common issues included properties with steps, narrow doorways, or a lack of access to a downstairs bathroom.
Disability campaigners have long spoken out about the lack of accessible housing and, even when solutions are offered, they are slow to be deployed or don't fully meet expectations.
Sadly, it's families and individuals that are often left for years struggling in inadequate homes, and that number is rising.
At RISE, we combine our construction industry experience with specialist knowledge and passion for house adaptations for disabled people to help people create specialist home adaptions. We believe that many of the housing issues could be solved with accessible modular home extensions.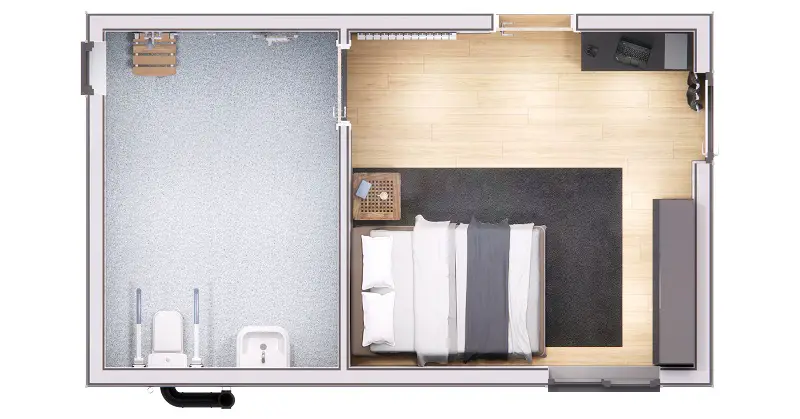 The hidden disability crisis – we need more house adaptions
In 2018, the Equality and Human Rights Commission (EHRC) published the results of its inquiry into housing for disabled people – 'Housing and disabled people: Britain's hidden crisis'.
It looked at whether the accessible and adaptable housing available in the UK is fulfilling disabled people's rights to live independently. The findings highlighted just how many people live in homes that are not fit for purpose.
People are left without bathing or toilet facilities, unable to leave their homes safely, and in some cases, separated from other family members due to the lack of suitable family homes for disabled people.
Could modular extensions help alleviate the crisis?
Kamran Mallick, Chief Executive of Disability Rights UK commented on the report saying:
"Appropriate housing is key to independent living and creating choice and control for disabled people. But it's also better for the taxpayer.
Better housing options mean disabled people are less likely to seek support from hard-pressed health and social care providers.
The same is true if we develop ways to ensure the swift provision of aids and adaptations when people become disabled.
We need clear standards for developers and designers, so we begin to see the establishment of more lifetime homes; and better policing and support for private landlords, who have a huge slice of the rental market."
Ben Hickey, our Head of Adaptions, agrees and believes that many people could even remain in their own homes with the right adaptions made to the property:
"At Rise, we work with families and individuals who need changes to be made to their current homes. There is no need to move or look for previously adapted homes when there are now so many effective solutions for adapting houses into accessible homes."
For many people, the right solution is an adapted modular home extension. This is especially the case for people who have familial and emotional ties to their existing home.
Why uproot entire families when there is a cost-effective and fast solution so readily available?
What are modular extensions?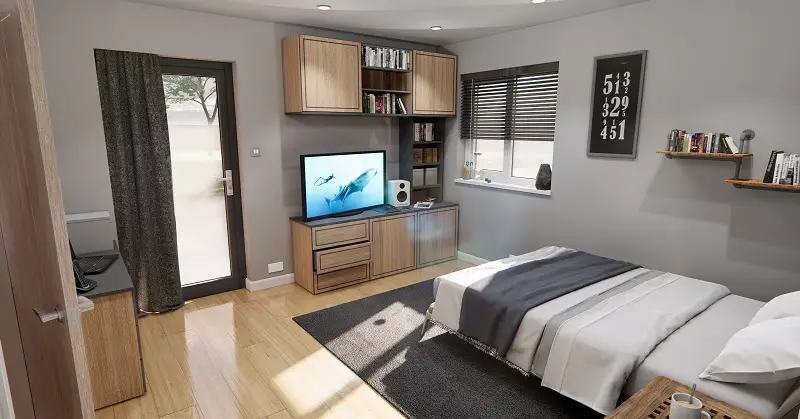 Modular home extensions are prefabricated adaptions, manufactured offsite and craned into position once groundworks (the foundations and any pipework needed) have been completed.
These home extensions are ideal for families whose needs have changed, such as where a family member has developed a disability or been seriously injured.
Once lifted into position, modular extensions are connected to the main property by knocking through and connecting utilities, such as electricity and water.
The interior of a prefabricated extension can vary depending on the home owner's needs, but the most common format is a bedroom and wetroom combination.
Most of the people we work with are desperate to stay in their own homes but require ground floor access to a wetroom and a safe place to sleep. An accessible home extension can provide that.
That was one of the primary reasons why we founded RISE. Although prefabricated buildings have been growing in popularity for a while, they are most often used in the construction of new properties or home offices.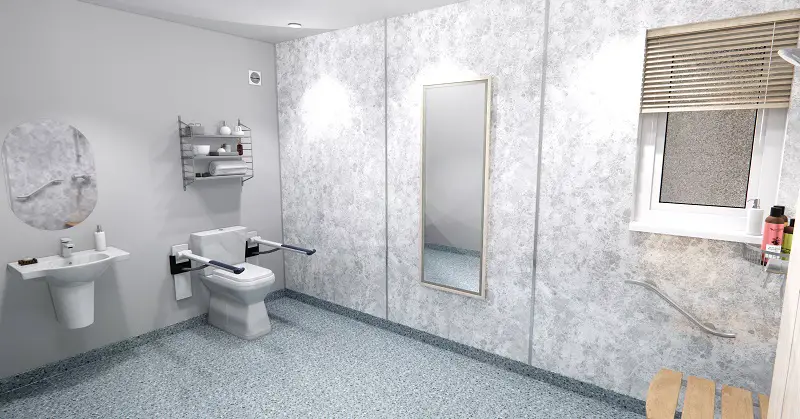 But we saw a clear need – and had the solution for disabled people wanting to stay in their own homes.
At RISE, we work with individual families, local authorities, and housing associations to adapt homes and believe more people need to be aware of the practicality and benefits of modular building:
For families who have already had their lives disrupted through disability, illness or injury, the thought of moving or extensive building works can increase stress levels further.
Modular adaptions are ideal as they are quick to install, and the work required is significantly less disruptive than a traditional extension as most of it is completed offsite.
Funding for home extensions and adaptions
Whilst modular extensions provide a practical way to keep families together and improve the lives of disabled people, there is a cost involved.
Cost is part of the reason we are amid what EHRC call a 'disability housing crisis' with little to no funding being previously available for solutions, such as extensions.
Good news came last year when the Chancellor of the Exchequer, Rishi Sunak, delivered the 2020 Spending Review, setting out plans for Government spending for 2021/22.
The budget pledged £573 million would be devoted to Disabled Facilities Grants (DFG) an increase of over 13% on the previous years' allowance.
DFG funding has provided many families and local authorities with the means to adapt homes and keep families together in their existing homes.
You can apply for funding for home adaptions, such as a modular extension, via your local council. They will pay a contractor for the work directly or give you the money to pay for the work.
At RISE, we work nationally with both individuals and local authorities to create truly accessible homes. You can contact us via our website or by emailing hello@riseadapt.co.uk to find out more about how we can help you.
By RISE Adaptions
More on Disability Horizons…