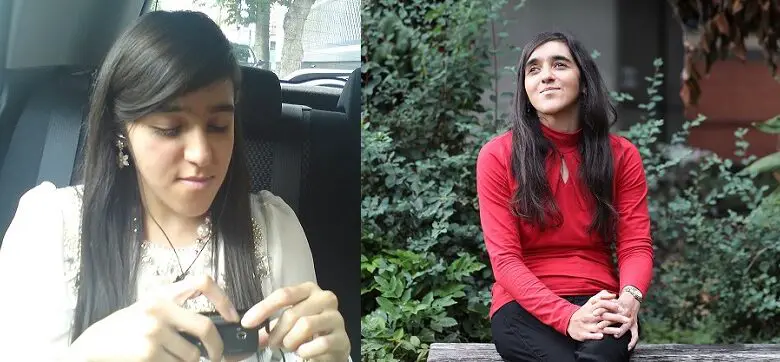 Lifestyle
Zubee Kibria: my career as a disabled entrepreneur and journey with Disability Horizons
As part of our 10th birthday celebrations, some of our longest-serving team members are sharing their journey with Disability Horizons, from first discovering the publication to becoming invaluable to our organisation. 
I am Zubee, a disabled entrepreneur who has cerebral palsy (CP). I was born 11 weeks premature and weighed just one pound four ounces. Bring born prematurely increases the chances of having a disability.
Cerebral palsy is a condition that affects muscle control and movement. It is usually caused by an injury to the brain before, during or after birth. However, in some cases, there is no obvious single reason. In my case, doctors couldn't say when it happened.
Growing up with cerebral palsy
As I started to grow, my parents noticed I was making slow progress with learning to walk and had difficulty with balance and coordination. I was finally diagnosed with CP. As young parents, they hadn't heard of the disability or knew what it was. I can only imagine how hard it must have been for them.
There are three different types of cerebral palsy and varying levels of severity. Thankfully, I am not severely affected. The type of CP I have is known as Spastic Cerebral Palsy (I am not a fan of the medical terminology!).
It causes my muscles to be tight and stiff so I have to try and keep up with exercise. It also affects my mobility, balance and coordination, so I use crutches to get around and occasionally use a wheelchair for long distances.
Having a disability can have its challenges. But, despite this, I try to keep pushing forward and doing the best I can in everything I do and want to achieve, both personally and professionally.
Making a difference in people's lives
I love making a difference in people's lives through the work I do. I have had a varied career, having worked in the field of disability and equality for many years. I started in the hospitality industry and moved on to working and volunteering for a number of charitable organisations.
Now, I am on a journey to start my own business, Access My Events, which is very exciting!🙂 You can find out more about it in my article 'from volunteering to starting my own business'.
I hope my story will inspire and motivate other disabled people to get out there and fulfil their dreams and aspirations. We all have skills and talents in different areas and this is what makes us unique.
How my journey with Disability Horizons began
I first heard about Disability Horizons through the Business Disability Forum, a charity organisation I was working for at the time.
My contract of employment was due to end, and I am one of those people who can't keep still – I have to be doing something to keep myself going. So I decided to get in touch with the founders Srin and Martyn to find out about volunteering opportunities.
It was good timing as Disability Horizons was in its infancy and looking for more people to get involved. I started with Disability Horizons in May 2012, and have been committed ever since.
It has helped me to develop as a person, and gain skills and experiences to help me progress further in my career. I started off by doing Disability Horizons' social media across all platforms, sharing the latest articles as well as researching disability-related news stories to promote.
As I developed in the role, I went on to write my own articles. As I hadn't written for any publication before, and I didn't have any formal qualifications in journalism, it wasn't an area I was confident in.
But seeing the edits done by a professional journalist helped me to understand how and where I could improve. As I got the opportunity to write more articles, my confidence in my writing ability grew, something I thought I would never be able to do on a professional level.
I went on to actually commission articles and conduct interviews with disabled business people, entrepreneurs, celebrities, bloggers and influencers.
I discovered that I have a knack for tracking down contact details of hard-to-reach people, something I didn't know I had in me until I joined Disability Horizons.
About 90% of the time I get a positive response through celebrity agents or by making direct contact with individuals.
Matthew Newbury was one of the first people I managed to get in touch with and I was incredibly excited when he replied. Matthew is an amputee and businessman who appeared on Channel 4's show, The Secret Millionaire.
When I first made contact, I didn't expect to get a response, let alone have Matthew agree to do an interview, which you can read here: Matthew Newbury: The Secret Millionaire (disabilityhorizons.com)
Meeting the Disability Horizons team
Mobility roadshow
In June 2012, about a month after I started working with Disability Horizons, I visited the Mobility Roadshow in Peterborough. The event showcases a wide range of mobility products, accessible vehicles and adaptations to help disabled people live independently.
I was busy enjoying navigating around the different stalls and exhibitors, and by chance, I saw Martyn, Srin and Liz, who I hadn't met in person. It was a great opportunity to meet them and introduce myself properly.
Naidex shows
I have had the opportunity to attend Naidex and exhibit with Disability Horizons on a few occasions over the years. Naidex is Europe's largest independent living event showcasing accessible products and equipment for disabled people and health care professionals, and is hosted every year at the NEC in Birmingham.
Exhibiting at Naidex has been a great opportunity to meet and network with other organisations and exhibitors, as well as meet with some of our community of readers. As we all work remotely, it also gives the team a chance to meet up and get together in person.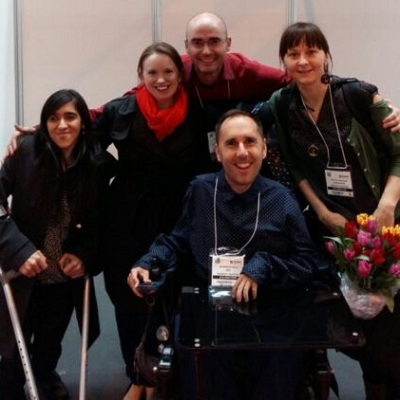 Developing my career through Disability Horizons
A few months into my role at Disability Horizons, I took on other responsibilities to expand my skills and experience in other areas. This included editing articles, uploading content onto WordPress and supporting our CEO with meetings and events.
I also wanted to develop my writing skills further, so I decided to do a diploma course in Freelance and Feature Writing with the London School of Journalism, which I successfully passed in March 2016.
Throughout my time with Disability Horizons, I have written and interviewed some amazing and talented individuals. Here are a few of my favourite interviews and articles:
Disability Horizons' 10th birthday
I am currently assisting our CEO and team with organising Disability Horizons' 10th birthday celebrations, ahead of its official birthday on 10th April, and we are all very excited here at Disability Horizons HQ.
Having been with the magazine since the beginning, I can't believe we're going to be 10 years old. It's amazing to see how much we have grown, not just as individuals, but as a team spread across different locations in the UK and abroad.
Please look out for regular updates and announcements coming up across our social media channels. You can join in the celebrations using our dedicated hashtag #10yrsofDisabilityHorizons as we raise the curtains on all things disability and beyond!
Without our dedicated team of volunteers and our community, Disability Horizons wouldn't be where it is today! I look forward to continuing to make a difference and seeing Disability Horizons get even bigger in years to come!🙂
By Zubee Kibria
Follow Zubee on social media via Facebook, Twitter and LinkedIn 
More on Disability Horizons…