Travel & Holidays
Beeyonder: virtual tours that enable you to see the world from the comfort of your home
Brittany Palmer, who is an amputee, recently launched Beeyonder, a virtual tours company offering tours and experiences for disabled people across the world from the comfort of their own home. Here, we asked Brittany about how her love for travel, early career in environmental law and experiences with her husband being hospitalised, lead her to create her company.
Please tell Disability Horizons readers about you, your background and your disability?
I was born as a bilateral below-elbow amputee. Growing up meant adapting to different situations and learning the importance of being independent.
For most kids, tying their shoes or buttoning jeans was not something that took much effort. For me, it meant endless practice to be able to get sneakers with laces and jeans.
My parents made sure I could do everything myself, and I am so grateful for that. I also was lucky enough to grow up in a town where the school system was accommodating, and the other kids accepted me and didn't really "see" my disability.
I played soccer for a number of years and learned how to ski (without poles), which I loved, and still do. After school, I went to college to study for a Bachelor of Science in biology, one in management, and a minor in psychology.
I've always loved the ocean and animals, but an internship at the National Marine Fisheries Service during my sophomore year really piqued my interest in environmental work.
Then, the summer I spent at the Environmental Protection Agency during my junior year solidified my interest in environmental law. After college, I went on to law school to study environmental law.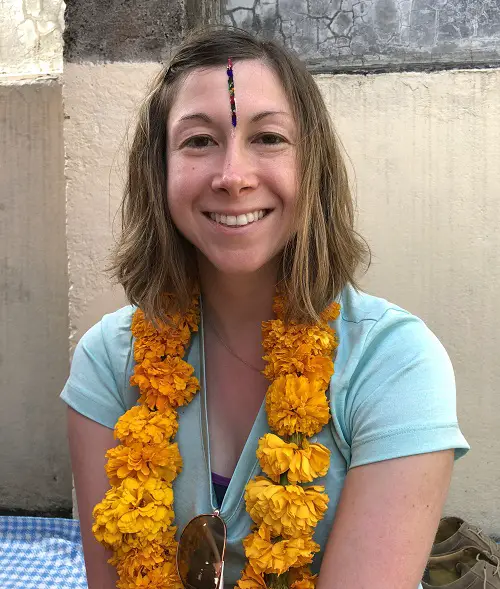 You started working life as an attorney and then practiced international law. How did you get into that and what were your experiences?
After law school, I worked as a clerk at the Federal Mine Safety and Health Review Commission in Washington, DC for two years and learned a lot about health and safety law.
I left when my husband got into an MBA program near Boston, so we left DC and moved there. I had always been interested in international law, and by this time I had built up significant experience.
I ended up finding a perfect fit as an associate position at an international environmental, health, and safety consulting firm, and quickly moved up to a Principal and In-house Counsel position.
There, I ran the regulatory division, did work related to a number of jurisdictions around the world, and assisted Fortune 500 companies with project management work in numerous countries.
I really enjoyed helping companies to be environmentally compliant, as well as establishing relationships and working with people all over the world. It fueled my love for travel.
Tell us more about where your passion for travel comes from, where you have travelled to and your favourite experiences.
Growing up, I travelled to the Caribbean, Mexico, and Canada. The Caribbean island of Aruba was my first international vacation with my parents. It also happens to be where my husband and I got married, so it's a place that will always hold a special place in my heart.
I also had some bucket list items from when I was younger, including the Galapagos Islands and the Great Barrier Reef because I knew climate change would damage them.
But it wasn't until we took our honeymoon in Spain and Italy that I thought, "I need to travel the world and see everything". From that point on, I've traveled as much as possible.
I've been to Egypt, Nepal, Tanzania, Guatemala, Costa Rica, Ecuador, Kenya, France, and more, and I'm far from done.
Each place has been special for different reasons, but my favorite place so far is Tanzania. Seeing elephants, lions, giraffes and other animals up close, in their true natural habitat is a feeling like no other. Safaris will likely always be my favorite type of vacation.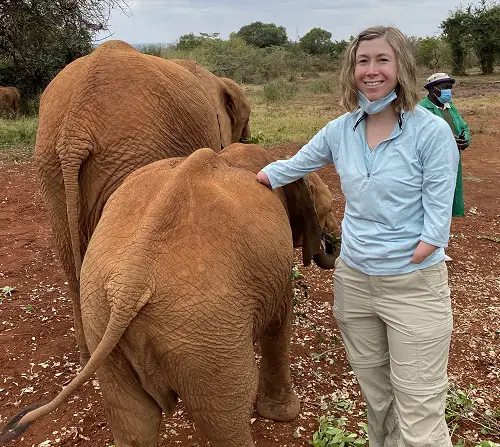 What challenges have you faced as a disabled traveller?
I am lucky because my disability hasn't posed any significant challenges to travel. But there are times where things are too high to reach, and I'm not a huge fan of buffets if there isn't a spot to put my plate down so that I can serve myself food.
On some flights, I need assistance putting my luggage in the overhead bin. I also have some joint issues that can make walking long distances very painful, and it's gotten worse as I have gotten older.
While it is something I typically plan for – knowing that excursions with long hikes are out of the question, and if we are walking through a city, a taxi will likely be needed at some point – sometimes I just can't plan for it and have to stick it out, which is awful.
It was your husband's illness and time in hospital that prompted you to start your travel business, Beeyonder. Tell us more about how this came about?
In 2013, my husband suffered a ruptured brain aneurysm. He spent two weeks in the Neuro ICU and had months of recovery at home. He is extremely lucky to have made a full recovery.
When I saw virtual experiences popping up, I thought about how nice it would have been to take one of these tours in the hospital or at home – a welcome distraction and something fun and interesting that can be done sitting down.
Tell us more about Beeyonder and the virtual tours it offers people?
Beeyonder is a platform for live and interactive virtual travel tours around the world. The tours are hosted by fun and qualified local guides. They can be done in a group setting, where you join others from all over the world, or privately for just you and your guests.
The tours are typically done via a video conferencing platform, Zoom being the most popular. This allows for dual audio and visual capabilities. It means you can see and speak directly with the guide, and the guide can do the same.
In addition, the link provided by the guide can be shared with multiple people, so your family or residents scattered across the country can come together and enjoy it. We've had several birthday tour celebrations for people in their 70s and 80s.
Tours are done in two styles:
the first is live from the street where your guide has a smartphone and stabilizer and walks you down the streets of your chosen destination – just as if you were with them for an in-person tour
the second is presentations style, where the guide shows you videos, pictures, and slides.
Both types have had fantastic reviews! You can also gift tours to others with our gift cards for any occasion.
Beeyonder caters to anyone with a disability or condition that prevents or inhibits travel. It's ideal if you are in hospital or can't leave the house, are mobility-impaired, use a wheelchair, have an immunodeficiency disorder or degenerative disease. It means seeing the world without additional restrictions or complications.
It is also useful if you have mental health condition, such as agoraphobia or anxiety, or find travelling difficult because of a neurological difference, such as sensory processing disorder.
Beeyonder is also useful for people who want to give a loved one an international experience but cannot afford to do so. The list only grows as I speak with more people that see ways in which virtual travel can benefit others."
Beeyonder's virtual tours cover a wide range of countries and activities. Tell us more about what people can experience.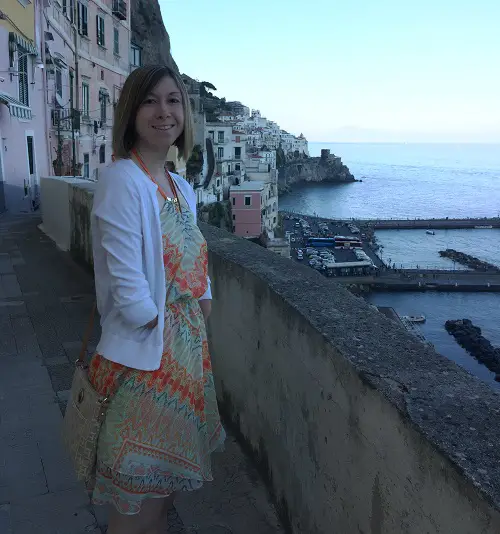 To help people sort through all 340+ tours that we offer in almost 50 countries, we provide several different filter options, including topic area.
Love animals? Take our Koala Discovery Walk and see koalas in the wild, join our ecologist, Stephan, on his Wildlife Encounters experience of Kruger National Park, or learn about the penguins in Antarctica.
If you're interested in European cities, we have no shortage of tours, from London, Dubrovnik, Rome, Venice, Madrid, Berlin, and more.
If you're more in the mood for scenery, you can visit Ireland's west coast, explore the world of Vikings in Norway, or see the botanical gardens in Brazil.
And if you're looking for more of hands-on activity, you can have green tea time in Japan, make cocktails with a Vietnamese twist, or do a Malbec wine tasting in Argentina.
What successes have you had so far with the business and how has it been received by people?
Very soon after launching in December 2020, we received bookings from an organisation that works with adults and kids with developmental disabilities, a rehabilitation center for adults with brain injuries, and purchases of gift cards for parents who couldn't travel anymore due to health issues and degenerative diseases.
The response from these organisations and from others who have taken our tours has been phenomenal. They loved the tours!
Now, we get a number of requests each week from businesses looking to take private tours, and we have been asked to join pilot programs related to senior health.
We have also received positive feedback from those in the senior living industry and plan to run our own pilot program within the coming months with senior living facilities.
How does your previous work in environmental sustainability feed into Beeyonder?
The extra "e" in Beeyonder was added because of my love for the environment and conservation.
We have a few conservation not-for-profit organisations (NGO) doing tours through Beeyonder, but I'd really like to see more organisations offer tours. Some of the work they are doing is so interesting, and I think people will like being involved from afar.
In addition, with our new prerecorded tour offerings coming later this year, it's a way for NGOs to showcase their work, people, and the environment in a fun, interesting, educational, and authentic way.
What are your plans for Beeyonder in the future?
My big vision is for Beeyonder to be a multi-lingual, multi-national platform with live, interactive, and prerecorded virtual tours in every country, and in really remote areas.
I want the tours to be available to people around the world, to take them wherever they are comfortable. I want to bring true equal access to travel.
Visit the Beeyonder website to find out more information about the tours and to book an inclusive virtual tour. 
By Brittany Palmer – founder of Beeyonder
More on Disability Horizons…