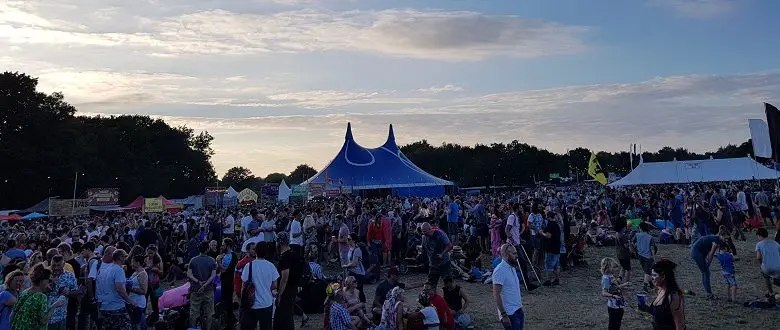 Festival goer Alex Squire, who uses a wheelchair and blogs about his experiences, reviews the accessibility at the British Summer Time festival in Hyde Park and Bluedot festival in Cheshire this July.
My name is Alex and I am a 29-year-old quadriplegic powerchair user from Lincolnshire. I graduated from the University of Leicester with a BSc in Interdisciplinary Science and an MSc in Global Environmental Change. I enjoy documenting on my blog about the places I go and the things I do, focusing particularly on wheelchair access.
I also love going to music festivals, and try to go to two or three a year. Most of them, so far, have been local to me and relatively small. But I am now trying to branch out to bigger festivals. This year I have been to the British Summer Time and Bluedot festivals, and am going to the Lost Village festival next month.
Accessibility at the British Summer Time festival
Accessibility at the British Summer Time festival (BST) was fantastic. I can't comment on the ticket-buying process as I bought mine from a lady who was selling her's on Facebook. She had bought a wheelchair space for the main viewing platform, which includes a space in the Blue Badge car park and a free carer's ticket.
Although the ticket came with Blue Badge parking, I still had to reserve it in advance. The car park was about a five to 10-minute walk away from the venue, and accessible golf buggies were available for those who needed a lift from the Blue Badge car park to the accessible entrance.
Although the buggies had a ramp and space for a wheelchair, my powerchair was too big to fit onto it, so I drove myself in my chair. The pavements along the route were smooth and had dropped curbs, so it was an easy journey.
Accessibility inside the festival grounds
The festival itself was in London's Hyde Park and covered quite a large area of it. The ground is grassy with some concrete paths, and some tempory walkways had been laid down for the festival. The grass was hard and flat with no mud, so easy to drive over. I am not sure what it would have been like if it had been raining a lot though.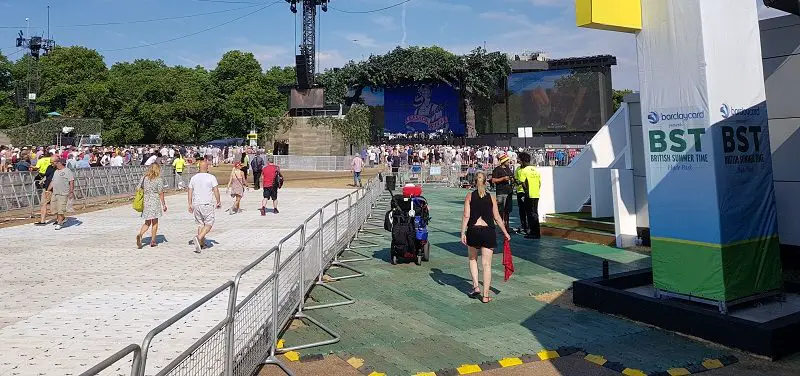 I spent most of my time there on the main viewing platform by the main stage. There were dedicated staff members nearby to help with anything you needed, all in bright pink shirts, so easy to spot.
The platform itself was in a great position, with amazing views that were completely unobstructed. It was also very spacious – there were at least 10 wheelchair users there and still plenty of room for everyone to move around. There were also some chairs available for carers and those not using a wheelchair.
The disabled toilets were also nearby and a decent size. They also had a Mobiloo, a mobile Changing Places toilet, which I find fantastic to use. I wish they had these at every festival as it would definitely make life easier for disabled people.
For those with hearing impairments, on the big screen next to the stage there were sign language interpreters, who were signing all of the songs' lyrics. The interpreters were dancing, drumming, and doing air guitar, as well as signing, so they were quite entertaining to watch!
Overall, BST is an incredibly accessible festival. One of the best I've been to. I couldn't fault it.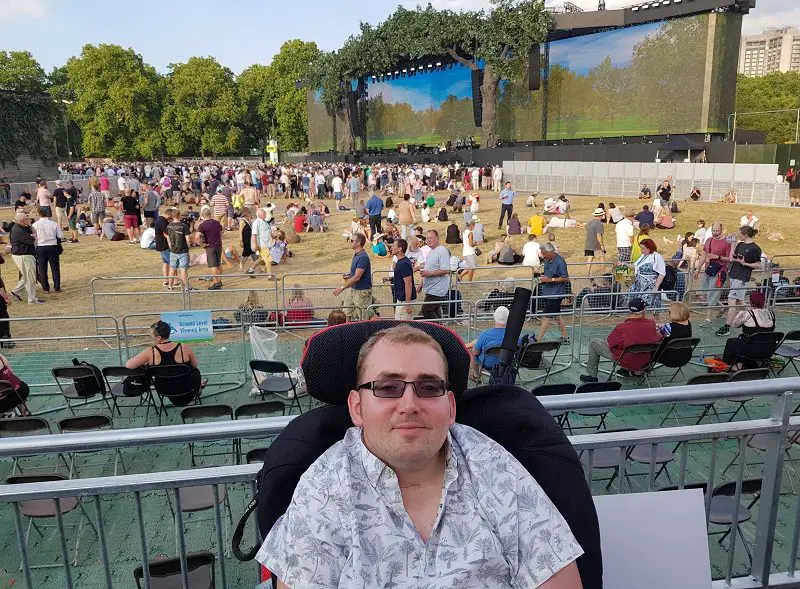 Music at British Summer Time festival
BST festival is a day festival with no overnight camping, and has a number of concert days with different artists playing each day. I bought tickets to see Roger Waters (of Pink Floyd fame) who was the headline act. The other notable artists playing that day were Seasick Steve and Richard Ashcroft, neither of which I had ever listened to before, but really enjoyed.
Seasick Steve plays blues music on home-made guitars. His songs are really catchy and definitely worth listening to.
Richard Ashcroft was the lead singer of British band The Verve. At BST he sang some of the well-known verve songs such as The Drugs Don't Work and Bittersweet Symphony.
Roger Waters was the best though. Not only because of the music, but also because of the stage setup. There were amazing visuals on the screen – very psychedelic and very Pink Floyd-esque.
At one point, an image of the Battersea Power Station chimneys rose up out of the ground (see below). As they reached the top of the screen, real chimneys rose up from behind the stage – they even had smoke coming out of them! To complete the effect, there was even an inflatable pig that flew over the top of the chimneys.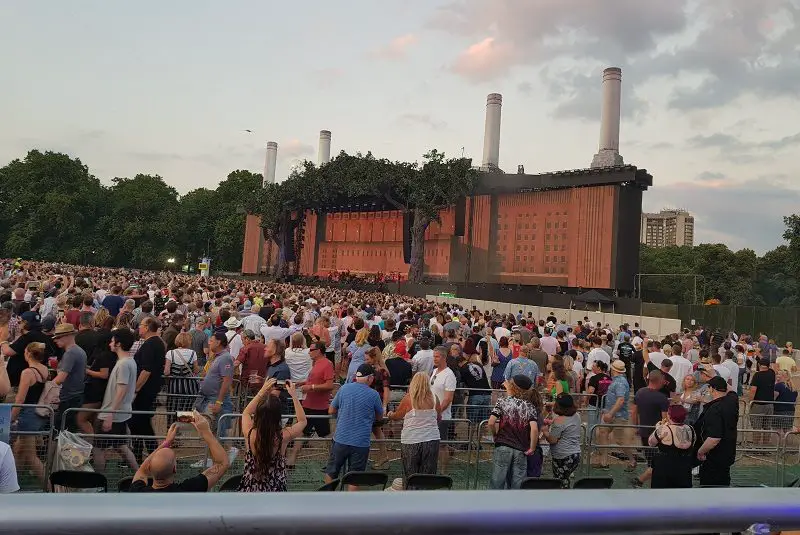 Waters sang a lot of the classic Pink Floyd songs, such as Time, Money, Wish You Were Here, and – saving the best till last – Comfortably Numb, to name but a few.
Accessibility at the Bluedot festival
Set in the grounds of Jodrell Bank Observatory, in Cheshire, Bluedot was a three-day event. So, unlike with BST, this time I needed to camp. This was the first time I had camped at a festival, so I was really excited about it. I found the whole festival to be a well organised and very accessible festival, with its own accessibility team.
Buying my ticket was easy. I purchased a normal weekend ticket online, and then filled out a form explaining my accessibility requirements. At a later date, the accessibility team contacted me to go through the things I needed, such as free carer's tickets, viewing platform passes, parking passes etc.
Knowing that there was a dedicated team on hand to answer any of my questions was very reassuring. The team aims to ensure that every disabled person attends the festival without barriers, just like everybody else.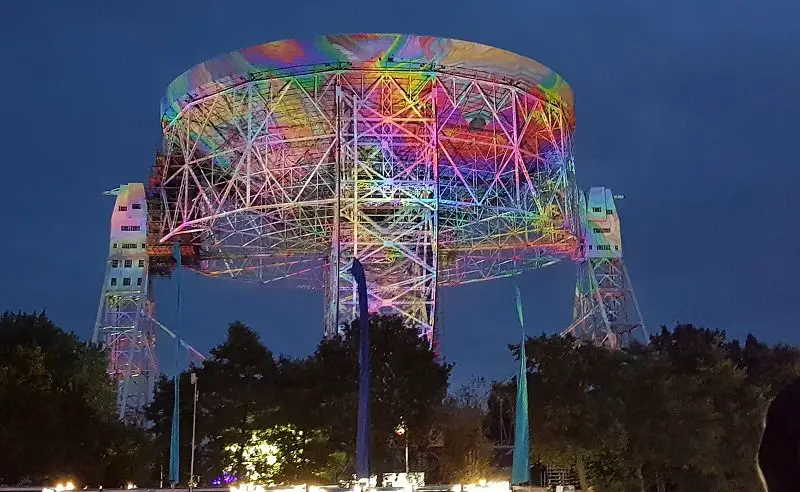 We stayed in the Access Campsite, which is specifically for disabled people. There were a number of great facilities there, such as a Mobiloo, an accessible shower and chair charging point. It also had 24-hour staff, so there was always someone around in case we needed help with anything.
I stayed with my two carers for three nights in a wheelchair accessible motorhome, which I hired from Coachbuilt GB. It was a great experience, but we did run out of electricity at one point, and there weren't many power sockets for motorhomes at the campsite.
The chair charging point was unattended at night, so I didn't use it. However, I didn't have any problems as there were plug sockets on the main viewing platform, which meant I could charge my chair while watching the acts on stage – very handy.
The festival covered quite a large area, which was mostly grassland (see image at the top of the article), with some wooded areas. In the main arena there were a number of stages scattered around, with accessible viewing platforms at most, but not all of them. These platforms offered an unobstructed view and an accessible toilet next to them.
The viewing platform for the main stage had a great view, but was not big enough, in my opinion. It seemed to be half the size of the one at BST festival. When the headline bands were playing it was extremely crowded – we were packed in like sardines. But the accessibility team were great at helping people move around the platform when needed.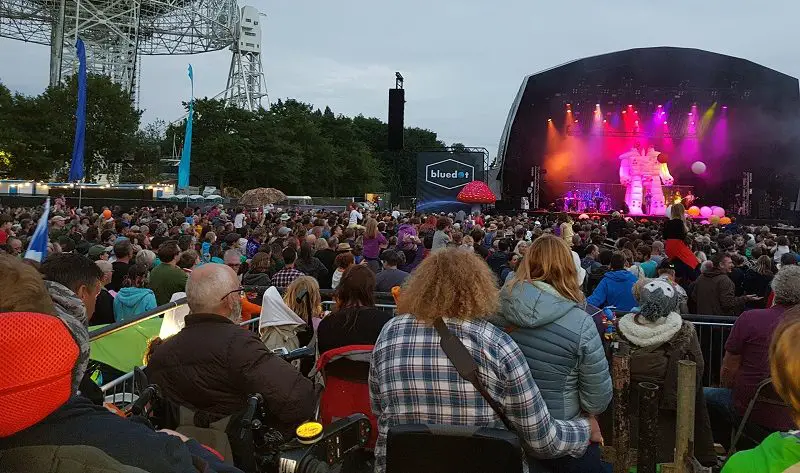 The Access Campsite was about a five-minute walk from the main arena. There were temporary walkways leading from the campsite entrance to the main arena. However, everywhere else was grassy and quite bumpy to drive my powerchair over. It would have been better if they'd put some more of the temporary pathways down throughout the Access Campsite and the main arena, to provide a smooth surface.
It wasn't all about music either – there were other areas dedicated to different things, such as a wellness area, where you could get massages or do yoga. There was also a peaceful arboretum, which offered a good place to get away from all the noise.
Music at Bluedot festival
The music at Bluedot was mostly electronic, but there was also some good bands playing. The main headliners I saw were The Flaming Lips, Gary Numan, and Chemical Brothers, amongst others. There was always something to see, so I was spoilt for choice!
Visit the British Summer Time and Bluedot festival websites to find out more about the events.
By Alex Squire
More on Disability Horizons…