Wellbeing & Fitness
From London 2012 to Tokyo 2020 Paralympics: Boccia player David Smith in the spotlight
Disability Horizons is doing a series of interviews with Paralympians who are set to compete in the Tokyo 2020 Paralympic Games. In these interviews we will be talking about career success, highlighting individuals achievements and what they are most looking forward to at the games.
David Smith is a world number one Boccia player in the BC1 category and is current world, European and Paralympic champion. The 32-year-old who has cerebral palsy, is set to compete in his fourth Paralympic Games in Tokyo this summer.
In this interview, David explains how he got into Boccia, competing at London 2012 and Rio 2016 and his preparations for Tokyo 2020.
David also tells us about working as a lifestyle coach, his ambitions for the future plus much more.
In addition you can check out David's top tips to becoming a successful Boccia player and the rules of Boccia.
David Smith becoming a Boccia player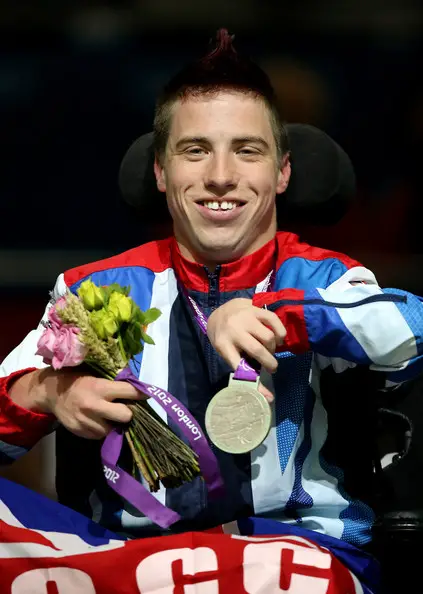 Please can you tell our readers a bit about yourself and how you got started in your career as an athlete?
I'm David Smith and I'm from Eastleigh, Hampshire. I first started playing Boccia aged six at a specialist school in Southampton.
At 11, I moved to Treloar School – a residential school and college for disabled children and young adults in Hampshire – where I was able to get regular training and coaching in Boccia. It also allowed me to find the confident person inside myself.
But the moment that really changed it all for me was when I went to Glasgow for the British championships in 2003, not expecting much, but actually winning!
Not only was I the youngest ever British Champion (which is yet to be beaten), but I beat the Great British captain just before he was selected for Athens.
Why did you choose the sport you compete in?
Boccia kind of chose me! At Treloar's, I found myself to be multitalented and Boccia was one in a long list of activities I did well in.
At first, I found it slow and boring compared to the contact team sports like Wheelchair Hockey. But, once I became better at it, I found it more enjoyable so became more specialised.
What do you enjoy most about being an athlete and about playing Boccia?
The best thing about being a Paralympian is that you get compared to other sports people.
We are treated the same as 'normal' athletes, as equals. Also, your success can have a profoundly positive effect for yourself, your sport and your community.
The thing I enjoy most in Boccia is playing well. Doing things no one else can or no one else sees as possible.
I am the Ronnie O'Sullivan (widely regarded as the greatest snooker player) of my sport and that's what I enjoy.
How does your disability affect you when playing Boccia and in day-to-day life, and how do you overcome it?
 

View this post on Instagram

 
I've always been quite lucky as I have good control over my disability and so in my early career, it didn't really affect me.
However, as Boccia has become more demanding, I've had to strengthen myself to keep up with the standard.
This means my disability does sometimes hinders me, usually when I'm nervous and have to play a very specific, critical shot.

I find my shoulder stiffens up and I can't throw the ball how I want to, so I have to change my throw to cope.
In terms of day-to-day life, it hasn't really changed in the last 10 years so it is easy to manage. I have live-in carers, which means I can live independently.
I also drive my Motability car, so getting around is never a problem. A lot of my conditioning, which I do as part of training program, has actually helped my general health and kept my disability in a good places.
When training are there certain foods that you can and cannot eat?
Thankfully Boccia isn't boxing so we don't have to be on a strict diet. I try to eat a balanced diet and really enjoy all kinds of food from lots of cultures.
David Smith competing at the London 2012 Paralympic Games
How did you prepare for the London 2012 Paralympic Games?
I was averaging about sixteen to eighteen hours a week of Boccia activities, including lots of gym and physio for maintenance.
I went to many friendly competitions and even had a little time inside GB series competition for athletes.
How did you feel being part of the London 2012 Paralympic Games?
Being in Beijing for my first Paralympic experience was amazing. You have to try and block out the hype and focus on the job in hand.
At London, I felt honoured to be part of something so big but also determined to win.
What memories have you taken away with you from London 2012?
Too many to name really – the emotion of having friends and family watching and cheering; the pressure to do well and not let yourself down, all amazing and indescribable feelings.
How has your life changed since competing in the Paralympics?
I'm just a bit more famous! After Beijing there was a buzz too, but nothing this big or widespread.
Do you think the London 2012 Paralympic Games have changed people's perceptions of disability? If yes, how?
I think we are seen as more equal in society. Hopefully, patronising will decrease as inspiration increase!
Did you watch The Last Leg? What did you think of the show?
I wanted to. I could hear my coaches laughing away at it most nights. Unfortunately, I was determined to be at my best during my games so went to bed early.
David Smith preparing for Rio 2016 Paralympic Games
What training did you do in the lead up to the Rio 2016 Paralympic Games?
Prior to Rio we had a few more camps and a mini test event with Spain. I also completed a World Open, where the team got silver and I got gold. So we were in a good place.
What were you most looking forward to ahead of Rio 2016?
I looked forward to being on the podium after playing the best I can.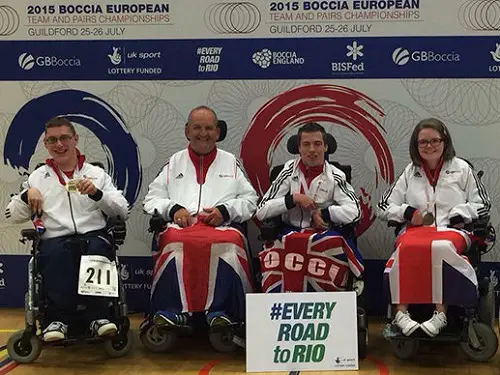 David Smith winning gold at Rio 2016
How did it feel winning gold in the BC1 individual event in Rio?
My initial feeling was tiredness, relief, and a bit of frustration because I wanted to score more points! It was the end of an emotional rollercoaster, and I was glad to have achieved it in the end.
What was it like competing in Rio and do you have any other highlights of your time there?
Probably, my highlight was winning the quarter-final against the only person I hadn't beaten in my career and then world number one Pattaya Tadtong.
What was it like being a guest on The Last Leg and what was the reason for the blue mohawk hairstyle?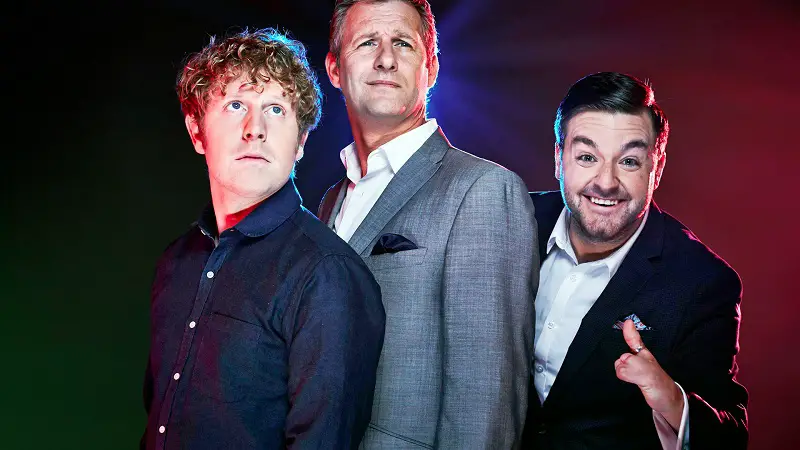 I had wanted to be on The Last Leg since its inception so to be invited on was amazing and great to see how it's produced.
My mohawk is a tradition dating back to 2008 in Beijing where my team captain told us as a practical joke that it was a tradition for team players to dye their hair for the competition. I went with a red Mohawk and as they say the rest is history.
In Rio, I upgraded to blue because of the blue in the Brazilian flag. I thought if all the Brazilians get knocked out the crowd might gravitate to me.
I currently don't have a plan for a hairstyle in Tokyo yet. Still figuring it out.
David Smith's other Boccia achievements sine Rio 2016
How did it feel to become 2018 World Champion on home soil in Liverpool?
It was a really special tournament because it was at home so my family could see me play for the first time since London 2012.
What was it like to win gold at the European Championships in 2019?
The Europeans has always been a strong competition for me and in 2019 I was able to dominate against some key rivals after a challenging summer. It was much like my previous successes very satisfying and enjoyable.
As well as playing Boccia, you also do coaching. How is that working out for you and would you consider coaching full time?
My Boccia coaching has had to take a backward step over the pandemic but I ran the Swansea Boccia Club previously and after Tokyo, hopefully we can restart.
Whilst I'm a full-time athlete it would be impossible to be a full time coach but I enjoy volunteering at a local level.
You were also awarded an MBE in the 2017 New Years Honour List. How did that feel, and did you enjoy your trip to Buckingham Palace?

It was a very proud day especially being able to take my parents into Buckingham Palace for the ceremony.
David Smith preparing for Tokyo 2020
 

View this post on Instagram

 
 How have you been preparing for Tokyo 2020 and do you still have concerns relating to the pandemic?
I've never been the sort of person to feel overly concerned. I suppose my only fear is testing positive and not being allowed to compete or fly. But in terms of my own safety and the protocols I'm pretty comfortable.
Do you know when you'll be travelling to Tokyo and what Covid-19 measures will be in place?
We are flying out on the 20th August under the full support of Paralympics GB. The measures are changing all the time but I'm pretty confident in my ability to use Lateral flow and PCR tests. I'm now fully vaccinated so that's something less to think about.
What are you looking forward to the most at the Tokyo 2020 Paralympic Games, as well as aiming to secure the gold medal?
I'm looking forward to playing competitive Boccia after 18 months. Nothing beats it to get the juices flowing.
Do you think Tokyo will be your last Paralympic Games or are you already considering Paris in 2024?
Well, I feel like at the age of 32 I still have another 20 years potentially and I know I can improve so that's exciting!
David Smith working as a lifestyle coach
You work as a lifestyle coach too. Can you tell us more about that and what it involves?
 

View this post on Instagram

 
Three years ago I joined Herbalife Nutrition and found their products really helped my sports performance. During the first lockdown, I was introduced to the Herbalife community by my PT (Chris). The community blew my mind by showing me the opportunity to build a team.
I realised that I could help other people and earn a bit of cashback. I decided the best way to inspire the people around me was to mentor them as a lifestyle coach whilst improving my own product result.
By using the products, getting a result, and sharing it with others the job is incredibly fun and simple, I have been earning £300 to £500 per month! I enjoy helping the people I care about achieve their goals and I love the new community.
Not only do I have renewed purpose with my sports career, but my new community has included me and challenged me to improve. It is still early days, but I am proud of my team's development and really excited about how far I can go with it.
At university, you studied aerospace engineering, but it is now been believed you want to become a maths teacher. Is this true and have you begun a teacher training course?
I really loved my degree and my time at Swansea University, but it became obvious that the Aerospace industry is not as accessible or autonomous as I wanted it to be. So, after Liverpool I started investigating other career paths to expand my life experience.
I enjoy maths so teaching seemed a workable possibility until the prospect of spending two more years in education dampened my enthusiasm. I wanted a career I could start at once then build experience and income as I go.
Thankfully, during lockdown I found Herbalife and now I am very content with my situation as a leading Boccia player and lifestyle coach.
You're also an ambassador for your former school Treloar's. Do you get to visit the school (pre-Covid) and keep in contact with former staff and students?
I love Treloar's and I'm proud to represent them at charity functions and the occasional visit. Before lockdown I was visiting annually, and I am still close with a lot of students and staff.
David Smith's ambitions, role model and hobbies
When growing up what was your childhood ambition before you became an athlete?
I always wanted to drive a car and fly a plane. I can tick the first box as I passed my test in April 2012 and I can drive using hand controls from my chair. The plane I'm saving up for one day.
What do you wish you could say to your younger self?
If I could go back, I would go to 2006/7 and say: "Don't be so naive and trusting. Go into Beijing with a clear plan and play your own game.
Don't be distracted by the mess up in support that will happen. Win the individual at all costs. And take the Paralympics seriously!"
Who is your role model and why?
I don't really have any role models. I tend to see good in everyone so I try and improve myself based on what I see others do well or stick to what I know works.
What do you do to let your hair down?
Go out clubbing, watch football, concerts – lots of things really.
David Smith's Boccia advice and tips
What advice would you give to aspiring Boccia players?
Firstly, try it! Getting through the door is a huge step towards success. Enjoy it and commit yourself to be the best you can be for yourself and the benefit of others.
Give it a go and see if you enjoy it. Sport is really important for people's wellbeing. So, get involved and who knows what might happen if you apply yourself to it long enough.
Please tell us your top tips for disabled people interested in getting fit or considering taking up Boccia?
My 6 tips (one for each ball you have in a game!) are:
Get a set of balls (you can start throwing with a tennis ball or cricket ball to get muscle memory)
If you're not a BC3 (i.e. you don't fit into the category of severely disabled athletes), find one or two ways of 'throwing' the ball that are consistent but not necessarily accurate.
Establish an aiming point based on the throws.
Seek coaching and play in matches at a local Boccia club (search Boccia England, GB Boccia or Scottish Disability Sport to find one)
If you really want to go far, seek advice from sports physios or occupational therapists about seating and posture, with emphasis of stability and freedom of movement for throws.
Get a coach, occupational therapist and physio to work together and set a conditioning program using pulleys at gym, stretchy elastic bands, seating balance and power breathe.
Boccia: what you need to know
To win at Boccia, players must get as many of their coloured balls as close to the white 'jack' as possible, similar to the game boules.
The game is played individually, in pairs or in teams and the number of rounds varies between each, but they all include six balls per person in each round.
Boccia players tend to have cerebral palsy or related neurological conditions. Within Boccia there are a number of different categories, all depending on the severity of the athlete's disability.
It is also possible for a Paralympian to have an assistant to help them position the ramp.
You can follow David Smith on Twitter and Instagram.
Be sure to tune in to watch David Smith at the Tokyo 2020 Paralympic Games from 24th August to 5th September 2021 on Channel 4.
Interview by Zubee Kibria and Emma Purcell 
More on Disability Horizons…