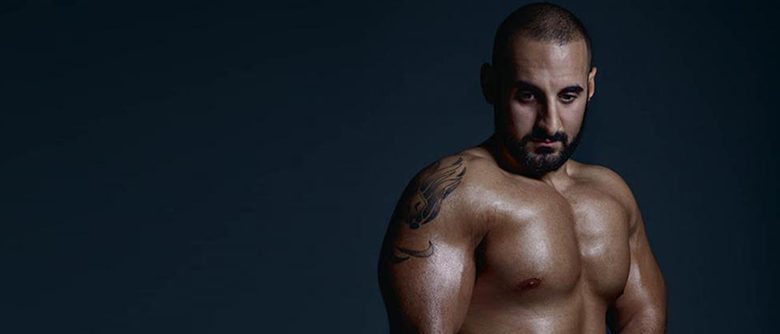 Wellbeing & Fitness
Tokyo 2020 Paralympics: powerlifting Paralympian Ali Jawad in the spotlight
Disability Horizons is doing a series of interviews with Paralympians set to compete in the Tokyo 2020 Paralympic Games. In these interviews, we will be talking about their career success, highlighting individual achievements and asking the athletes what they are most looking forward to at the Tokyo Games.
Ali Jawad is a Paralympic powerlifter who has Chron's disease and is a congenital amputee. He has won the 'career slam' of major championship medals and is set to compete at the Tokyo 2020 Paralympic Games this summer.
Our writer, Zubee Kibria, talks to Ali about his career in powerlifting, how he became an entrepreneur, starting his own fitness app, Accessercise, designed to help disabled people achieve their fitness goals no matter what their ability. 
Ali Jawad living with his disability
Please can you tell DH readers a bit about yourself?
I am a Paralympic powerlifter and won silver at the Rio 2016 Paralympic Games. I've also been lucky to have won the 'career slam' of major championship medals at National, European, World and Paralympic levels.
Outside of sport, I'm studying for a PhD in anti-doping in Parasport and launching a fitness app for the disability community.
What daily challenges do you face with your disability and how do you overcome them?
It may sound weird, but as a congenital amputee, I don't face any challenges as I adapt to any situation.
My main impairment is invisible, as I suffer from Crohn's disease, which is an incurable autoimmune disease.
The symptoms can be very bad, but I live my life in a way that attempts to counter them by eating nutritionally, getting optimal sleep, exercising, and listening to my body.
Ali Jawad on becoming a powerlifter
How did you get into powerlifting and start competing at a professional level?
During my GCSEs, my friend insisted that I accompany him to the gym. I started powerlifting, and the owner of the gym spotted me and convinced me to come back!
18 months later, I was representing ParalympicsGB at the 2008 Beijing Paralympic Games.
What's been the highlight of your career so far?
There are so many to choose from. My world title and double world record in 2014 stand out. But what tops those is winning a Paralympic medal in 2016!
I am also incredibly proud that I am only one of two athletes with Crohn's disease to have won a medal at any Olympic or Paralympic Games in history.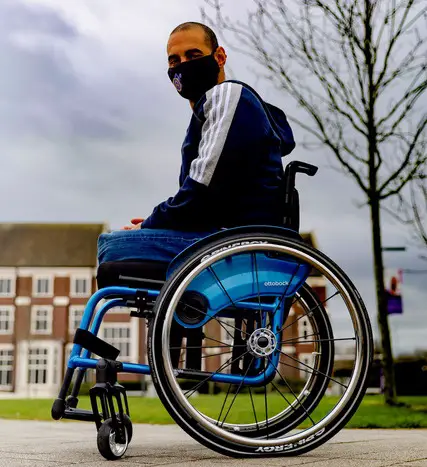 Ali Jawad on preparing for Tokyo 2020
How have you been preparing for Tokyo 2020 and do you still have concerns relating to the Covid-19 pandemic?
Elite athletes are used to adapting quickly to unpredictable challenges, so as lockdown started, we converted my living room into a gym so that I could still train.
I have no concerns about going to the Paralympic Games. It's important we trust in the experts making decisions and we as athletes focus on doing our jobs in the conditions deemed safe.
The Paralympic environment will likely be the most secure village in the world with many of the athletes vaccinated. I have every hope and confidence it will be a successful Games.
What are you looking forward to most at the Tokyo 2020 Paralympic Games?
I'm looking forward to competing at a world-class level again and being part of a multi-sport team.
At this stage, because of health issues over the last five years, winning a medal may be challenging. But my version of a win will be just getting there.
Ali Jawad's training regime and rituals
What does your daily exercise/training regime involve?
My routine has changed a lot over the course of my career. At my peak, I was in the gym between 16 to 20 hours a week. But being an elite athlete is a 24/7 job, so the things I do outside of the gym matter as much as training.
I make sure I hold myself accountable for every aspect of my routine, from wake-up times, meal choices, rest, sleep and the training itself.
When you train do you use any special training equipment to assist with your workouts?
In Para powerlifting we use a larger bench than in mainstream powerlifting. This is to keep lifters more stable under the load. However, everything else is the same.
Do you have a ritual that you do before going out into the arena?
The night before a competition I usually get my kit bag ready and watch one of the Rocky films – it gets me fired up! The Rocky soundtrack is my go-to playlist for training and competitions.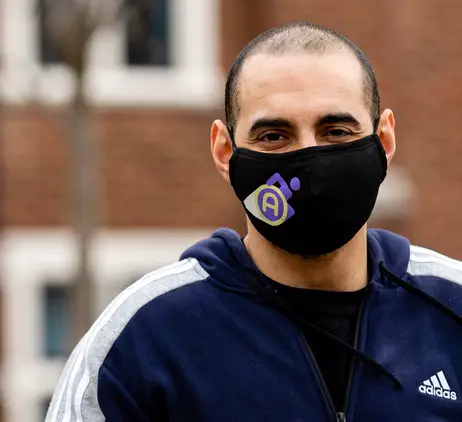 In your opinion, what attributes does a successful powerlifter need to have?
In order to get really strong, a lifter needs to have discipline, consistency, patience and enjoy pushing their bodies to the edge in a competition to outlift their rivals. Wider than that, having complete trust in their team is essential.
What advice would you give to other disabled people who may be interested in taking up powerlifting?
Powerlifting is one of the most popular sports at the Paralympics. I would encourage anyone interested to go to their local gym and try it.
Contact British weightlifting for talent ID days and see if it can fast-track you to championships and competitions. Why wouldn't you want to be one of the strongest humans in the world?
Ali Jawad's fitness app Accessercise
Please can you tell us about your new fitness app and how it will help disabled people?
Accessercise will be the first complete fitness app specially designed for people with impairments.
It will guide, empower and educate the disabled community to take control of their health and fitness goals, using evidence-based impairment specific exercises where they will build their own training programmes.
In addition, it will have a unique accessibility rating scale where users can rate the accessibility of the gyms and leisure centres in their local areas.
It will also have a really exciting social 'hub' allowing people to support each other, discuss their fitness and develop friendships.
What inspired you to start the fitness app?
Because I am a Paralympian, I've been so lucky in my career to have access to the best facilities and coaches. But the disability community is still fighting for basic access to gyms and coming up against barriers that stop them from keeping active.
I wanted to create an outlet where disabled people can have access to knowledge that can help to inform their fitness and health goals.
So often people with impairments are forgotten or an afterthought. With Accessercise, they are the priority and the first and only thought.
How did you come up with the name Accessercise?
I wanted the app to be accessible to absolutely everyone so having 'access' in the name meant a lot to me. As the aim was to help people with impairments exercise more, I thought I'd combine the words/
The name also nods to my wider vision. I want to work with organisations, such as UK Active, the government and all our partners to drive truly accessible venues – from access to equipment to staff knowledge and more.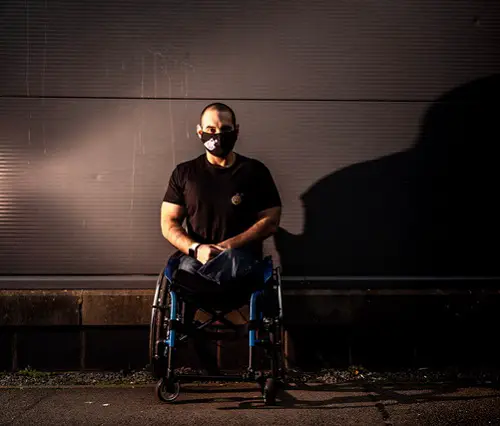 What would you say makes your fitness app unique from your competitors?
Accessercise is the first fitness app specially designed for people with impairments. There simply isn't another platform like it out there, which shocked me at first and is what motivated me to create it.
I hope that it will not only increases discussion around accessibility within the sporting/leisure sector, but also creates a fitness market for disabled people where they have equal access to exercise.
Have you faced any challenges along the way with developing the app?
As you can imagine, to cater an app for all impairments is a huge task as they all have different challenges. But it is my goal to make sure every impairment will be catered for eventually.
The information for each will be extensive,but when we launch, we will focus on a few and add others as we go along.
I hope people are patient with us, and that they will feedback about what works best so that we can make the app better together.
This is the start of a long journey to provide the disabled community the access, knowledge and support we believe everyone deserves.
We started this journey for you, and we will be continuing to build, expand and develop with you.
What stage are you at with launching the app and having it available across mobile devices?
We are on the verge of finishing the app with the launch for this summer. Early-bird sign-ups are now live, which means people can keep up-to-date with all the developments.
People will be able to download it from the App Store and Google Play this summer. Those who have signed up to early-bird access will be the first to get their hands on it.
It will be available to download for free, and the core features are included. There will also be premium features, which people can access for a small monthly subscription.
But, it will be one of the cheapest fitness apps on the market as I want it as accessible as possible.
Can you describe how the app works and its functions?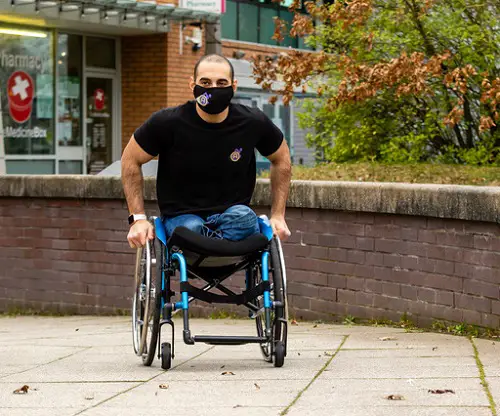 When someone initially signs up to the app, they will be asked what their impairment is. This will direct them to specific video exercises.
From there, they can build a workout routine, schedule activities in a calendar and set reminders. People can also tailor their profile, exercised lists, workouts, gym favourites and more.
In the explore section, people can check out their local and wider fitness facilities, easily seeing which ones are most accessible thanks to our unique verification system.
People will be able to filter and tag both exercises and workouts based on location, equipment needed, impairment, level of ability, muscle groups and goals of the activity.
The social hub includes feeds that allow users to communicate with people with similar impairments, share thoughts, ideas and support each other.
Empowering the disabled community is at the heart of Accessercise.
What are your goals and aspirations for the future?
From my sporting career, I hope to retire from competitive sport on my own terms. I've been very lucky to have such a long and successful career.
I'm also studying a PhD in anti-doping in Para sport, which I hope to finish in the next three years.
Finally, I hope Accessercise will transform the way people with impairments keep fit and active. I honestly believe it could be a game-changer in terms of helping the fitness industry adopt a more accessible approach that truly caters to all.
You can find out more about Ali Jawad by following him on Twitter and Instagram.
Be sure to tune in to watch Ali Jawad at the Tokyo 2020 Paralympic Games from 24th August to 5th September 2021 on Channel 4.
Interview by Zubee Kibria
More on Disability Horizons…