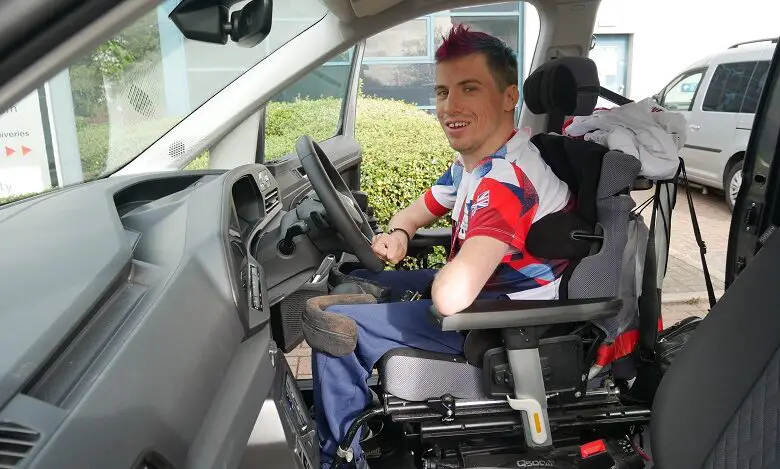 Travel & Holidays
Paralympian David Smith reviews the new Sirus upfront wheelchair Caddy
Paralympian David Smith MBE reviews the brand new drive-from-wheelchair/upfront passenger conversion from Sirus. Based on the latest VW Caddy Maxi Life, the new model is available from November 2021. Find out what new features the Sirus conversion has and how medal-winning Boccia player David found it.
Over the past 13 years, we have built more than 2,000 VW conversions for drivers and passengers and the Sirus VW Drive is the UK's highest-selling compact drive-from-wheelchair solution.
Our latest VW Caddy Maxi Life – a fifth-generation conversion – has three seating options:
Drive from a wheelchair – where you can switch to upfront passenger whilst on your journey
Drive with an internal transfer via a powered six-way seat
Travel upfront next to the driver from the comfort of your wheelchair
The Caddy conversion features include:
Rear entry with automated tailgate and ramp
Flat floor with interchangeable front seats so you can ride in your wheelchair up front as the driver or passenger
Space for four – the driver and three additional passengers – one of which can be a wheelchair user
Anti-slip coating on the ramp and interior floor.
VW quality
Based on the same elements that underpin the VW Golf and many other VW Group passenger cars, it is the first time the VW Caddy Maxi Life 5 has ever shared its basic engineering with passenger car models.
It has more digital functions and greater comfort than ever before. High-tech features and media system and safety upgrades include:
LED head and tail lamps
a large panoramic glass sunroof
a fully integrated entertainment system with an 8.25inch touchscreen, which is easy to reach and operate.
In addition, the petrol engine is a 116hp 1.5-litre unit and comes with a particulate filter to cut pollution, making it more environmentally friendly.
---
DON'T miss the current Sirus offer – SAVE £1,000 on all Ford upgrades. Ideal for Christmas 2021.
---
Review of Sirus Volkswagen Caddy Maxi Life 5
by Paralympian David Smith MBE
Sirus customer David Smith MBE has competed all over the world and recently returned from Tokyo 2020 having won a gold medal for Team GB.
David has driven from his wheelchair for more than 10 years, and currently drives his second Sirus VW Caddy Life. Here is what David thinks of the brand new Sirus VW Caddy Maxi Life 5…
"When Sirus invited me to its factory to see its brand-new conversion, I didn't hesitate. With an interest in cars and engineering, I was excited to see what was in store after 13 years of VW producing the Caddy Maxi Life 4.
Having driven a Sirus for many years now and have clocked up almost 200,000 miles, I was really keen to see the latest conversion.
Driving position
Sitting in the driving position felt spacious, and I felt like I was 'cocooned' in the front. The seated head height is the same as Caddy 4 (58"). I was definitely 'looking down the nose' of the vehicle and had a good eyeline and vision.
Driving controls
I use SpaceDrive high-tech controls, so it would depend on where that system was fitted as to whether I can use the VW controls. I also drive with a beeper switch, which I use to control the indicators that are fitted to the door.
The Caddy 5 definitely feels roomier than the Caddy 4, possibly because it is based on the longer wheelbase version
Ramp and suspension
Being able to enter from the rear and, therefore, park in a standard parking bay is ideal as you have little chance of getting blocked in.
The conversion has also been designed to avoid speed bumps without the need for the suspension to raise.
Travelling as a passenger
The new Caddy Maxi Life 5 is designed so that I can travel as a passenger in the front and one of my PAs can drive.
I would rarely use this, but I can see how this could be a big advantage for some people who like to share the driving. The seats are also interchangeable so you can decide who is driving whilst on your journey.
Seating
The Caddy Maxi Life 5 is designed with two rear fold-down seats, so has space for up to four people.
The advantage of this is that there is a lot more space for luggage, which is great for transporting my Boccia equipment and sports chair.
Comfort
The rear fold-down seats look much more comfortable to travel long distances, and it feels like there is more room in the back generally for rear passengers legroom. It is also useful that the seats can be locked into position when not in use.
Fuel efficiency
I do roughly 20,000 miles a year, so fuel efficiency is really important to me. I can get 50 miles per gallon (mpg) out of my current VW Caddy, which is great.
With a VW Transporter, I would struggle to get 40mpg, a significant difference in cost, not to mention the impact on the planet".
Find out more about the new VW Caddy Maxi Life 5 and book a free home demonstration with Sirus now.
Sirus is currently running a promotion on all of its Ford models where you can SAVE £1,000 on all vehicle upgrades.
Plus, with a number of vehicles in stock, you can benefit from a pre-Christmas delivery on specific Ford vehicles. Find out more on the Sirus website.
By Sirus
More on Disability Horizons…