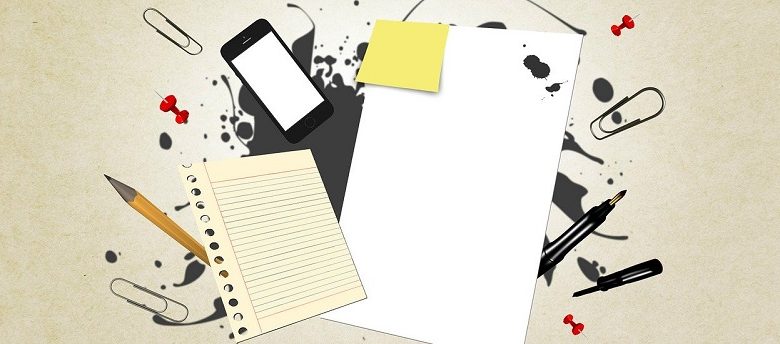 Arts and crafts are great educational resources, therapeutic tools and fun activities for all, no matter your age or ability. Not only does creating bright pictures or chunky jewellery give you or your children a chance to express yourselves independently, but it aids in promoting a healthy relationship with self-esteem.
Here at Disability Horizons, we round up eight accessible products that could help you and your children enjoy arts and crafts if you have a disability. We also suggest some art sites, apps and programs for you to enjoy on your phone, tablet or computer, as well as some of the best disability art communities for you to join.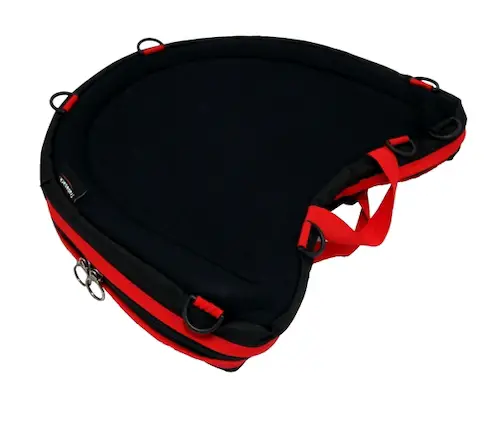 Trabasack has a range of award-winning wheelchair lap trays and bags in one. The built-in lap tray feature provides a sturdy and steady flat surface, ideal for doing arts and crafts.
It provides security and stability to ensure crafting materials, such as paper, pens, pencils, paintbrushes, paint pallets, scissors, beads, threads, mosaic tiles, sewing kits and much more, remain in place.
There is also an interior bag that you can store and carry your crafting equipment too.
There are five different types of Trabasack wheelchair lap tray and bag available in a variety of styles, sizes and colours, all available on the Disability Horizons Shop.
Read about the inventor of the Trabasack wheelchair lap tray, Duncan, who also manages our Disability Horizons Shop. He designed the innovative products with his wife, a wheelchair user, for their disabled son.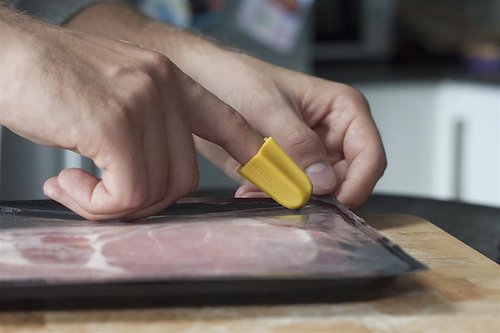 Nimble is a compact and simple cutting device that has been designed with safety and ease-of-use in mind. The Nimble fits onto the end of the fingertip, much in the same way you would use a thimble.
It has countless uses, including as a cutting tool for doing arts and crafts. It can be used to cut paper, card, thread and even the packaging of art supplies.
It is very difficult to hurt yourself using a nimble – the tiny blade is housed in a small, flexible rubber tip.
This small, simple and safe tool is ideal for those with poor hand function, arthritis, joint pain and other physical impairments. It is also great for people with small hands and children who may find it difficult to use scissors (adult supervision advised).
Buy the Nimble one-finger cutter on the Disability Horizons Shop.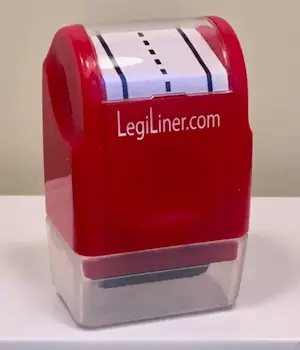 The LegiLiner rolling ink stamp allows you to quickly draw perfectly straight lines across any paper, removing the need for precision line drawing with rulers.
This device is ideal for drawing handwriting lines for children and students, but it can also be great for sketching pictures, drawing diagrams or even creating graphic designs or architectural plans.
With the LegiLiner, you are free to print them on any piece of paper, educational material, textbook or workspace quickly and easily.
The LegiLiner is also easily refilled with ink, so there is no need to buy another, making it an excellent economic and ecological arts and crafts tool.
The LegiLiner comes in two styles – red with a 3/4″ line and yellow with a 1/2″ line.
Go to the Disability Horizons Shop to purchase the LegiLiner handwriting guide.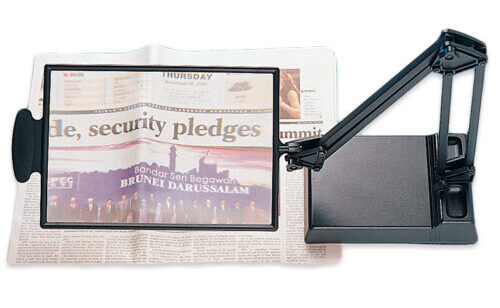 The Osalis home reading magnifier is a versatile tabletop perspex magnifier designed to help you see detail when reading, writing or doing hobbies and crafts.
The reading magnifier comes with a sturdy steel base to sit on your table or desk, as well as secure fittings that allow you to securely fit it to the edge of a table as a permanent fixture.
The arm is hinged in the middle so that you can change the height of the magnifier, and it rotates 360 degrees in two separate places – at the base and at the lens itself, allowing you to achieve the perfect angle.
The lens has 4x magnification, which means it can give you plenty of detail, and it has a large tab on the outside so that you can easily adjust its position.
This is ideal for people with visual impairments and/or anybody who needs to see that extra detail in their art project, whether that be sewing, embroidery, mosaicking or any other fiddly crafting jobs.
Purchase the Osalis home reading magnifier with stand on the Disability Horizons Shop.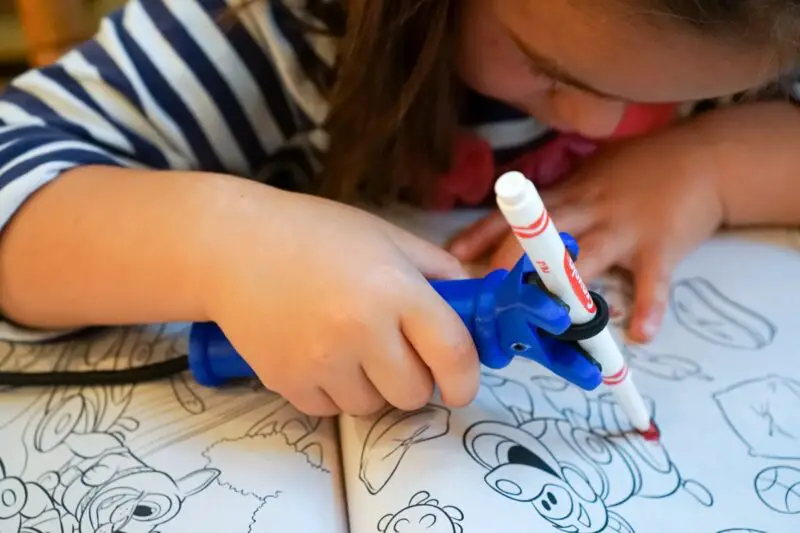 The Functionalhand is a revolutionary universal cuff that aids those who have difficulty gripping and holding items.
The Functionalhand provides adults and children with hand-related disabilities the ability to use a whole range of arty tools independently, promoting inclusion and dignity.
It is a useful daily living aid for those with disabilities, such as cerebral palsy, tetraplegic/quadriplegics, those recovering from a stroke or anyone with limited hand function.
The everyday uses of the Functionalhand are endless, but it is also useful for holding pens, pencils, paint brushes, scissors and a whole range of arts and crafts items.
Buy the Functionalhand grip aid on the Disability Horizons Shop.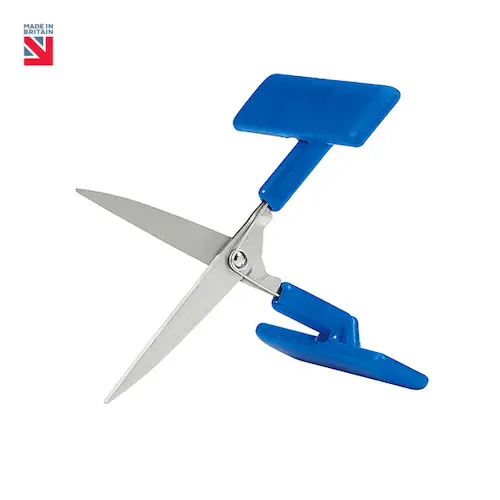 The Peta Easi-Grip table-top push-down scissors are an ideal alternative to traditional scissors for those with a number of health and mobility conditions, including arthritis, tremors and poor fine motor skills.
It is useful for a multitude of daily tasks around the home, as well as arts and crafts. The large T-shaped handle provides a stable surface to use your palm, fingers or fist to gently push down when cutting paper, card or packaging.
Designed with safety and ease-of-use in mind, the table-top scissors come with a blade guard for safe storage, and a handy zip-case for storing any other accessories required at easy reach.
Visit the Disability Horizons Shop to buy yourself a pair of the Peta Easi-Grip push-down table-top scissors and check out the other Peta Easi-Grip products.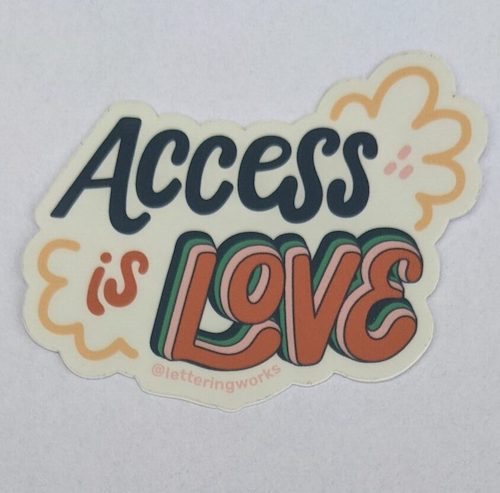 This new range of originally designed, die-cut stickers from Lettering Works is a great gift for any crafter looking to catch the eyes of others with their bright, colourful and abstract designs.
The collection has been crafted to help those facing the day-to-day challenges of disability, chronic illness or mental health problems by promoting equality, inclusion, awareness, positivity and reminding us all that it's OK to ask for help.
For people who love arts and crafts, these stickers can be an addition to your art projects, such as sticking them to furniture you're upcycling or if you're crafting some homemade stationary, books or bags.
There are 13 sticker designs to choose from with different slogans, including 'Swearing Helps', 'Work Your Quirk' and 'Access Is Love'.
Check out the full range of Lettering Works stickers on the Disability Horizons Shop.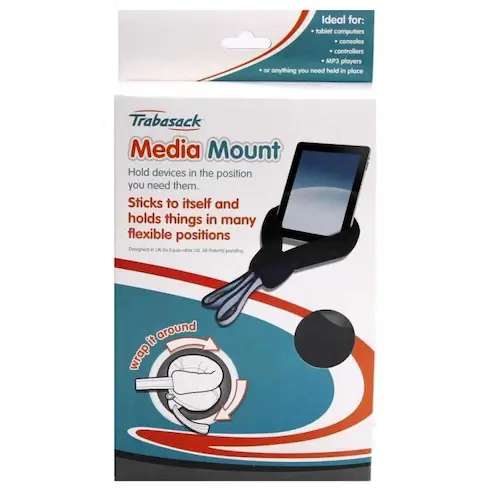 Art can be created, enjoyed and viewed in many different formats, whether that's drawing, painting, mosaicking or making jewellery. But you can do this and much more electronically too.
With this fantastic multi-purpose device stand, you can access art sites, app and programmes on your phone, tablet and computer (see ideas below).
It is perfect for supporting electronic equipment – such as a phone or tablet, all at the perfect angle on your wheelchair, bed or sofa.
The flexible design allows you to wrap and twist it around almost any object, and the Velcro strip along one side of the mount can be securely attached to the Velcro receptive tray surface of either the Curve Connect or Mini Connect.
Buy the Media mount device stand on the Disability Horizons Shop.
Art sites, apps and programs
There are many arty websites, apps and programs that you can experience on your phone, tablet and computer at the touch of a button.
Some suggested online art programs and apps include:
Photography and filming videos are also forms of art, and there are a number of programs you can use to edit your artwork, including Photoshop, Premiere Pro and iMovie.
Music is also another form of art and programs such as Audition and the app Garageband allow you to record and edit music. Waveband allows disabled people to make music by simply moving their Apple devices.
Alternatively, many puzzle and interactive games can also be forms of art. For instance, Sims Freeplay allows you to build and decorate houses for your Sims to live in – almost like doing virtual architecture.
You can also enjoy app colouring books include Color Therapy and Animal Colouring.
Find out more about these games and more in our article 10 fun accessible game and activity apps for disabled people.
Join disability art communities
Once you've found the type of art you'd like to do and have accessible products that allow you to enjoy arts and crafts independently, why not join a disability art community?
There are many in-person and online groups you can join where you can meet, interact and collaborate with disabled artists.
Here are just some organisations and groups we recommend: 
Happy crafting!
By Disability Horizons
More on Disability Horizons…