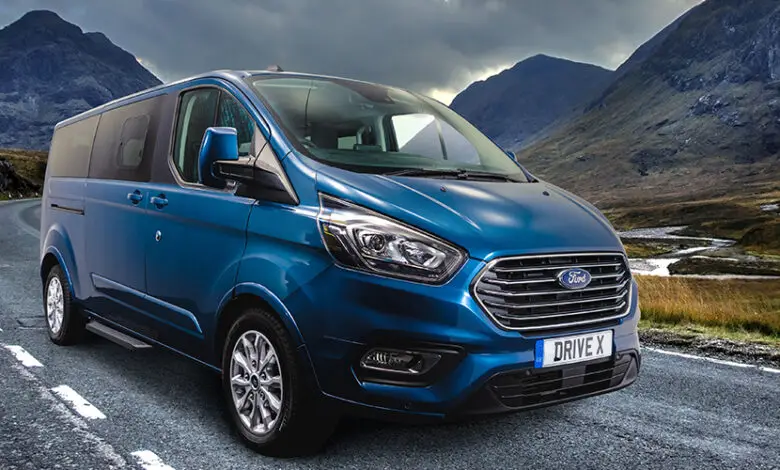 You cannot underestimate the benefits of being able to drive from your wheelchair – it can make a huge difference to your independence. Here, Sirus Automotive shares first-hand experiences from its customers, and details exactly how its latest drive from wheelchair vehicle, the Sirus Ford Drive X, can transform your journeys.
The Sirus Ford Drive X is designed to enable you to drive whilst seated in your wheelchair. This solution gives our customers freedom and independence.
Our vehicle conversion provides flexibility with your seating options and has lots of space. You can switch from driver to passenger position if needed, and you can seat up to six people in total and there is also bags of space for luggage and equipment.
The Ford Drive X is the first drive from wheelchair vehicle specifically designed to parallel the manufacturers' driving position.
From the moment you sit in the driver's position you will see and feel the difference. Your seated position and eyeline ensure that you have optimum forward vision and allow easier access to controls.
Sirus Ford Drive X features and benefits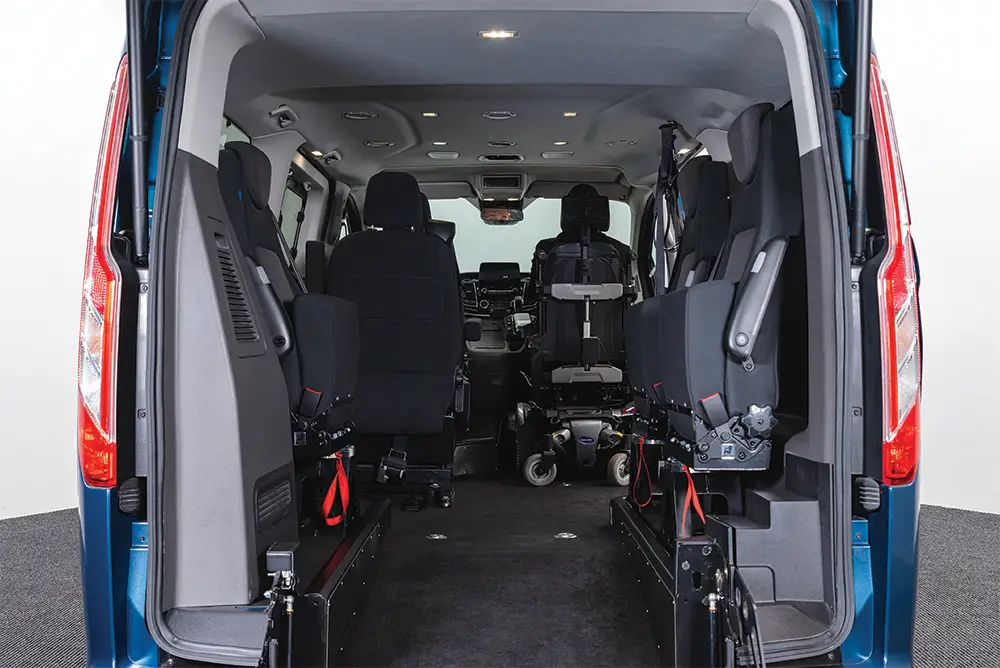 Our Sirus Ford Drive X has a number of benefits and features that will make your driving experience much smoother and more enjoyable.
1. Easier to park
Being able to enter the car in your wheelchair from the rear means you can park in a standard parking space and you don't necessarily need a Blue Badge Bay.
2. Plenty of headroom
The fully lowered floor gives you exceptional headroom and improved vision.
3. Enter and exit independently
The rear access control is fully automated using a powered system so all you have to do is press your key fob and the tailgate will open and the ramp will deploy.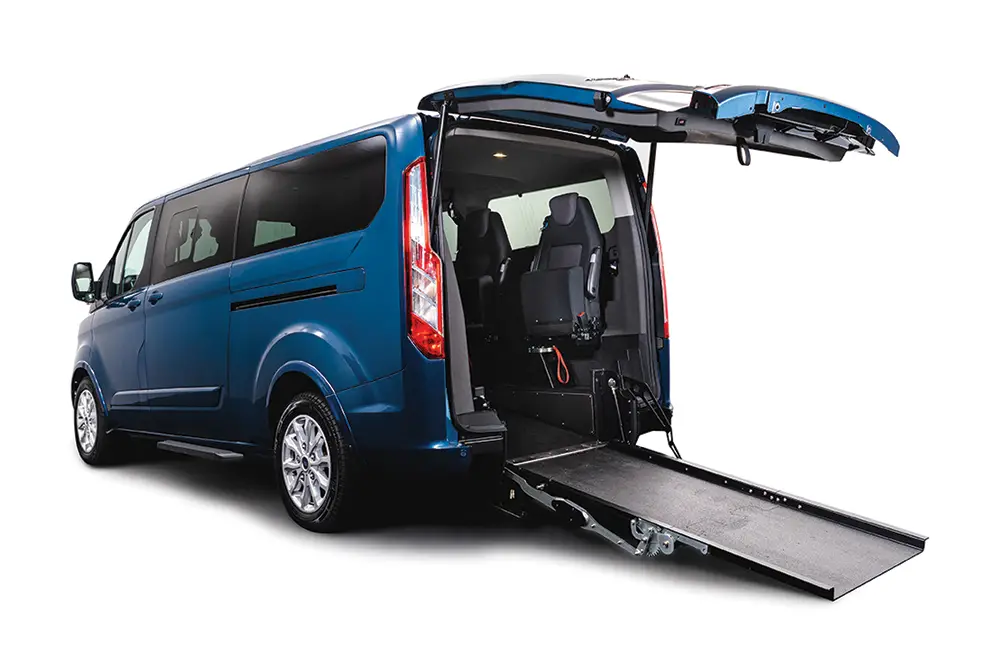 4. Safe ramp
The ramp is designed with an anti-slip coating, improving wheel traction in wet weather.
5. Change the driver
As and when you want a break from driving, your companion can move the driver seat into the drivers' position.
6. Great experience as a passenger too
When travelling as a passenger in your wheelchair, you are seated just behind the driver, close enough to chat and enjoy the journey together.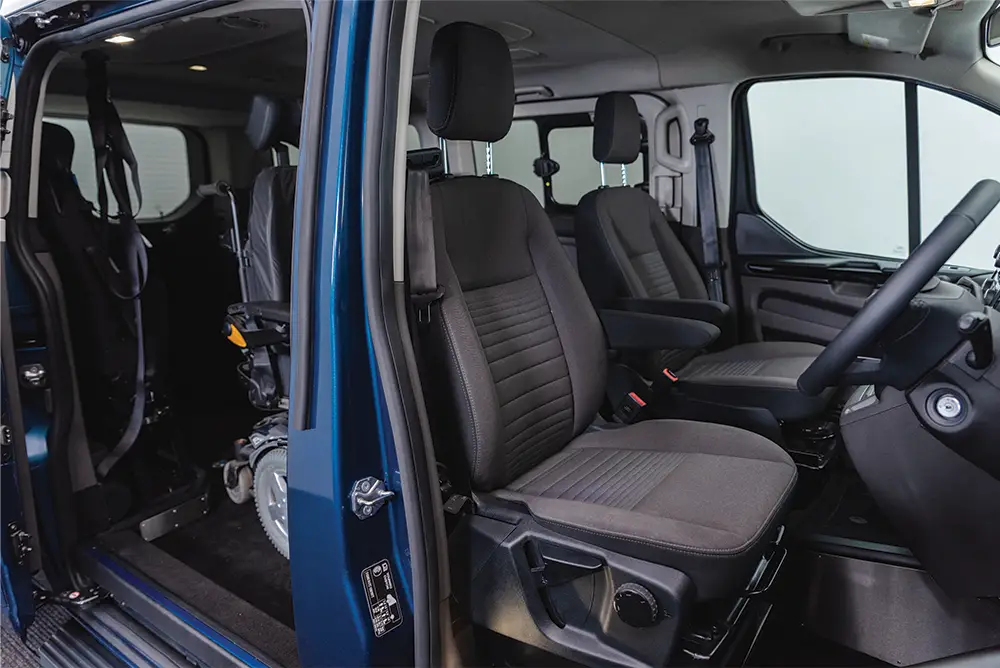 7. Transport up to six people
You can seat up to six people by adding up to three rear fold-down seats.
8. Include a child car seat
You can secure a child car seat behind the front passenger with our optional ISOFIX seat.
9. Control your phone, music and navigation easily
The new Ford also integrates seamlessly with your compatible smartphone, letting you control everything from phone calls and text messaging, to music and satellite navigation.
You can do all of this via the 8″ touchscreen, or by using remarkably simple voice commands (Option on Zetec, standard on Titanium, Titanium X).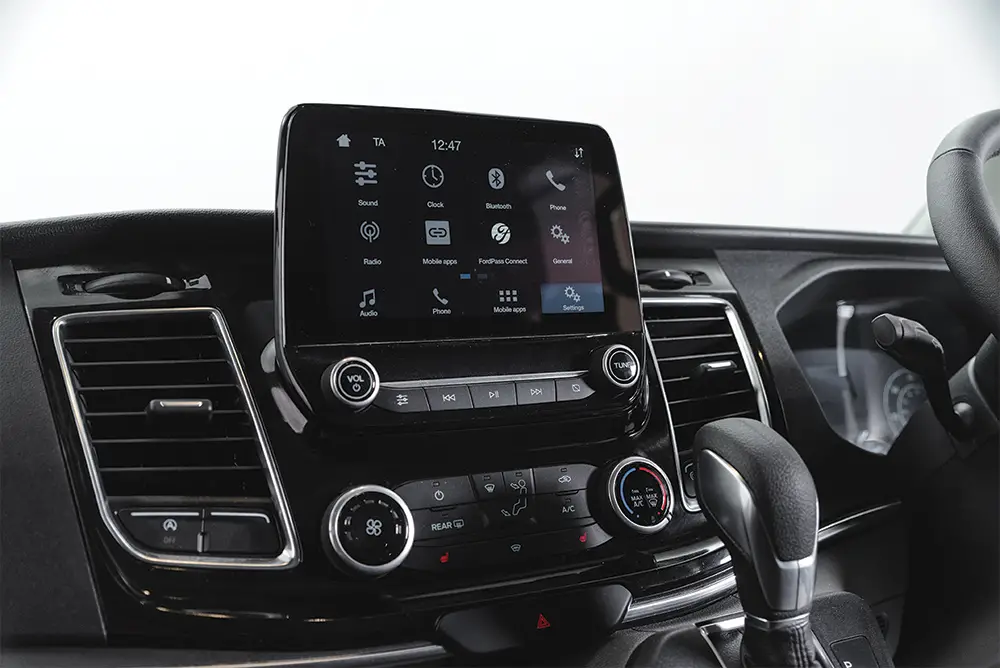 In addition, the new Ford also integrates seamlessly with your compatible smartphone, letting you control everything from phone calls and text messaging, to music and satellite navigation – all via the 8″ touchscreen, or by using remarkably simple voice commands (Option on Zetec, standard on Titanium, Titanium X).
We can fit a wide range of driving adaptations that are designed to suit your specific requirements. This includes an automated wheelchair locking system.
Sirus wheelchair driver experiences
We have been designing drive from wheelchair and upfront passenger vehicles for more than 17 years now, so we listen to our customer feedback and incorporate this into our new vehicle designs.
"I believe driving should be no harder than driving an electric wheelchair. A car is only a bit bigger and has a few more rules to remember!
I passed my test in April 2012 with two minors. I have now driven 129,000 miles, some miles around Europe and my carers have never driven me since! My only regret is that I did not learn to drive sooner.
One of my proudest moments was driving with my dad next to me, in the passenger seat, seeing it was possible.
The first process of getting the car is longer than if you were able-bodied. However, you end up with a bespoke lease vehicle, with minimal running costs and you have the ultimate freedom!
Driving independently is possible for a lot of severely disabled people. Even if you only try it but decide driving is not for you, this book has achieved something!" David Smith OBE.
You can also read David Smith's full review of the new VW Caddy Maxi Life.
"The Caddy Drive has made a huge difference to our lives; the availability of a vehicle that can be entered and then driven without transferring from a manual chair has to be experienced to be appreciated.
The operation is so straightforward that it does not take long to get into the routine. Freedom would be the keyword. Free to drive whenever and wherever one cares to, the ability to drive my wife to the supermarket for a change, giving her (and her car) a rest.
In all the Sirus car is going to be a boost to our lives. It puts me back on the road with a vehicle, that after the initial cautious approach to driving again, proves to be pleasant to drive and gives us the ability to do some sightseeing this summer.
An excellent vehicle with the knowledge that there is a professional backup team to help if required". John, Oxfordshire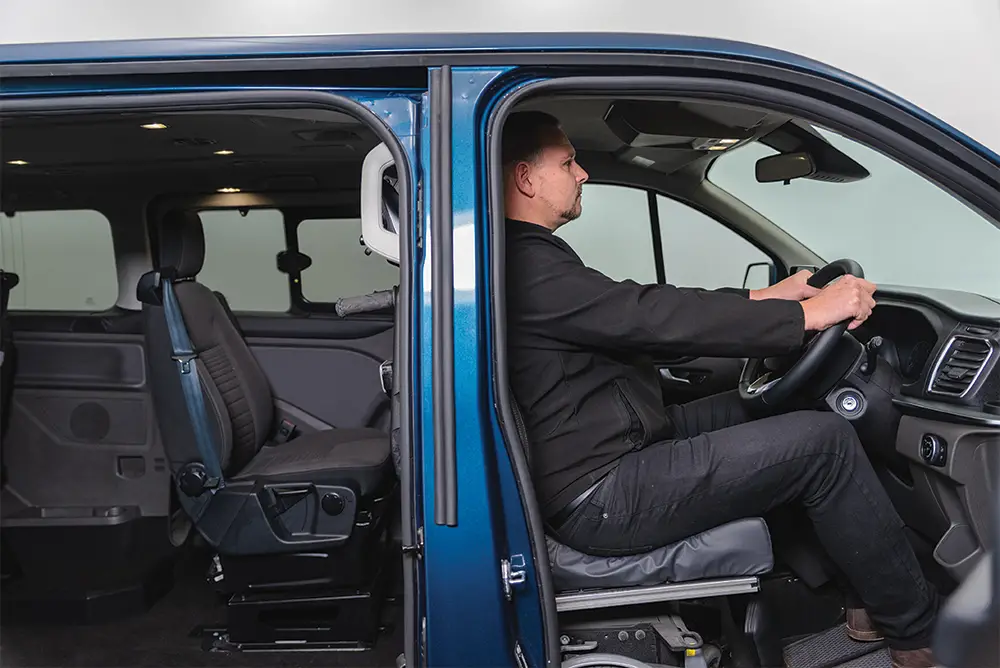 "I can't believe it! I have to pinch myself! the lack of suitable transport rendered me housebound for nearly four years and had a detrimental effect on me.
I developed chronic depression and claustrophobia. At one point I never saw or spoke to anyone for over six months, simply because there was no means of venturing out. Many people thought I was a hermit by choice!
The Sirus drive from wheelchair vehicle is amazing! It not only gives me mobility and independence but appears to be having a positive psychological effect too, allowing me to focus on what I can do, as opposed to what I can't!
I can attend tutorials again and I don't have to rely on my family to get me from A to B, nor is it necessary to plan journeys in advance.
Very few people actually believe I can drive. Vehicles such as the Sirus car may actually help to change the attitude of the able-bodied population towards disabled people!" Catherine, Suffolk
You can read more of our customer stories on our website.
On top of the freedom a drive from wheelchair vehicle gives you, we offer:
You can contact Sirus for more information by calling 0121 505 7777 or visit our website:  www.sirusautomotive.co.uk.
By Sirus
More on Disability Horizons…