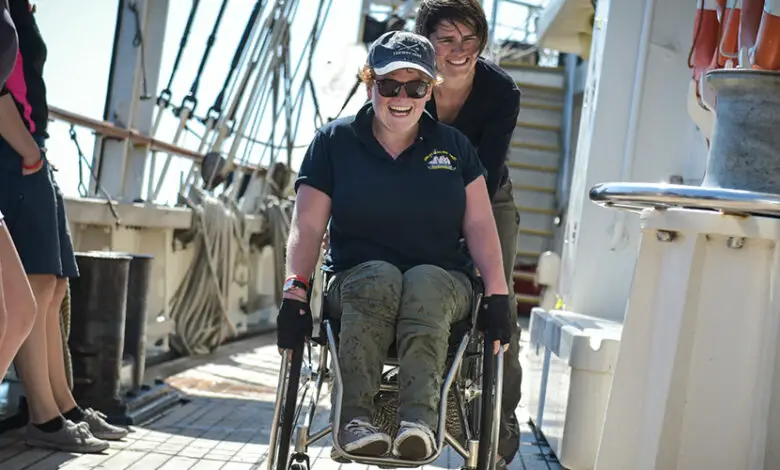 Travel & Holidays
Sailing with a disability: all first timers welcome to experience voyages on board a fully-accessible ship
The global charity, Jubilee Sailing Trust (JST), was founded in 1978 to enable everyone, no matter what their ability, to enjoy sailing. This February and March 2022, it's running a series of Big Weekends, offering fun-filled trips for five days on its fully-accessible ship. Find out more about the charity, its Big Weekends and how you can get involved – no matter what your disability.
If you've ever fancied sailing, but have no idea where to start, you're not alone. The majority of people who join us on our voyages for the first time, young and old, have never sailed before. Not only are they complete novices, but most of them are also living with a disability as well.
Our mission is to offer people of mixed abilities the opportunity to explore their potential at sea and create life-changing experiences for disabled and non-disabled people of all ages, as well as people dealing with all forms of social isolation.
Fully-accessible ship
The most important part of JST is our tall ship, SV Tenacious. Hand made by volunteers and supporters of us, Tenacious is the only tall ship to be made entirely of wood, and designed and built by a mixed ability crew.
Unlike a typical sailing vessel, Tenacious has been adapted to allow all who sail her to enjoy their experience on board. All signage is also in brail and there are clear markers to help those with visual impairments to find their way around the ship.
Even though at first it is an unfamiliar environment, visually impaired people tell us that they've not needed to use any visual aids, such as canes, to help them get around as their confidence grows.
Roesie, who is partially sighted, took her first voyage at age 17. Afterward, she said: "I've come back a different person. This experience pushed me to my limits. If I can do this, I can do anything."
Another of Tenacious' voyage crew, Mavis, caught the sailing bug for the first time at age 70 after climbing aboard and learned to operate every part of the ship.
The great thing about Tenacious is that she's designed to be fully inclusive to all ages, backgrounds and abilities, but for anyone who may require assistance, or is lacking confidence at any time, our permanent crew and experienced volunteers are always on hand to help.
Aboard Tenacious, barriers break down, differences disappear, social bonds form and people start to appreciate the ability and potential in others.
Overcoming challenges
Beneficiaries leave our voyages with new skills and are more aware of their own strengths and capabilities. They gain beliefs and attitudes that help them tackle the limitations in their life. They feel freer to explore their ability, potential and place in the world.
Last year, we partnered with a military preparation training collage, where students were taught invaluable life skills, but were also encouraged to look out for each other. It is here where strong social bonds are formed – and quite often remain for life. One of the college's students gave a snapshot into what life was like on board:
"On the trip, we were involved in numerous activities like setting the sails, helming the ship and being on mess duty. These tasks involved working with people that have disabilities, whether it be visual impairments, cerebral palsy or having to use a wheelchair.
As it was my first time on a ship, I found the way the ship was adapted from what I expected really well, and no one struggled to be involved in the activities.
The voyage taught me that just because someone is classed as disabled, it does not mean they are unable to do things that non-disabled people are able to. Being able to work with these people and seeing how they can involve themselves was truly amazing."
Getting involved
It is that inclusivity that we strive for, enabled by Tenacious, which constantly works to change people's lives.
Government research said 80% of disabled people said they were experiencing increased levels of worry due to the crisis and the emergency measures put in place to combat Covid-19. Almost half reported experiencing high levels of anxiety.
Our mission states: 'Most of us will face major challenges at some time in our life and often those challenges can result from a variety of reasons such as physical impairment, mental health condition or ill health.
They could also be caused by the barriers in the world we live in, such as discrimination, social or economic disadvantage, lack of social mobility and poor accessibility.
For many of us, those challenges can make us feel restricted or even trapped, making us feel disconnected from people and the world around us.
As a result, we can become emotionally isolated and lose our opportunities to socialise or try new things. Our world can start to feel quite small and we can lose the confidence to explore and find our true ability and potential.
On JST's sailing experiences, we liberate people from those feelings and limitations.'
If proof were needed of the importance of the support provided by our voyages, the pandemic has underscored their vital role.
For those looking for a new challenge in 2022, or who have considered sailing for the first time, we are now offering Big Weekends on board Tenacious over five special weekends in February and March.
These Big Weekends are designed for anyone wanting to experience what it's like on board a tall ship. Budding sailors will have the chance to work with our permanent crew and volunteers while learning new skills and making new friends.
Starting in Portland Harbour, situated in the heart of the world-famous Jurassic Coast, participants will spend the weekend aboard in Weymouth Bay. There will be speakers and team challenges, a chance to learn all about the JST and an opportunity to climb the rigging. And, weather permitting, the ship may even venture further afield.
Our five Big Weekends will take place in February and March, with the initial weekend experience taking place from 3rd February.
For more information about getting involved in this snapshot of what a longer voyage may be like, and to book tickets, visit our website the voyages page on the Jubilee Sailing Trust website.
You can also follow the JST on Instagram and Facebook.
By Jubilee Sailing Trust
More on Disability Horizons…