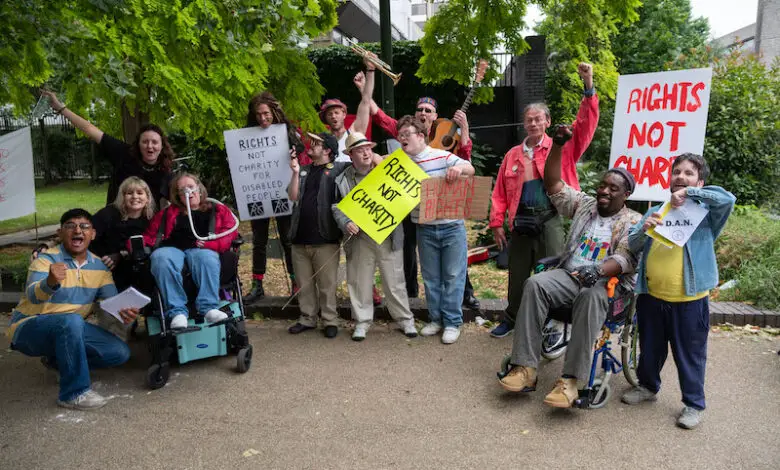 Then Barbara Met Alan is a factual drama that tells the true story of two disability activists – Barbara Lisicki and Alan Holdsworth – who became the trailblazers for disability rights in Britain and help make the Government create the Disability Discrimination Act (DDA).
BBC Two commissioned the film back in 2020 to mark 25 years of the Disability Discrimination Act in Britain. It is part of BBC's commitment to boost disability representation on and off-screen throughout 2020 and beyond. It airs a range of new programmes, as well as the enhanced portrayal in existing programmes and core brands.
Then Barbara Met Alan summary  
Written by multiple BAFTA-winner Jack Thorne alongside actor turned writer Genevieve Barr, Then Barbara Met Alan stars BAFTA-nominated Ruth Madeley (Don't Take My Baby, Years and Years) as comedian and activist Barbara Lisicki and Arthur Hughes (Help, The Innocents) as singer-songwriter and activist Alan Holdsworth.
Their story begins in the early 90s when many disabled people in Britain faced huge barriers in the workplace, lived in poor quality housing and couldn't even get on a bus, because transport wasn't accessible on a bus.
At that time, the idea that the disabled community should be the grateful beneficiaries of charity handouts was commonplace, and far from being equal independent citizens, disabled people had no rights in law.
But then Barbara Met Alan…
With their wicked sense of humour and post-punk energy combined, the pair soon decide to take down Telethon, a 28-hour TV charity event that raises funds by pulling on heartstrings and wrongly making people feel sorry for disabled people.
For the first time in history, they galvanise an army of disabled protestors from across Britain, united under an incendiary 'Piss on Pity' protest slogan, and soon Telethon is no more.
Having shocked a nation and shown what disabled people are capable of, they form DAN, the Disabled Peoples Direct Action Network. And soon they head out on tour, with their new baby in tow – to shut down inaccessible buses and spontaneously picket cinemas, restaurants and train stations – anywhere that denies access to disabled people.
Finally, having honed their use of pink-handcuffs as part of their direct-action tactics and after suffering the loss of DAN members along the way, Barbara and Alan embark on a fearless and coordinated plan to bring Westminster to a standstill, until the establishment can no longer stand in their way and disabled people are granted equal rights in law.
This punky and irreverent film is directed by BAFTA-winning Bruce Goodison (Anne, Murdered By My Father) and BAFTA-nominated Amit Sharma (Crip Tales) with music by Chaz Jankel (The Blockheads) and Alan Holdsworth.
At its heart, this is an uplifting and irreverent love story of two extraordinary people, destined to change the world from the moment they set eyes on each other. Through their humour and unstoppable energy, disabled people find a voice and begin a journey towards gaining the rights they've long deserved.
But as Barbara and Alan devote their lives to the cause, campaign success comes at a personal cost and the pair are eventually driven apart on the eve of their historic yet bittersweet victory.
The stars of Then Barbara Met Alan
Ruth Madeley is an established actor with spinal bifida who has featured in numerous shows such as Don't Take My Baby, Years and Years, The Rook and The Watch. She is also a patron of the disability charity Whizz-Kidz.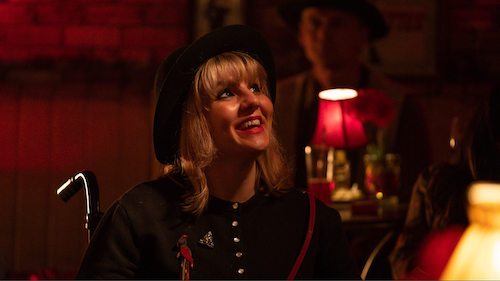 Speaking to the BBC about the project, Ruth said: "To play a character like Barbara is really special. It's every actors dream to play such an amazing character with an epic story to tell, and it's even better that this was a real story of such importance. As actors, we don't always get to tell stories that are so close to home, but this was so relevant and truthful."
Ruth also shared what it was like meeting Barbara Lisicki: "I was terrified! I honestly cannot think of anything scarier than having somebody play you and tell your story. So for someone to trust us to put the work in and do the story justice is a really big deal.
Honestly, I was shamelessly wanting Barb to like me! I was so scared that she'd meet me and think, "why on earth have they got this person, couldn't they find anybody else?".

But she couldn't have been lovelier or more generous. It was great to learn from her and that period of her life so that I could portray her as authentically as possible.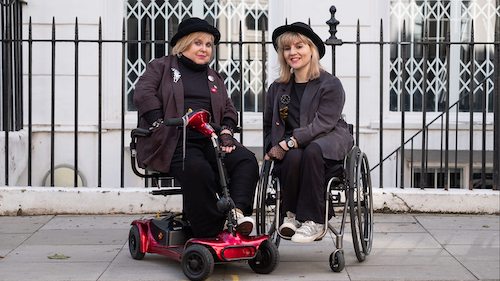 She added: "Acting aside, to sit down and have a drink with her, disabled woman to disabled woman, was a real honour. Knowing that she was fighting for a law that would affect my entire life was so humbling and quite emotional."
Arthur Hughes is an up-and-coming actor best known for roles in Netflix's The Innocents and Channel 4's Help. He is set to be the first disabled person to play Richard III at the Globe later this year. Arthur lives with a rare condition known as radial dysplasia, which means he has an upper-limb difference.
Talking about his role as Alan Holdsworth in Then Barbara Met Alan as part of an upcoming feature interview with Disability Horizons, Arthur said: "I first heard about Then Barbara Met Alan when rehearsing for Help in Liverpool with Jack Thorne.
He mentioned he was writing with Genevieve (whom I performed with in Jack's play The Solid Life of Sugar Water). This was what first piqued my interest and it was now on my radar – a disability-led cast, playing civil disobedience activists? Sounds class.
A few months later the casting was out and I wanted to be in front of the queue. Lead part Alan – it had to be mine. Sometimes you just have to tell yourself that this one is yours and no two ways about it.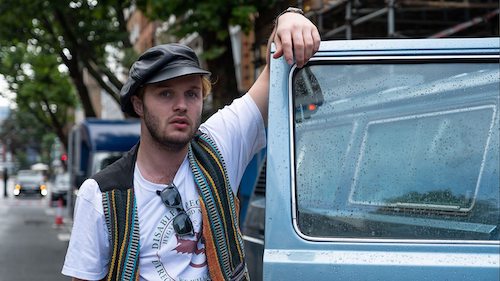 He added: Having worked with Jack, Genevive, and Amit (director), it was like a bit of a family reunion. Along with Bruce (director) and the wonderful Ruth, the family has grown a little larger. We had a lot of fun filming, not without its challenges, but I made some amazing friends and I think the film is unlike anything I've ever seen."
Arthur also told us what it was like meeting Alan Holdsworth: "I met the real Alan a few times on Zoom, as he lives in the US. It was great to meet him, if not a little scary! He's not a scary guy, but to meet someone you're going to portray in a film is a surreal experience. You hope they don't think you're not up to it!
But we got on really well, and he shared some wonderful insights into what it was like leading and organising a civil rights movement, whilst balancing a family and domestic life alongside."
The writing process of Then Barbara Met Alan
Writer Jack Thorne, who lives with cholinergic urticaria (a condition that causes hives on the skin from heat or sweat), has written many TV shows, films and theatre productions including Don't Take My Baby, The Accident, Help, His Dark Materials, Kiri, National Treasure, This is England 86, 88, 90, and Harry Potter and the Cursed Child – to name a few.
Genevieve Barr, is a deaf actor turned writer,  best known for playing roles in The Accident, The Silence, TFades, Call the Midwife and Shameless.
Jack told us how he came to co-write Then Barbara Met Alan with Genevive
"Working with Genevieve is a very exciting thing. We worked together as actor-writer but didn't know each other very well. Then we got chatting on The Accident and she said she was looking to write, so when Mat Fraser mentioned Crip Tales I said Genevieve would be good for it, and I'd be a useful pair of ears, and I just loved her writing.
Then Dragonfly contacted about doing something about the DDA and I thought it's probably time for someone else to be given space, rather than me jabbering on all the time, so I said – "what about me and Gen doing it together".
It's a strange thing to learn to share at 43 but she's changed my writing practice, made me better as a person and challenged a whole heap of things. She's ace."
Genevieve added: "Working with Jack is both delightful and scary. Delightful because he is a talented wizard and I never know what I'm going to get from him in my inbox. It's scary because he is a giant in this industry who wins many awards and deservedly so, and sometimes it's intimidating to stand next to that."
Both Jack and Genevieve also praised the talents of the actors Ruth Madeley and Arthur Hughes, who play Barbara and Alan.
Jack said: "Ruth was one of two e-mails I wrote when I got offered the gig (the other was to Gen), she just is a powerhouse and born for the role. She's a superstar and is smashing barriers wherever she goes. She demands attention, not by shouting, just by being incredibly compelling, and the camera just wants to watch her."
Genevieve said: "I performed alongside Arthur in a two-hander play, the Solid Life of Sugar Water – which Jack wrote and Amit Sharma directed. A reunion of sorts! He has both comedy bones and vulnerability, which makes him compelling to watch. He is utterly compelling as Alan."
Both writers feel this film will not only teach people about a small section of disability history but empower more change for representation and equal rights in the future.
Genevieve mentioned what more should be done to support disabled people: "I think we've only excavated a small part of it. Alf Morris – who helped secure the Chronically Sick and Disabled Persons Act in 1970 – deserves to be talked about. Then Barbara Met Alan shouldn't have waited for 20 years to get made. There is a problem with the representation of disabled people and stories.
She added: "For too long, the television industry has tried and failed to address it. In the making of Then Barbara Met Alan, something of the cause and the fight rubbed off and Jack and I started a pressure group called Underlying Health Condition (UHC), which launched in December 2021.
We, along with producers Katie Player and Holly Lubran, are campaigning to address the lack of accessibility in production spaces with our propositions for how we can make the television industry an environment fit for disabled people to work in.
We're doing this with our partners – the Creative Diversity Network (CDN), Disabled Artists Networking Community (DANC), Deaf & Disabled People In TV (DDPTV) and 1in4.
We're not handcuffing ourselves to buses, or anything nearly as heroic as DAN did. But I hope UHC can push for change within this smaller space of the television industry – which powerfully transmits stories to millions of people. So the disability rights movement feels like a living thing.
Then Barbara Met Alan will be on Monday 21st March 2022 at 9pm on BBC Two and you can catch up on BBC iPlayer.
By Emma Purcell 
More on Disability Horizons…