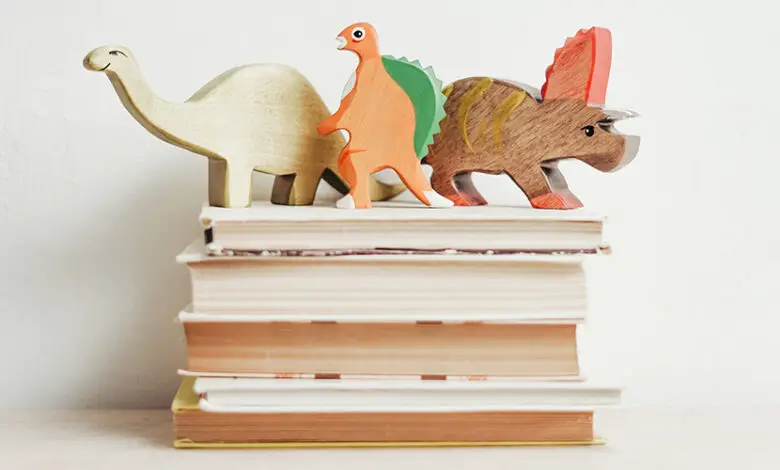 Literature, art and culture have always been tools of enlightenment and knowledge. Exposing children to books that have a disability theme or disabled characters ensures a future generation devoid of discrimination and exclusion.
Here, our writer Raya Al-JAdir highlights 8 books that you should encourage children to read or local libraries to stock.
The Christmasaurus by Tom Fletcher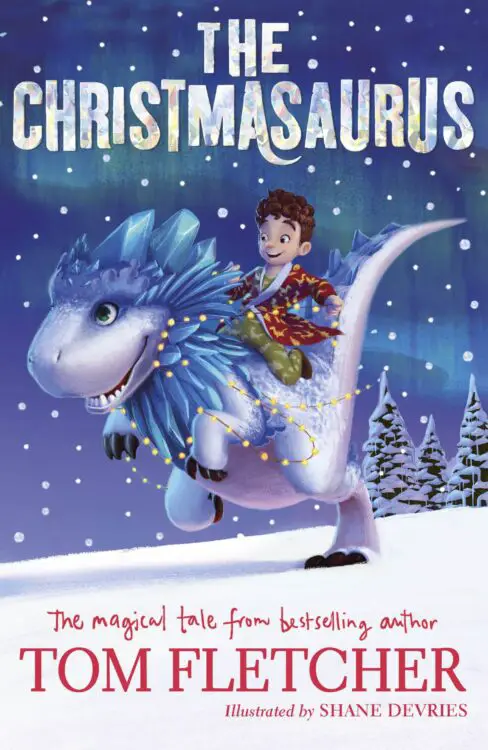 Written by McFly lead singer Tom Fletcher, the story follows William Trundle, a dinosaur-obsessed 10-year-old boy who is a wheelchair user, as he goes on an adventure to see Father Christmas in a unique version of the North Pole.
On his journey, he meets a rare dinosaur and together they try to fight off a dangerous hunter.
Buy The Christmasaurus by Tom Fletcher on Amazon.
You can also buy the other books in the series on Amazon – The Christmasaurus and the Winter Witch and The Christmasaurus and the Naughty List.
Mommy Sayang by Rosana Sullivan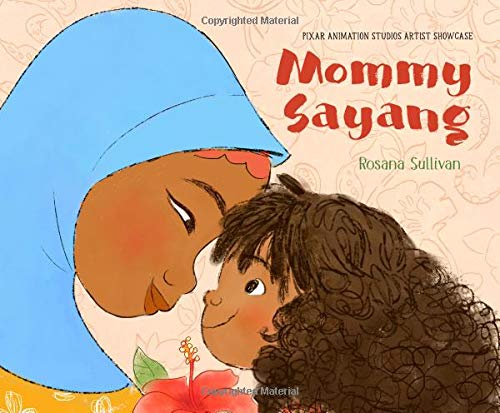 For many, disability shows itself as chronic illness and exhaustion. This is the case for Aleeya's mother in Mommy Sayang, Rosana Sullivan's debut picture book.
The story is based on Rosana's childhood – her life growing up in a small Malaysian village, or kampung, and the loneliness she felt when her mother became ill and could no longer play with her.
Find out where to buy Mommy Sysand by Rosana Sullivan on Goodreads.
Looking After Louis by Lesley Ely, Illustrated by Polly Dunbar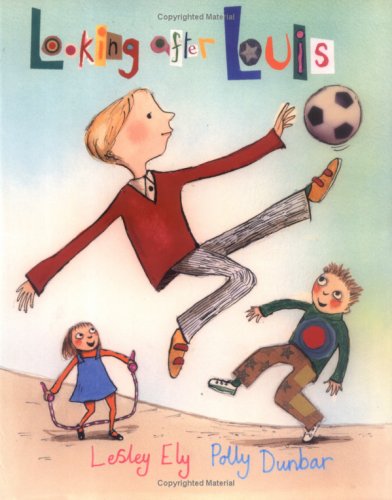 Looking after Louis shows how inclusive classrooms are advantageous for disabled and non-disabled children. Louis has autism and doesn't speak on his own or participate in class activities like other children.
When classmate Sam plays soccer with Louis one day, a whole new world opens up for Louis, and all the children learn a bit more about communication, joy, being human, and that breaking the rules is allowed in certain circumstances.  
Buy Looking After Louis by Lesley Ely on Amazon.
Head's Up, Tim-Tron by Ian Roy and Gary Parsons
This storybook explains brain injury through the experiences of a young robot, Tim Tron. The reader sees Tim Tron before his accident and then goes on a journey with him as he copes with change and going back to school.
This picture book is full of practical ideas to help children, their siblings, friends and parents understand and manage brain injury.
You can download Head's Up, Tim-Tron for FREE from The Children's Trust
Amazing by Steve Anthony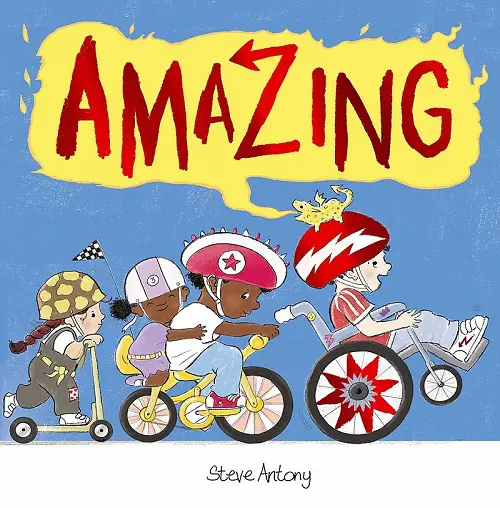 This illustrated children's book celebrates an unusual friendship between a little boy in a wheelchair and his pet dragon.
They go everywhere together and teach each other things along the way. Zibbo the dragon may be different but he is amazing just as he is.
Buy Amazing by Steve Anthony on Amazon.
Dancing with Daddy by Anitra Rowe Schulte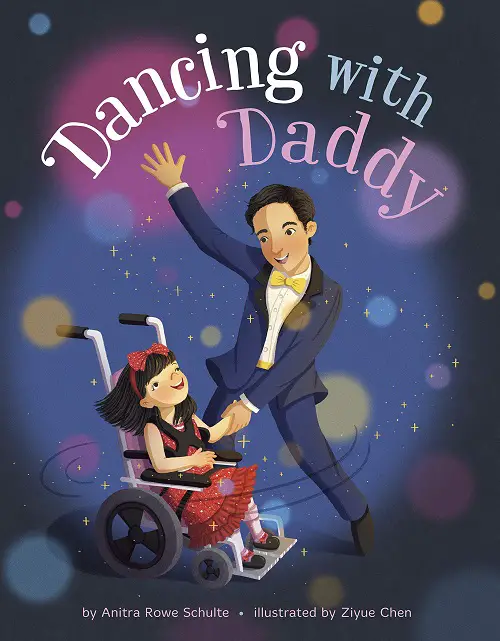 This story was inspired by the author's three daughters, particularly one who has Wolf-Hirschhorn syndrome.
This picture book follows Elsie, a light-skinned girl with WHS who uses a Pragmatic Organization Dynamic Display book to communicate, a gastronomy tube to eat, and a wheelchair to supplement her orthotics.
Elsie is looking forward to a father-daughter dance, excited to wear her new red dress and bow that "matches Daddy's soccer jersey."
As snow falls, Elsie worries that the event will be cancelled. But the morning brings positive news, and she and her dad and sisters dance the night away.
Buy Dancing with Daddy by Anitra Rowe Schulte on Amazon.
Ali and the Sea Stars by Ali Stroker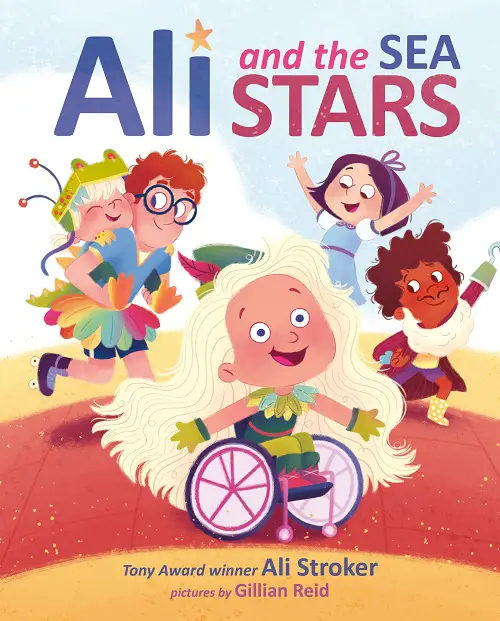 In her debut picture book, Tony Award-winning actress Ali Stroker captures the magic and community of theatre.
Based on the pivotal summer Ali performed in her first musical by the Jersey Shore, the story is about a spirited girl in a wheelchair who stages a show for her hometown.
Ali loves to dance, sing, and act. But she had never thought of putting on her own show until her neighbour asks, "Why wait?". Immediately energised, Ali gets to work.
There's so much to do before showtime – choosing the right musical, auditions, rehearsal, costume and set design – but Ali can do anything with her family and friends.
When a storm threatens to undo all their hard work, Ali must use her imagination and adapt so the show can go on!
Buy Ali and the Sea Stars by Ali Stroker on Amazon and read our interview with Ali Stroker.
Hello Goodbye Dog by Maria Gianferrari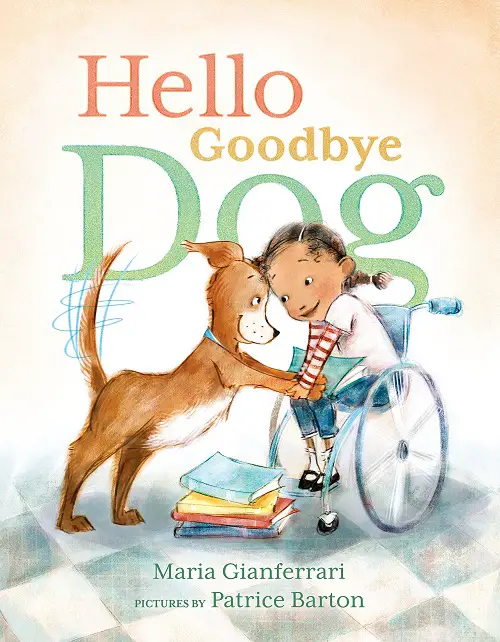 Hello Goodbye Dog is about a bi-racial girl who uses a wheelchair to get around. But the book is not about race, and it's not about disability. It's about the relationship between the girl and the dog who adores her.
Buy Hello Goodbye Dog by Maria Gianferrari on Amazon.
Do you know any other children's books that have disabled characters? Share your suggestions in the comments box or on Facebook and Twitter @DHorizons.
By Raya Al-Jadir
This article includes affiliate links, so if you decide to purchase one of the books, we'll get some money toward the running of Disability Horizons – at no cost to you.
To work, affiliate schemes use cookies to track users that visit another website from our article. You can accept or reject the use of these cookies – please read our cookie policy for more information.
More on Disability Horizons…