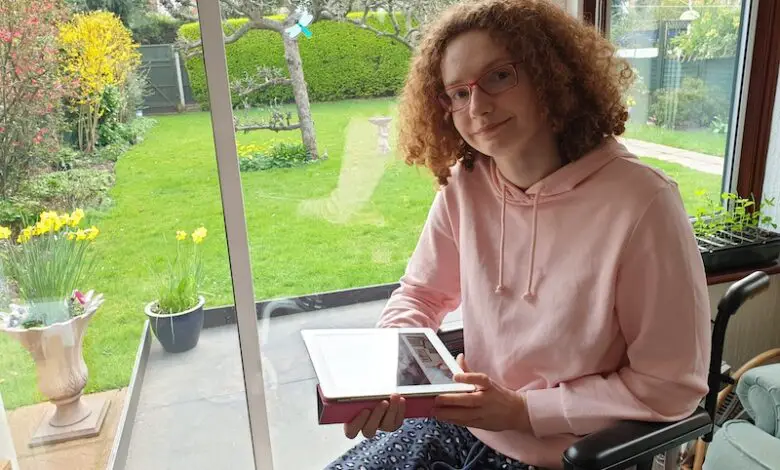 Lifestyle
Work & Education
Disabled student journalist calls an innovative accessible course a "stepping stone to a career in journalism"
In 2020, a social enterprise, Ability Today, launched an accessible version of the Certificate Foundation in Journalism course, which is specifically designed for the Academy for Disabled Journalists (ADJ). The ADJ provides people with a disability or a health condition the skills and connections to have a career in journalism.
Hannah Deakin is a disabled blogger who recently completed the course. Here, she shares how she became interested in journalism, her experience on the course and her plans for a career in journalism.   
UPDATE 20/04/2022: The application deadline for new students to the Certificate Foundation in Journalism has been extended until Thursday 21st April 2022 at 5pm.
I am Hannah, I am 31 years old and a powerchair user from Surrey. I became disabled following an injury and developed complex regional pain syndrome and many secondary illnesses and complications.
I work 10 hours a week as a Finance Administrator, having completed my AAT (Association of Accounting Technicians) qualification and gaining my MAAT (Member of Association of Accounting Technicians) status, and getting my first job aged 30.
I write a blog – Hannah's Hope, am an ambassador for the White Lodge Centre and do quite a lot of fundraising for several charities. I was also recognised on the 2021 Disability Power 100 list.
My interest and background in journalism
I first became interested in journalism through writing my blog and having a passion to make a difference, raise awareness, change perceptions and promote equality.
I started writing my blog in 2018, and in 2021 I transferred from Blogger to WordPress, going self-hosted, and getting my own domain name. I am a disability and lifestyle blogger.
I have written about work, studying, educating non-disabled people, sharing helpful information with other disabled people, life experiences and grief, to name a few.
I reached out to get involved with organisations such as Scope, writing guest blogs and then being interviewed on national TV news channels.
In 2020, I spoke to Sky News and Channel 5 News about accessing personal protective equipment (PPE) for personal assistants (PAs), and how the pandemic was affecting disabled people.
In 2021, I went on ITV News twice. The first time on "Freedom Day" and how it wasn't "Freedom Day" for most disabled people. The second time when the government ended self-isolation for those that had been in contact with someone who had a confirmed case of Covid-19, and how this particularly affected disabled people and their health.
Through my blog exposure on social media, many opportunities have come up, including being asked by Disability Horizons to become a community writer. I wrote my first article on this site last year – "Using blogging and speaking to raise awareness of disabilities".
Studying the Certificate Foundation in Journalism for the Academy for Disabled Journalists
Grant Logan is the founder of Ability Today, a social enterprise scheme and online directory for disabled people.
Grant knew about my blog and asked if I was interested in doing the Certificate Foundation in Journalism (CFJ) course through the Academy for Disabled Journalists (ADJ), which he was setting up, and running in association with the NCTJ (National Council for the Training of Journalists).
I was really interested but slightly hesitant as I don't have much free time due to being over-ambitious, personal care, physiotherapy and other commitments. However, I am so pleased I went ahead.
The course consisted of six months of weekly Zoom sessions of 1.5 hours, which was a lifeline in lockdown. They started in May and finished in October. We had a lovely tutor, Vanessa, who was so supportive and helpful, doing everything she could to make the course accessible to everyone.
There was a mix of individuals with a variety of disabilities, from wheelchair users to blind and deaf students. Everyone was welcome and made to feel included. There was a stenographer on every session to transcribe speech, and Vanessa made audio descriptions when necessary. There was also a five to 10-minute break in the middle of lessons.
I learnt about a lot of different topics within journalism including how to gather and record information from interviews, feature writing, photography, law and ethics, radio presenting, how to create podcasts, news writing, writing for digital media and general knowledge on how society works. I particularly enjoyed learning ways I could improve my blog and article writing.
From the beginning of the course, you have two years to complete the course. I started in May 2020 in the first cohort and passed my final unit in January 2022.
There are no exams, you are assessed on set coursework from each unit. You need to gain 25 credits, which is approximately 250 learning hours to pass the course.
There are five mandatory units worth 14 credits, and then you need to complete 11 credits in optional units to gain your CFJ. If you don't like one of the optional units available on the course or find it more challenging due to your disability, they teach some extra units at the end so you could always do those to make up your units.
It is very flexible and Grant does everything he can to accommodate everyone. I would definitely recommend it to others. It is a great opportunity and can be a stepping stone to a career in journalism.
The next cohort starts in May 2022. Hurry, as you need to register by 21st April 2022 at 5pm. To find out more visit Ability Today's website.
Grant also arranges a variety of masterclasses throughout the year with journalists, showcasing the range of jobs and careers available in journalism. They are sessions on Zoom where you gain an insight into working in a newsroom, for a newspaper, abroad, as a radio presenter and the specialist fields within these sections.
A few masterclasses that I have particularly enjoyed included search engine optimisation (SEO), mobile journalism, and the Managing Editor at Sky News, Louise Hastings, speaking about her job.
My future plans for a career in journalism
Now that I have finished my course, currently, I am not sure I will have a career in journalism – I am not quick enough at turning around articles! Not that journalism is limited to writing, there are so many branches to journalism.
When I write for my blog or articles I choose, I have a passion. A passion to raise awareness, promote equality and make a difference.
I plan to continue and grow my blog, continue writing articles and be involved in interviews – highlighting issues and being a voice for disabled people. The skills I have learnt will enhance my blog and writing of future posts and articles.
For now, I think accountancy is my path, however, it is good to be dual skilled, and that doesn't mean I couldn't mix the two in the future and go into data journalism or something like that.
You can find out more about Hannah Deakin by visiting her blog Hannah's Hope and following her on Facebook, Twitter and Instagram.
If you're an aspiring disabled journalist keen to gain more skills and experience, REGISTER your place on the Certificate Foundation in Journalism for the Academy for Disabled Journalists by Thursday 21st April 2022 at 5pm.
By Hannah Deakin
More on Disability Horizons…