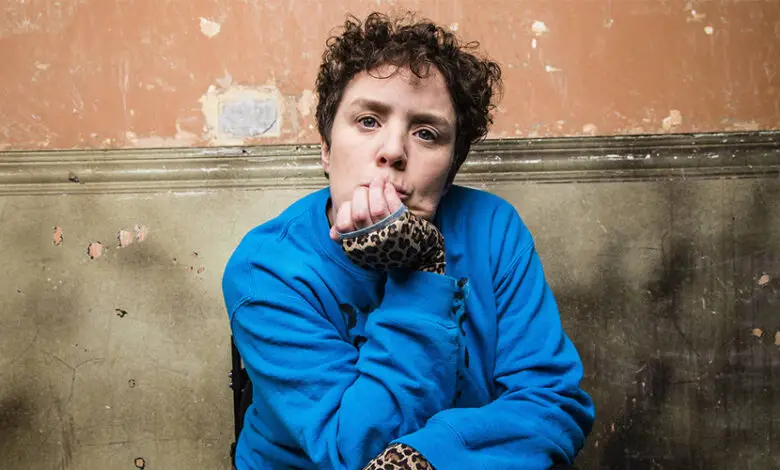 Jess Thom is a British theatre-maker and comedian who lives with Tourette's syndrome, a neurological condition that causes involuntary movements, words and sounds.
Our writer, Emma Purcell, spoke to Jess Thom about living with Tourette's, her creative project Touretteshero and her appearances on stage and screen.
Jess Thom is a 41-year-old artist, performer, comedian and disability activist. She was diagnosed with Tourette's syndrome in her early twenties and has a variety of verbal and motor tics.
She established Touretteshero, an alter-ego and creative space aimed at increasing awareness of the neurological condition. The project includes an online platform where Jess shares her experiences and she hosts events and performances for disabled and neurodivergent people to participate in.
Jess created and starred in the production Backstage in Biscuit Land, which highlights her experiences of living with Tourette's and the unpredictability it brings. It featured at the Edinburgh Fringe Festival and toured nationally and internationally.
A TV adaptation of the show – Broadcast from Biscuit Land – was later commissioned and aired on BBC Four.
Jess also campaigns for more relaxed performances in theatres for neurodivergent people. In 2017, she starred as Mouth in a rendition of Samuel Beckett's play Not I. BBC Two also commissioned Jess to appear in a documentary called Me, My Mouth and I, which went behind the scenes of the Not I production.
Jess also made appearances on TV to talk about life with Tourette's, which included a memorable interview on Russell Howard's Good News.
Read on to find out more about Jess in her own words.
View this post on Instagram
Jess Thom on living with Tourette's syndrome
What was it like growing up with tics before your diagnosis?
I've had tics since I was six, but they were much less noticeable to other people than they're now. They intensified in my twenties and began to have a much bigger impact on my life.
But as a child, I knew they were there and I behaved in unusual ways. I made noises and movements that I didn't choose to do. But the reasons I thought as to why it was happening were way worse than the reality.
Before my diagnosis, I was generally well supported and understood but I did have these internalised ideas and shame that became established early on. I very quickly learnt that the way that my body and brain worked was different to other people and something that other people found problematic.
So getting a diagnosis in early adulthood felt like a relief and crucial in getting the right support, understanding something that has always been a big part of who I am, and having a clear way of explaining it to other people.
How does Tourette's syndrome affect you on a daily basis?
Tourette's is a neurological condition that goes up and down in the course of someone's life. Everybody with Tourette's will have at least one vocal tic and multiple motor tics.
Vocal tics are involuntary noises that can be words or sentences, but they can also be sounds, throat clearing or sniffing.
Involuntary movements can be similarly complex or simple. I've got tics in my legs that affect my mobility. I've also got a chest banging tic, which means that I bang my chest hundreds of times a day.
I use a wheelchair to get around and I need to use lots of adapted equipment and aids. I'm a big fan of practical interventions because tics change, and if I get a new tic, I work out what things might help make it easier to manage.
View this post on Instagram
I also have PA support 24 hours a day because I experience episodes where my tics suddenly intensify and I completely lose control of my body and speech.
But all of those things are about how my body and brain work. They have their impacts and they are manageable. The thing that is most difficult to manage is non-accessible environments and attitudes.
What has been the most difficult situation you've encountered when facing accessibility barriers or people's attitudes?
The most difficult situations are not so much about people staring, laughing or being surprised by my tics, it's people who do not listen once I've explained them. This occurs particularly with people in positions of authority and power such as the police or railway staff.
I had a distressing incident years ago when someone refused to let me through a barrier because of my tics and they wouldn't help me until I stopped swearing. The thing that upset me was the fact that I wasn't listened to even though I explained.
Your most common verbal tics are "biscuits" and "hedgehog". Do you love/hate biscuits and/or hedgehogs?
I've had no traumatic experiences with either hedgehogs or biscuits. I don't have any strong feelings on either. I don't choose my tics. They turn up and sometimes creep in gradually.
Biscuit was a grower that increased slowly over time. But hedgehog just exploded one night. I went out for an evening and wasn't saying hedgehog. When I came back, I was saying it a lot for no reason. Most tics are random and a surprise to me and everybody else.
I can have more one-off complex, funny tics that can be surreal, like "replace every chimley in London with a penguin" or "the history of iguanas can be written in the teapot".
I've learnt to love and value the way that my brain collides ideas together to create spontaneous new concepts and that is powerful.
What have been the most outrageous/ridiculous tics you've said in the most inappropriate place? 
While most tics are random, lots of people with Tourette's have oppositional impulses – so doing or saying the worst thing in any given situation. 
It means that I'm rubbish at playing I Spy because I will immediately say the answer. I will also shout "bomb" in airports or tell security I have a springer spaniel in my bag. It's the very opposite of what you would choose or want to say. 
They are also tics that people can find difficult to think are involuntary because they are in context as it involves doing the opposite of what you would want to or choose to say.
I am one of the 10% of people with Tourette's who have swear tics and often people expect that to be the most tricky aspect. 
Actually, I used to work with children and young people for a long time, and I had a regular tic, "I'm a baby". It's hard to be strict with a 15-year-old while saying "I'm a baby" over and over again, although I did manage it. 
Another tic I had for a long time was "I love cats". But I didn't really love cats. Then this cat (who is currently on my lap) came to live with me, despite the fact I had a whole bit of my comedy routine where I said that I didn't love cats. 
I remember practising it with him on my lap thinking, "you've just wrecked this whole bit for me. I can't now say that I don't love cats". 
One of my earliest long complex tics in my early twenties was "Tony Blair sucks cock through his tiny mouth mother f****** c**", which is both long complex and rude. But I said it as frequently as biscuits, so it was a very regular set of tics.
Jess Thom on launching Touretteshero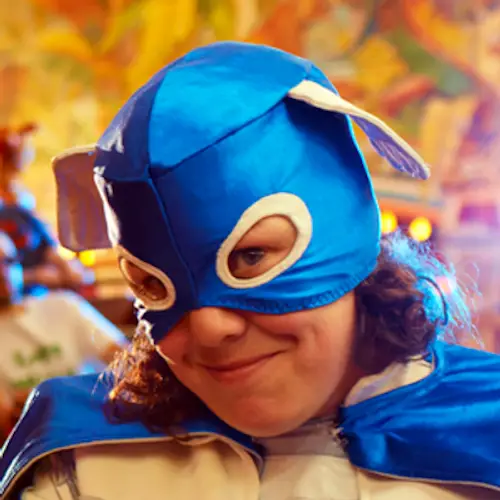 How did you come up with the idea of Touretteshero?
I didn't come up with the idea of Touretteshero. My colleague and friend Matthew Pountney did. Matthew and I had worked together for a long time on inclusive adventure playgrounds for children. 
Over that time, my tics had intensified and Matthew had been one of the few people whom I was close to and who was a key support as I adapted and adjusted to my changing requirements. 
We had lots of conversations about Tourette's and tics, but I would find them difficult and it would often end in tears. Then one day, we had a conversation that radically changed the way I thought about my tics. 
He described Tourette's as a "crazy language generating machine" and told me that not doing something creative with it would be wasteful. 
I was able to hear that sentence in a totally different way from anything I've heard before. It got into my head, took roots and allowed me to understand and think about the value of Tourette tics creativity and what happens if I let myself think about that in positive ways. 
That was Touretteshero's origin story. That conversation was the starting point of me embracing creativity and Matthew being part of that and together we co-founded Touretteshero as a creative response to my experiences.
I think the other reason why it felt important was that I didn't find anything that represented the reality of living with Tourette's. There were formal charitable support organisations and there was information on the medical definitions and descriptions, but there was nothing that reflected the weirdness, the complexity, the humour or the surrealness of living with a body and brain that worked in unpredictable ways. 
Which blog posts have been your most popular?
The blog covers a very vast ray of things. Some things are serious, funny and political. One of the things that are interesting to me that I've learnt to value is that Tourette's draws my attention to details in my surroundings that I wouldn't otherwise notice. 
For example, I have this ongoing relationship with the lamppost that I can see from my bedroom window. I've written quite a lot about the relationship with that lamppost. My bedtime routine is usually to brush my teeth, get into bed and then shout at the lamppost until I fall asleep. 
Those lamppost blog entries are very popular and people like following that relationship because it's unusual. They're amongst my favourites too because they explore how tics relate to the environment and then how they draw things that I haven't consciously been aware of that get highlighted to me through my unusual neurology. 
Other popular posts are ones that speak to parents raising children with Tourette's. As an adult who has the language and confidence to explain what's happening to me, I'm in a position to share that with families to help them be better allies to their children. 
What kind of events do you do for children and young people?
I would describe myself as a performer and participatory artist, which means that lots of the art we make is about collaboration and people coming together.
We create playful, imaginative, inclusive events that invite people to come and be in public spaces and have their access requirements met.
There's real power in connecting people and creating new ideas. It brings joy and the ability to embrace and enjoy the art activism and the thinking that comes from disabled people.
Also, one of the reasons we hold events for children and young people is because from an early age, disabled and neurodivergent children are taught to expect less and they have to change themselves to fit in. 
Often we are taught to feel like we are the problem but we can create spaces where people know that it doesn't have to be that way.
I think raising expectations and helping you understand that lots of the barriers that we experience are not caused by our bodies or minds, but the cause of decisions largely made by non-disabled people.
Jess Thom on starring in Backstage in Biscuit Land
Can you tell us how you created the show Backstage in Biscuit Land and what it is about?
It was inspired by a difficult experience I had at the theatre. I'd gone to see a show and I'd done all the preparation, talking to the theatre and meeting with the performer who introduced me to the whole audience at the start of the show and explained that I had Tourette's.
Despite all of that planning, at the interval, I was asked to move and sit separately in a sound booth behind glass at the side of the stage. It was a deeply distressing experience. I sobbed in the booth and promised myself that I would never set foot in a theatre again. 
I was supported again by Matthew and other creative organisations, to understand that there was a different option and that was to occupy the only seat in the house – the stage. So I made a show about my experiences.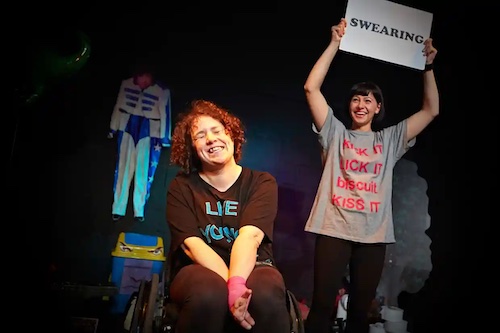 Along with Matthew and my co-performer, Jess Mable Jones, who's an amazing performer, puppeteer and theatre-maker, we created Backstage in Biscuit Land,  a show in which I describe the surreal world my tics create around me. 
It was a joyful and challenging comedy. It felt really exciting to think about how we create a live performance that says the things that we want to do but also embraces the fact that I'm neurologically incapable of sticking to a script. Therefore I got to create a show that had room for unpredictability.
The show was created as a way of laying out some of the difficult and invisible barriers and as a creative catalyst and challenge for the wider sector. It helped me fall in love with performing. I hadn't trained as a performer and it was something that I had not set out to do. 
Can you tell us about the TV adaptation of the show Broadcast from Biscuit Land?
That was amazing yet strange and I still can't believe they let us do it. It was part of something called Live From Television Centre, in which five theatre companies made shows in the old television centre building.
It was exciting and an unusual way to make TV. It taught us loads and we had lots of support from Battersea Arts Centre, the BBC and Arts Council. 
Broadcast from Biscuit Land was a half-hour adapted version of the show, which went out live on BBC Four.
It ended with a grand finale that had giant cats and dancing biscuits and a choir singing about how much they love cats and waving cat flags. We even had a giant stage in the shape of a Jammie Dodger. 
We let Tourette's direct and design the framework for this grand finale. It felt incredible and it was one of the most thrilling and weirdest experiences I think I've had. 
Jess Thom on her other theatre performances and television appearances
In 2017, you performed a relaxed performance of the play Not I. Can you tell us more about it and what it was like to perform?
The idea for Not I came about when we were touring Backstage in Biscuit Land and realised lots of venues said to us "we're excited about relaxed performances", or "we want to make our work accessible to disabled people but we just haven't had the right type of show yet". 
We became aware that there was this cultural curation that was happening around what worked and what was and wasn't being made accessible. 
For our second show, we wanted to do something that challenged that idea, that there was this type of work that you could do that was suitable for relaxed performances.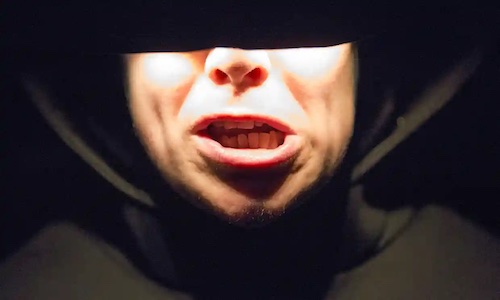 Not I is a notoriously intense Samuel Beckett play that's delivered at speed. It's a monologue that's performed in the dark with just a light on the mouth. 
The more I read that play, the more it deeply resonated with my lived experience. We identified and claimed Mouth as a disabled character and understood her experiences from that perspective.
We made a show that demonstrated how you could make an intense theatrical performance a relaxed, accessible experience without reducing its intensity. It was a bilingual performance in English and British Sign Language. It pushed me as a performer in a way that I never expected. 
You've made multiple appearances on TV to discuss Tourette's. What was your favourite TV appearance and why?
Lots of them are standard but still interesting to do. To have opportunities to talk about my experiences feels powerful. 
Russell Howard's Good News stands out because of the approach that focused on humour, creativity and joy, rather than all the difficult things. There was no tragic violin music at any point. 
It's interesting because I did an interview with The One Show at a similar time and that took a much more traditional narrative around how disabled people are talked about, despite our best efforts to change it.
Then a week later I did Russell Howard's Good News and loads of people engaged and watched because it was funny, interesting, and joyful. A lot of that is because Russell was a generous interviewer. 
I enjoyed the fact that it demonstrated there is value and interest in – not just following the established ways that we talk about and present disability – but we can do it differently and make it better, stronger and funnier.
Do you have any future projects lined up in 2022?
I'm particularly excited about a project that we're working on called Journey To A Better World, in which for the last two years, I talked about my experience of shielding and described lockdown as like being in a spaceship and me and my support workers were the crew. We imagined my home as a spaceship in this uncertain uncharted long journey.
So Journey To A Better World takes that idea and is going to be made into a fully accessible spaceship that disabled and non-disabled people can board to explore our journeys over the last two years. It's also a chance to discover where we want to go next and to ask how can we set a course for a better world and what do we need to do? 
It'll be performances, activities and silliness. We'll be landing the spaceship in Germany in July, and hopefully, we'll be landing it in other places across the UK as well. 
View this post on Instagram
What advice would you give to other people living with Tourette's syndrome?
There's no right or wrong way to live your life and to live with a complex condition. For me, learning about Tourette's and practising and developing the confidence and language to talk about my experiences has been powerful. 
Connecting with other people – who have Tourette's or other impairments – makes you feel collective and part of the community of disabled people who are shaping the world. 
Learn about the social model of disability, which says that it's normal for bodies and minds to work in different ways. Our bodies are not the problem, the problem is non-accessible environments and attitudes.
I think that there's no age too young to teach people about that way of thinking. My four-year-old niece often takes that approach. She's not interested in trying to make me walk again, but she is interested in how we can play together in the playground. 
For families raising any disabled child, it's natural to worry about the future, but I would focus on building skills and connections now because those are things that are going to be the most powerful and useful for them as they grow older.
You can find out more about Jess Thom by visiting her website Touretteshero and following her on Facebook, Twitter, Instagram and YouTube.
Interview by Emma Purcell
Featured Image by Andy Parsons
More on Disability Horizons…