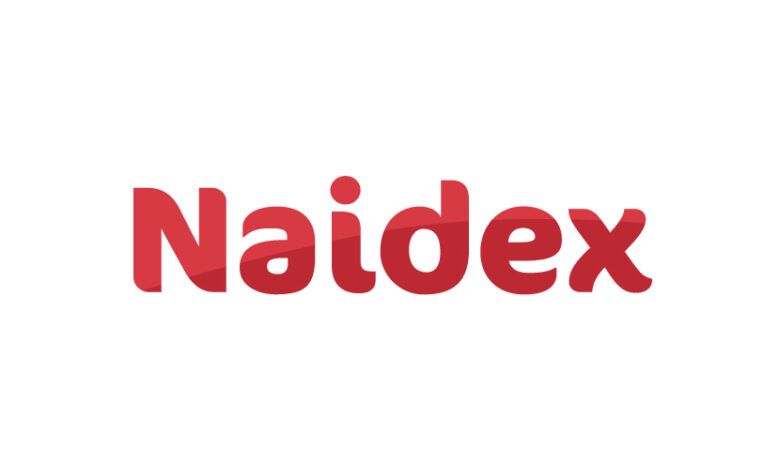 Lifestyle
Naidex 2022: introducing the new Village Green and Disability Horizons Marketplace
This July, on the 6th and 7th, Naidex is back and, once again, Disability Horizons will be there. But, this year, it's going to be a little different – it's all about lifestyle.
As well as the usual range of exhibitors with life-changing products and talks from experts about everything from work to sport, Naidex will be showcasing its new Village Green and the Disability Horizons Marketplace – set to bring you a whole host of treats for you to enjoy – all for FREE!
Starting with the topic of travelling with a disability, on the main stage, you can watch a Q&A with adaptive adventurer, Kate Appleby, detailing her battle with incurable illnesses alongside her pursuit of adventure.
After overcoming childhood abuse and an early diagnosis of Lupus, Kate turned her back on depression, in exchange for life outside.
Kate will offer an insight into her struggles to climb, swim, hike and push her body to the extreme and give a guide on how to thrive outside your comfort zone. Don't miss the talk at 11.45 to 12.15pm on 7th July on the main stage.
At the Lifestyle Theatre, there is:
Worn out where's the Gin? – a parent's perspective and honest open account of parenting a special needs child from Clare Worton – 1.15 to 2.15pm 7th
My life and me, what can I achieve? – a look inward at what your capabilities are from Tessa Wenn – 2.45 to 3.45pm 7th
Award-winning sex toys and technology provider Hot Octopuss talks about all things sex and disability at 13.15 on 6th (over 18s only!).
See the full Naidex agenda for more information on all of the talks across the two days.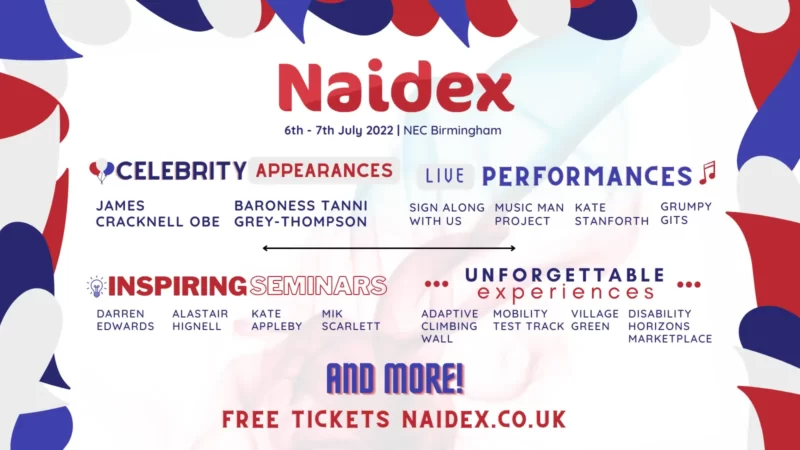 Village Green
The new Village Green is like a mini fete or festival. Think bunting, tasty snacks and a lot of merriment. It will have a whole host of activities and performances that you can get involved in or simply watch.
Disabled dancer, teacher, and activist Kate Stanforth will be offering an inclusive dance workshop and performance (2.10 to 3.10pm 6th July).
She will also be talking about how she built a business around her chronic illness (12.30 to 1pm 6th July), the question that most appears in her inbox!
The Village Green will also feature the likes of Mr Cookfulness himself, Ian Taverner, who will be giving cooking demonstrations and tips on how to navigate the kitchen with chronic pain (11 to 11.30pm 6th July and 11.45 to 12.15pm 7th July).
As well as these informative sessions, there will also be a showbiz element to the NEC this year with performances from Sign Along With Us, a Britain's Got Talent Golden Buzzer act from 2020 (1.15 to 1.45 6th July).
Plus, the amazing Music Man Project, an international music education service for children and adults with learning disabilities, will be showcasing a very special new song (1 to 2pm 7th July).
You'll also be able to enjoy the new adaptive climbing wall.
Disability Horizons Marketplace
The Disability Horizons Shop started in 2019 with a clear focus – to sell invaluable products that help to make the lives of disabled people easier and to support disabled inventors, entrepreneurs and business owners.
For a number of years, Naidex has been hatching a plan to showcase more affordable products alongside the bigger solutions, enabling visitors to buy gadgets that they can take away on the day.
So, with similar goals, this year, we've joined forces to create the Disability Horizons Marketplace, a place to highlight brilliant products that have a genuinely positive impact and cost as little as £5.
This, sitting alongside the new Village Green, is sure to bring the fun this summer, and we can't wait for you to return! Plus, Naidex is better shared, so feel free to bring your friends, family, and carers/PAs along!
Join us at stand B36, and find Active Hands, AbleMove, Stickman Communications and Helping Hands.
DON'T MISS Naidex 2022 on 6th and 7th July at the NEC Birmingham. Tickets are FREE – so what are you waiting for? 
By Naidex and Disability Horizons
More on Disability Horizons…