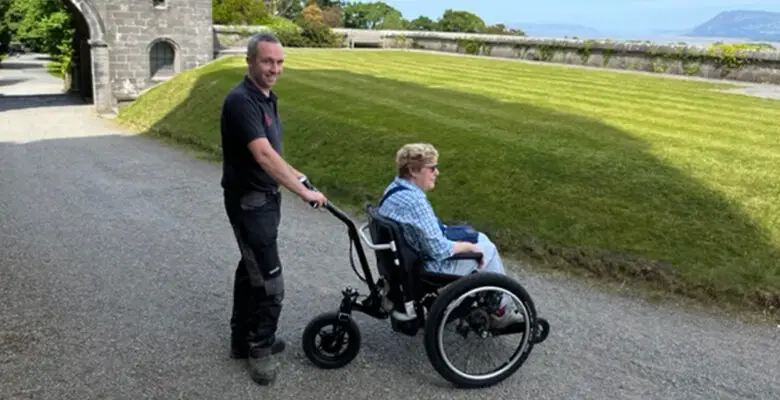 Travel & Holidays
Going electric: new electric-powered attendant all-terrain wheelchair
Mountain Trike has just launched a new all-terrain wheelchair – the MT ePush, an electric power-assist version of its already popular MT Push. Launched this July at Naidex, it provides the wheelchair pusher with electric assistance, enabling them to tackle more challenging terrain and steeper hills so that you can adventure together. Read on to find out more…
The MT ePush has been developed with user feedback, as part of our user-centered design ethos.  Just like our original MT Push, the ePush is capable of traveling off-road, up and down hills, is easily manoeuvrable for the pusher and extremely comfortable for the rider.
It uses the same well-proven rear wheel motor system used on our eTrike, but is adapted to have the controls on the push handle for the attendant.
The MT ePush can be pushed manually, but when the going gets tough, it can easily be switched to the electric power assist mode. It comes with a powerful 250W/36V hub motor, a long-lasting 12.8Ah/36V Lithium Ion battery, and includes a mains charger.
It can travel up to 3.5mph, and can run for 8 to 20 miles depending on the conditions, user and type of terrain.
It is operated using a thumb throttle located on the push handle. An LCD screen displays the speed, distance, average speed, max speed and power settings. The MT ePush is also lightweight (just 25kg) and can be folded for transport purposes.
As with all of our products, it is robust and provides a comfortable ride thanks to mountain bike air suspension, hydraulic brakes, and an aluminium frame. Adaptable, flexible seating and various accessories are available to suit individual needs.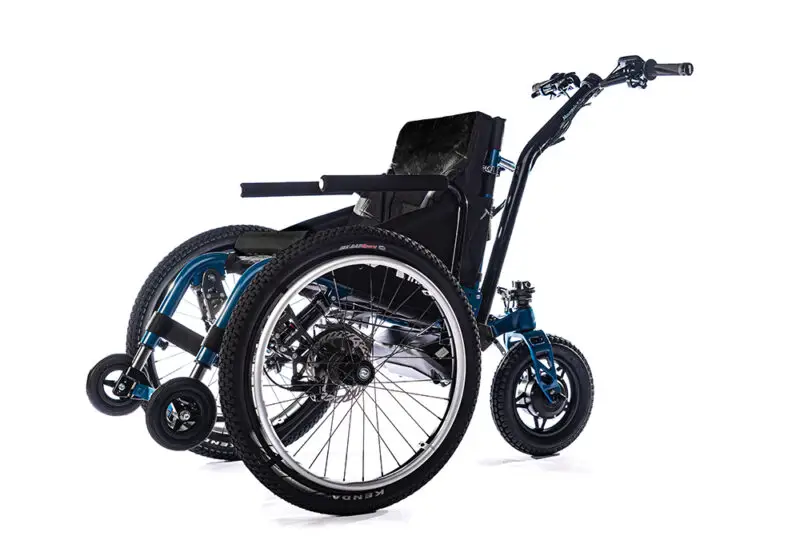 The MT ePush is available as a completely new model or as a retrofit kit that can be added to any existing MT Push, making it more affordable for those wanting to upgrade.
The price for the MT ePush is £6,390 and comes with a 3-year warranty, a choice of any colour and free UK delivery. We also have finance plans that start at £133.13 a month, all with 0% interest for up to 24 months.
The eKit is priced at £2,395 and fitting can be done by us, a bike shop or fitting instructions can be provided and carried out by the owner. There are also finance plans for the eKit.
If you want to see it in action before you buy, we provide 1:1 demos, either directly with us – we'll visit anyone in the UK – or through one of our UK distributors. If you're interested, you can email info@mountaintrike.co.uk or call 01270 842616 to arrange.
Talking about the new product launch, Tim Morgan, our Managing Director said: "I'm thrilled to be launching the MT ePush and adding it to our all-terrain wheelchair product range.
The ePush has been in the pipeline for some time now and I've been working on the prototype, which has been developed gathering user feedback.
We recognised that there was an appetite for an electric assist version of our manual MT Push – the electric assist has been designed with the pusher in mind.
It helps to remove the effort required to push, but the rider will also benefit as they can explore and adventure further and enjoy more outdoor places.
As with the eTrike, an eKit is also available so if at any point our MT Push community wishes to add electric assist it can easily be done so.
We already have a list of new and existing customers keen to place their orders. With the continued success of our eTrike."
Claire from Beverley in East Yorkshire, who was one of the MT ePush prototype testers, had this to say:
"We were fortunate enough to trial the new MT ePush wheelchair earlier this year. It was everything we had hoped for – sufficient power, comfortable switch position for the carer, quiet, and a comfortable ride for our son.
We are so excited to buy one and get out and about in the countryside. It's not just a new lease of life for the user, but for the carer as well. It will open up so many options for us as a family."
By Mountain Trike
More on Disability Horizons…