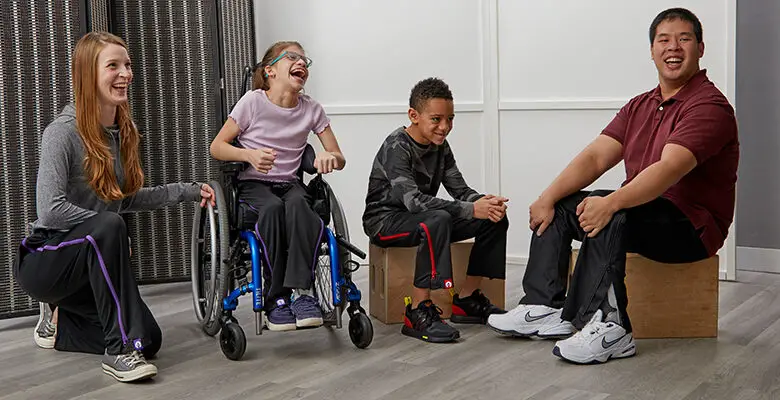 Created by US-based adaptive clothing company Befree, ZipOns are adapted trousers with zips down both sides to make dressing easier and comfier for kids and adults. Co-founded by Nikki and Joanne, Nikki created the trousers when her daughter Stella, who has cerebral palsy, was recovering from a double hip operation. Find out more about how the trousers could benefit you and the family behind them.
Nikki and Joanne, please tell Disability Horizons readers a bit about yourselves.
Nikki
I have a license in social work and I worked at a biotechnology company for 10 years before starting a family. I am married with two girls, Chloe (15) and Stella (13), and a dog Benji.
I founded the not-for-profit company Stepping Stones for Stella, which donates buggies to families of children with special needs to assist with getting on and off the beach and going over tough terrain.
I am also the co-owner of an adaptive clothing line called Befree (LLC). This was also inspired by Stella after undergoing double hip surgery at the age of 5. I enjoy being active with running and skiing but mostly I love spending time with my family and friends.
Joanne
I have a daughter, Mia (15), and two crazy chihuahuas. I ran a family restaurant in Italy for two years and later worked as a project manager for both the financial and healthcare industries. I transitioned to a freelance production artist after Mia was born in 2007. In 2015, I became a Co-owner of Befree (LLC).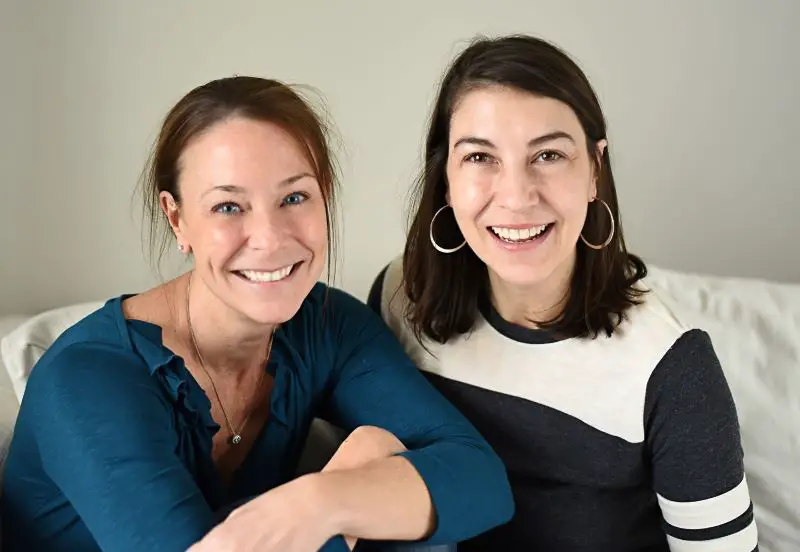 Nikki, tell us more about your daughter Stella, who has cerebral palsy.
Having children is life-altering, but having a child with a disability is world-altering. Stella was born at 31 weeks and spent about two months in a newborn intensive care unit.
At the age of eight months old, Stella was given a diagnosis of cerebral palsy. We spent the first three years of Stella's life in and out of doctor appointments and therapy sessions.
Cerebral palsy is caused by the lack of oxygen to the brain in the uterus, during delivery or even after a child is born. Cerebral affects so many different parts of someone's body depending on the extent of brain damage and area.
It can affect someone's speech, vision, only one side of the body, behaviour and learning abilities. Stella has spastic quadriplegia, which means she has high muscle tone in all four of her limbs.
Stella uses a wheelchair and a walker to move around and has a baclofen pump, which is a round device, the size of a hockey puck, that is inserted into her abdomen and releases medication to just her legs to help reduce her spasticity.
At the age of 5, Stella underwent double hip surgery leaving her in casts with a bar in between to set her hips in place for a lengthy three-month recovery.
Stella also has a seizure disorder, bipolar, CVI and low visual field loss along with an anxiety disorder and ADHD.
Stella loves school, swimming and arts and crafts. She is very funny and adventurous. We always approach life with Stella similarly to her sister or any other child.
If she wants to try something we always encourage her and we always find a way to make it happen for her. Stella inspires us every day to continue to be the best version of ourselves and to never stop believing.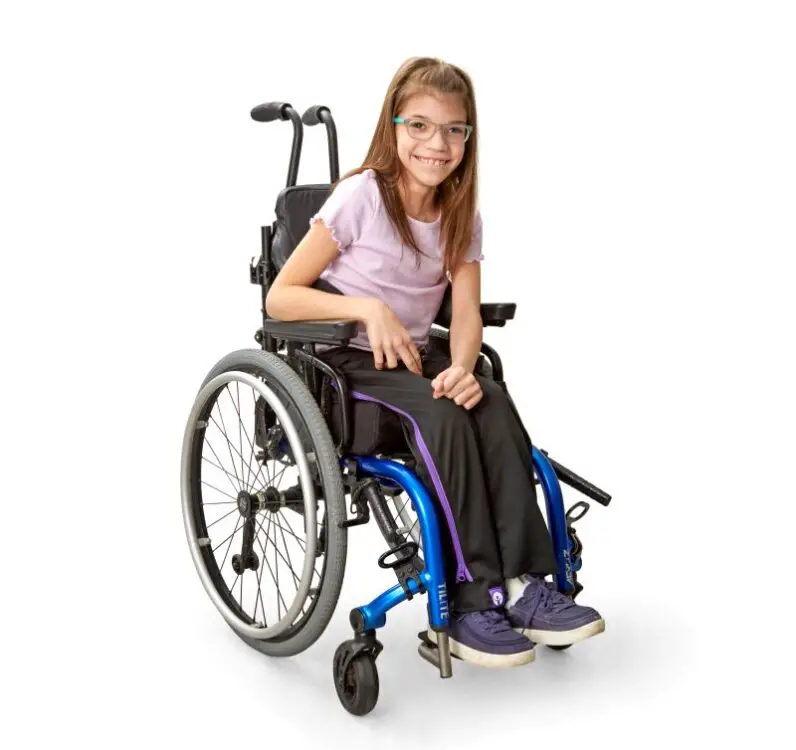 How did your experience with your daughter prompt you to create the ZipOns adapted trousers? 
My challenges with Stella have been both big and small, but one, in particular, led to the creation of a product capable of helping Stella and many others in similar situations.
Stella's hip surgery required a three-month recovery in a bilateral spica cast with a bar. It consisted of casts on both of her legs with a bar in between to keep her hips in place while healing. Some spica casts go all the way up to someone's chest.
Among the many questions I asked the doctors and nurses at the hospital, there was one that seemed simple – where could I find pants that would fit over Stella's casts for the next three months? Astoundingly, there was no answer.
The hospital suggested blankets, dresses, and large T-shirts, but as a mother, I could not imagine Stella feeling so exposed and self-conscious along with all the other struggles already looming in her recovery.
So, I decided to make my own. I bought a pair of pyjama pants, cut open the outer seam, and replaced the stitching with Velcro that could open and close on the outside of the pants over Stella's casts.
The results were amazing. Stella felt instantly more comfortable and at ease with the many visitors at our house and at her numerous medical appointments.
Although Stella's experiences first prompted the ZIpOns, my parents also became an inspiration. When my mother requested a pair to be made for my father's upcoming foot surgery, we decided there should be a version for adults.
Once again, the results during his recovery were so impactful we knew we had to also create an adult line to help the millions of people living with a disability or short-term mobility challenges like lower body surgery or an injury.
Joanne, what made you decide to join forces with Nicole to create the ZipOns trousers and the overarching company Befree?
I was at Nikki's house one day visiting after Stella's surgery when she showed me the trousers she had made. I was shocked that there was nothing like them already on the market. I was even more shocked when I learned that there were hardly any adaptive clothing options available in general.
I became very impassioned by this lack of adaptive clothing and the simplicity of a design that was so impactful for Stella. My mom, Josephine, is an amazing sewer and I knew she could easily make a few more pairs for Stella.
After seeing how these pants were able to transform Stella's recovery, it became clear that we were on to something that could help so many others. Friends, family and medical staff were all amazed by the trousers that were so novel.
It is very inspiring to see something so simple make such a huge difference. It made us want to share it with the world, so Nikki and I decided to do just that and formed Befree (LLC).
Tell us more about the ZipOns adaptive trousers and how they can benefit people with disabilities.
ZipOns are stylish and versatile pants that make dressing easier for those living with disabilities or short-term mobility challenges due to injuries, surgery, or other medical conditions.
Our patented design makes dressing and undressing safer, easier and more comfortable. ZipOns open and unzip completely on both sides of the legs with zippers spanning the waist to the hem.
They can be put on and taken off easily while standing, lying down, or from a sitting position without pulling up through the legs like traditional trousers.
ZipOns open from the bottom so that they can accommodate casts, braces and other medical equipment, making them ideal for post-surgery and injury recovery.
ZipOns are available in adult and youth sizes and are both made with soft, moisture-wicking polyester fabric, and have an elastic waist. The zippers are covered in the interior with fabric at the waist and along the entire length, preventing contact and ensuring maximum comfort.
The trousers for children and young adults have a drawcord at the waist to ensure a good fit and the adult pants also have deep front pockets.
They're available in a variety of colour combinations and sizes, from X-small to X-large, in both youth and adults.
Watch the video below to see how the ZipOns trousers work, and shop kids ZipOns trousers and adult adaptive pants now if you live in the US, or Etsy if you live in the UK and AdaptAbility if you live in Canada.
What have been the reactions to the ZipOns trousers since you launched them?
We've had some brilliant feedback on the pants since we started selling them…
"ZipOns were a game changer for me. I am a 51-year-old active female and unfortunately, I have had two hip replacements.
The first hip was replaced and I was not fortunate enough to know about Befree pants – I was completely dependent on my husband.
I had the second hip replaced a year later, however this time I had zipOns. The pants were truly a game changer, I was so much more independent which totally helped in my rehabilitation. I think ZipOns are AWESOME!!" —KC, Massachusetts
"I love the comfort and ease that ZipOns provide! My son has had many orthopaedic procedures done on his legs over the years and these are our go-to pants. They are warm, comfortable, and my son absolutely loves them!" —Jadie, Arizona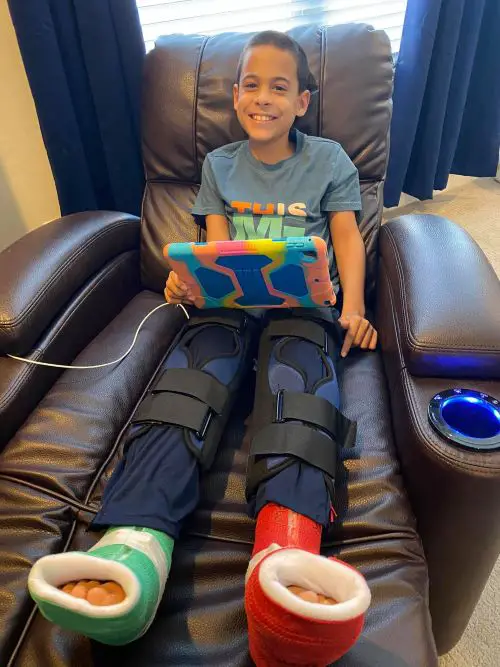 "These pants are AMAZING! Natalie… loves the zippers on each side, how lightweight and breathable they are, and the comfort! Highly recommend these pants to anybody that needs side zippers all the way up each leg!" —Katrena, Illinois
"My mother loves these pants. They are so comfortable and make dressing easy. She wants them in all different colours!" —Dave, Massachusetts
How did you both go about making your idea a reality and, as you went through the process, did your design change from the original idea?
We had limited financial resources but knew we had to work on evolving the design of the trousers and bringing the idea to market. We drew on Josephine's sewing skills and expertise to make the first patterns and prototypes to get us started and further the design.
We started with an athletic design, where we tried to combine style and function while capitalising on the popularity of athleisure wear. More product testing followed and led to several design changes, first from Velcro to snaps, then from snaps to snap tape and finally to zippers.
We found that the Velcro did not hold up well in the wash and the snaps were too cumbersome. The zippers on the other hand were functional and stylish.
To further develop the design, we consulted with a nursing director who provided some crucial insight into the concerns of her patients with paralysis and limited sensation.
She explained that it was vital that the zipper did not irritate the skin in any way that could potentially lead to infection.
Based on the new information, we continued to make design adaptations, adding a flange of fabric in the interior that covered the zipper completely from waist to hem and a tab at the top of the waist similar to those used in jackets and coats to protect the neck.
Once we had figured out the functional aspect of ZipOns the next step was tackling how to make the pants look good. We tried multiple zipper weights and went through multiple redesign phases to finally nail down the aesthetics we were looking for.
We applied for design and utility patents in the fall of 2018. The design patent was granted in February 2019, and the utility patent remains pending.
In 2018, Befree was one of 400 companies chosen to join the MassChallenge Boston accelerator program out of 1,600 applicants. We were chosen again in the semi-final round of presentations and became one of 128 finalists.
The program provided invaluable networking opportunities and mentoring to help us develop our brand and business strategy and further demonstrated our huge potential for success.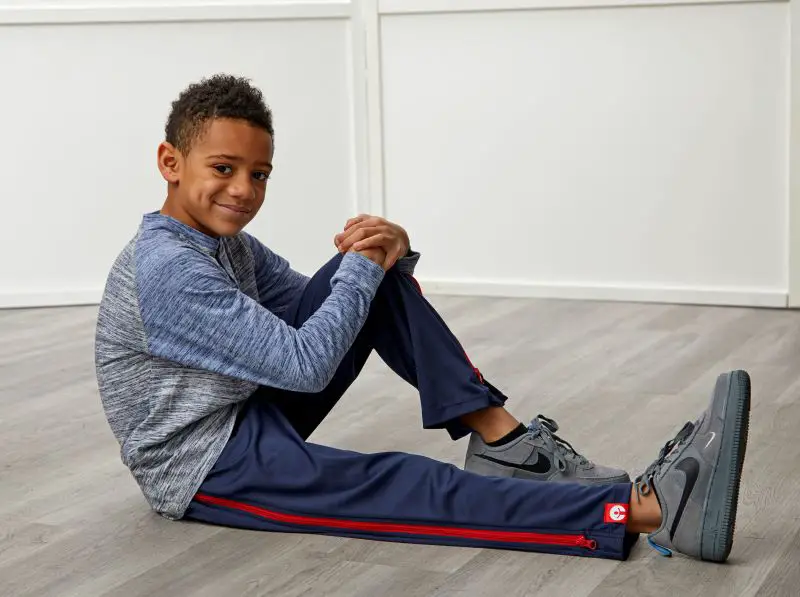 What challenges did you face when starting your company and developing it?
Funding has been one of our biggest challenges. To date, we are self-funded, which has limited opportunities to grow at a faster pace.
And, like many small businesses, Befree was stalled and production halted for much of 2020 and 2021 due to the coronavirus pandemic. Manufacturing resources and supplies were very limited at the time due to nationwide shutdowns, but we knew we couldn't give up.
We made sure the company stayed on track and was able to resume production after the pandemic. The current versions of ZipOns for both children and adults launched at the beginning of 2022.
Head to Etsy if you live in the UK and AdaptAbility if you live in Canada.
By Nikki and Joanne from ZipOns
More on Disability Horizons…