Top 10 apps for disabled people
We all like to live as independently as possible, and for disabled people, technology and apps are an invaluable aid to achieving this. It seems that everyone nowadays owns a smartphone and tablet, and with that comes a seemingly unlimited world of apps to choose from. But which should you consider and how could they enhance your life? 
Here, our writers Carrie Aimes and Emma Purcell round up the top 10 apps for disabled people and why you should try them out, all updated for 2018.
TripTripHurray app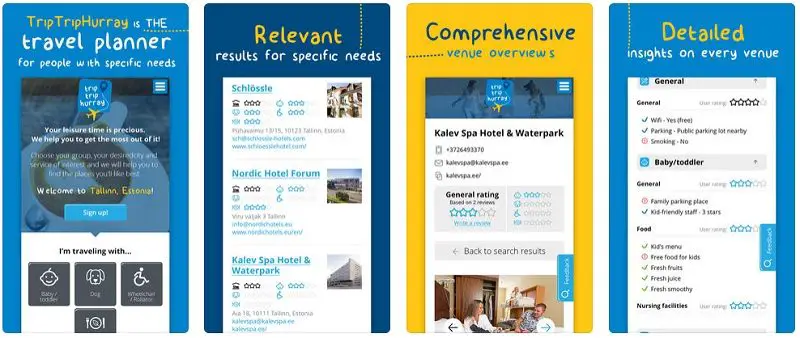 If you live with any form of disability, you will appreciate how challenging it can be to plan an accessible yet enjoyable holiday, or even just a day out. But help is at hand. The TripTripHurray app is a travel platform for people with specific needs that lets you quickly and easily search for accommodation, public transport, places of interest, shops, restaurants and services. It's effectively a personalised trip adviser.
You can get the TripTripHurray app for free on iTunes for those with an iPhone. It displays relevant options both locally and worldwide.
It's Accessible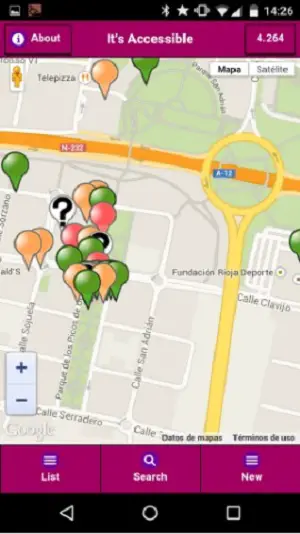 If you have mobility issues, It's Accessible can help you find and share accessible hot spots, including bars, restaurants, hotels and car parks. It currently has more than 12,000 across the world rated in the app. It is community dependent, so the more people that use it, the more information there will be available.
It's free to use and compatible with all Android and Apple devices. I urge you to check this one out as not only will it help you get out and about, it will enable you to help others too!
Find out more about the app on the It's Accessible app website.
Dragon Anywhere app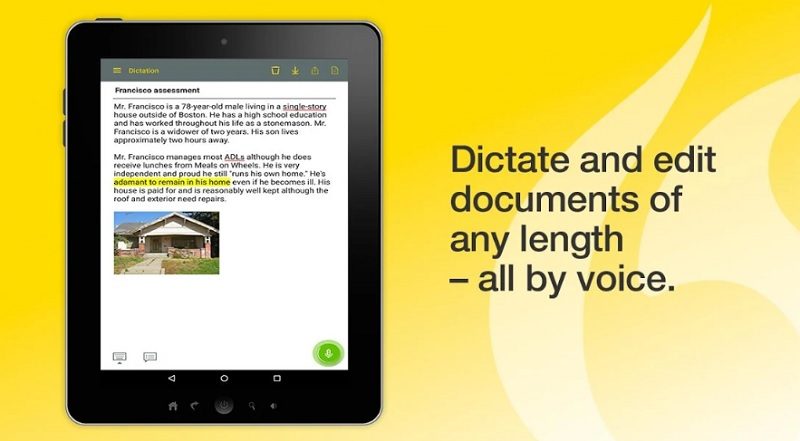 This dictation app enables you to create and edit documents of any length on your phone, tablet or laptop, all using your voice. By simply speaking into the device you can create text messages, compose emails and edit long documents, and then sync them with your Dropbox or cloud so they can be accessed on your computer. 
The Dragon Anywhere app is aimed at busy professionals needing to work while commuting. But it has obvious benefits for disabled people too. Apple iPhone and Andriod users can download it for free, but after a trial, you'll have to pay (£9.99 a month and £99.99 a year).
Our tech writer Tom Housden has tried out this app, along with some of Dragon's other dictation apps. See his article on dictation apps for a full breakdown of how it works and what else is on offer.
Changing Places Toilet Finder app
No matter what your disability, being able to reach an accessible public toilet in good time is a daily challenge. The free Changing Places Toilet Finder app, from the RADAR Key company, lists thousands of accessible toilets across the UK.
It is a comprehensive guide of more than 1,000 Changing Places toilets, which are extra large toilets with changing facilities. The app shows you how far you are from one of the toilets, how to get there, its opening hours, how to open the door, whether it is normally locked and information regarding hoists and slings.
The app is free and available on iTunes for iPhone users and Google Play for Android users. You can also visit the Changing Places website to learn more about Changing Places toilets.
Disabled Motoring app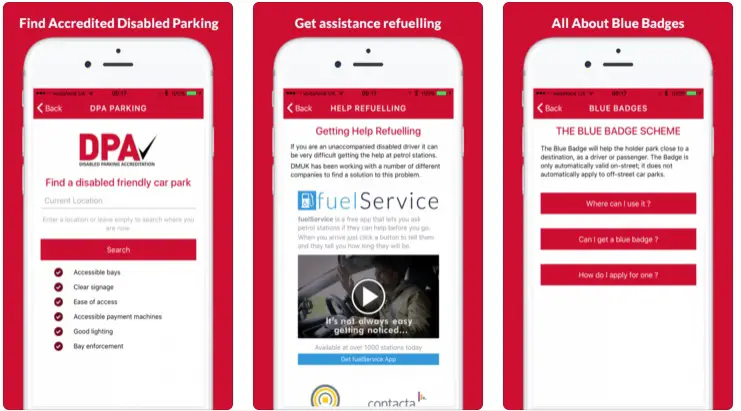 Disabled Motoring UK is a campaigning charity and magazine that aims to make life easier for disabled drivers, passengers and Blue Badge holders. Its app allows you to find accredited disabled parking, get help refuelling your vehicle and browse information on Blue Badges, as well as the latest news from the charity.
The app is free to download on iOS and Android devices but, for a fee, there are additional benefits you can sign up for. Becoming an online member will give you access to the members' area on its website, as well as a monthly newsletter.
Alternatively, you can become a full/associate member and receive the monthly magazine and discounts on everyday goods, from groceries to holidays. It'll also enable you to get help with motoring-related problems, such as parking tickets and local authority issues. The full/associate membership will cost £24 a year.
To find out more about Disabled Mobility UK, visit its website, and download the app on Google Play.
Physiotherapy Exercises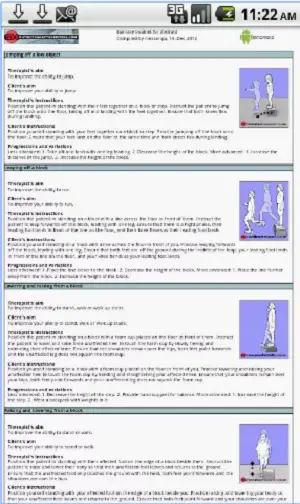 The Physiotherapy Exercises app contains more than 1,000 images illustrating 600 exercises suitable for those with spinal cord injury and neurological conditions. Search, select and save exercises for future reference and even suggest others if you wish.
Developed by physiotherapists, this is an invaluable source that does not require an internet connection once downloaded. Get the Physiotherapy Exercises app for free on iTunes.
Red Panic button app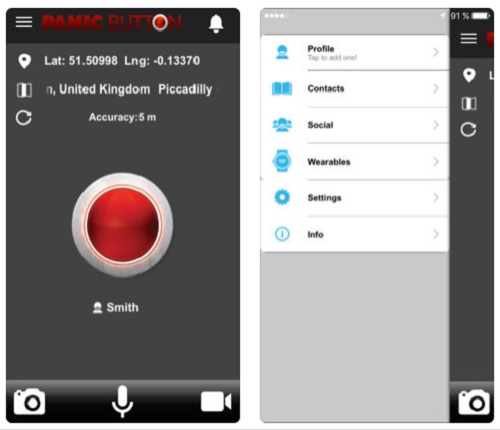 To be able to immediately and urgently notify a number of contacts of your whereabouts can be hugely beneficial if you're disabled. If you're older, have learning disabilities, or live on your own but rely on others, you might want to consider the Red Panic Button.
One tap of the red button sends alerts to your contacts via text, email, Facebook and Twitter. All you need to do is enter the details of those you wish to alert ahead of using the app, and they will receive a Google Maps link with your location.
Many features are free to both Android and iOS users, though there is the option to upgrade at a fee, which means you can even send a photo attachment and record a 10-second voice message with your alert. Gain more independence and security with this handy and easy to use Red Panic Button app by visiting iTunes or Google Play.
Guide Dots app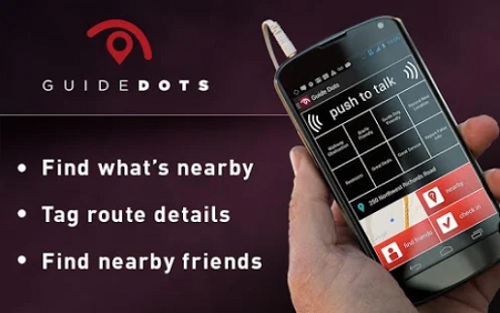 Guide Dots is a free Android app for people who are visually impaired. By combining Google maps, Facebook and powerful crowdsourcing technology, Guide Dots creates a broader and richer sense of the world around you.
You can experience an audio journey of your surroundings by easily instructing the app to give you building and route information through voice commands. It'll also give you alerts when friends are nearby.
This is another community-driven app, so as more people use it, more information and detail will be available. Get involved by visiting the Guide Dots website. (UPDATE 2019: This app and website no longer exist)
If you're visually impaired, check out our article on the top apps and gadgets for people with sight loss.
Have You Heard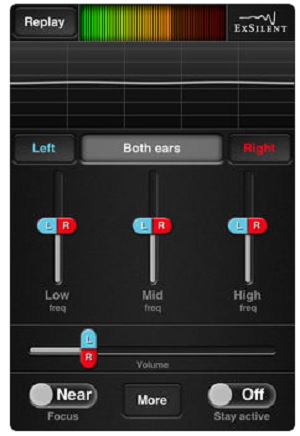 Designed for people with hearing impairments, this app will amplify voices around you so that you can better understand conversations with people in busy and loud places, such as with a friend in a restaurant or a colleague in a meeting.
You can focus on conversations either close by or further away by using the 'focus near/far' feature, and adjust the volume to suit you. If you still haven't quite heard something, you can replay the last 20 seconds of a conversation at the press of a button.
To use it, you'll need to connect a headphone to your phone. It's free and only available on iTunes for iPhone users.
Uber taxis app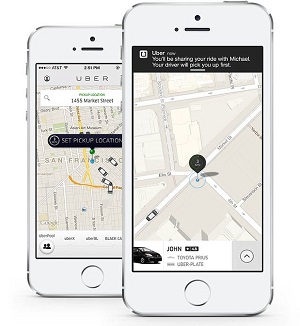 Having a disability means that public transport often isn't an option, leaving you to rely on taxis. To stop you getting stranded, you can download the Uber app, allowing you to request a taxi ride from where you are using your phone.
To do so, simply create an account with your card or PayPal – no cash required – and select a vehicle to suit your needs. If you do want to plan ahead, the Scheduled Rides feature allows you to book a vehicle up to 30 days in advance.
Uber has two services aimed at helping disabled passengers get around. Its uberACCESS taxis are equipped with a rear-entry ramp and four-point restraints, enabling wheelchair users to ride safely and comfortably with one additional passenger. Its other accessible service, uberASSIST, is designed for those who don't need a wheelchair-accessible vehicle, but require additional assistance on their journey.
All uberACCESS and uberASSIST partners have received Disability Equality Training from Transport for All and Inclusion London, and both cost the same as using uberX, one of Uber's lowest-cost services.
UberACCESS (previously called uberWAV) is available in London, Manchester and Birmingham, and uberASSIST is available in London, Manchester, Birmingham, Leeds, and Sheffield. There are plans to roll out both into other areas soon.
Uber is free to download to Android and iOS phones, from Google Play or iTunes.
By Carrie Aimes and Emma Purcell
Find out more about Emma on her blog, Rock For Disability, and Carrie by visiting www.lifeontheslowlane.co.uk.
Check out…
Get in touch by messaging us on Facebook, tweeting us @DHorizons, emailing us at editor@disabilityhorizons.com or leaving your comments below.