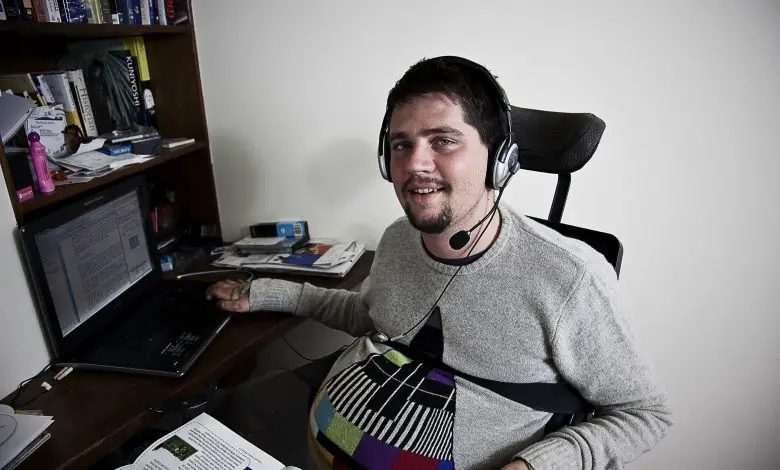 It is often said that the best job you can ever have is one that you create for yourself. We at Disability Horizons would like to introduce you to Andrew Bush who seems to prove that point.
Andrew is a 29-year-old entrepreneur based in London who along with three others recently founded a company called Affection Homecare.
The story of another twenty-something made redundant at a large bank in the City of London during the recession and then deciding to start a new business may sound commendable but nothing extraordinary.  However, what will catch your attention is the fact that Andrew has launched this new venture despite being paralysed from the shoulders down after a tragic accident in Mexico while on a gap year before starting university 11 years ago.
Since his accident Andrew has required specialist care 24 hours a day, 7 days a week, 365 days a year and would be described in spinal injuries parlance as a "high level tetraplegic". Being the recipient of such a high level of care over the years inspired Andrew to start this company with three fellow co-founders. Affection Homecare is still at an early stage (it has only been trading for 2 months) and the company is yet to reach a position where its founders can draw a salary. But in a short space of time, the domiciliary care services unit (which provides help with things such as shopping, preparing meals, laundry and other non-personal care tasks) of the company has already built up an impressive client list.
Andrew believes that this early success is down to the unique quality of service that his company provides and the dedicated team that works tirelessly to provide clients with the level of care they rightly expect. Andrew has the important role of being in charge of client service and is the first point of call for potential clients. He uses his personal experience of requiring care to ensure that the standard of care provided by Affection Homecare is tailored and centred on the needs of his clients.  Andrew's ability to empathise and understand the difficulties faced by his clients has also been important:
"Potential and on-going clients value the fact that I can understand the problems and challenges they face on a daily basis. Last week a client wanted to know how I deal with pressure sores. Just yesterday a new client was asking for my advice on the merits of different wheelchair accessible vans. Naturally, all these occasions I have been more than happy to help. Clients rarely find care agencies which can relate to many of the unique problems that a user of care services may face and this is really valued"
Andrew's path since that night in Mexico can only be described as extraordinary. After being airlifted to Stoke Mandeville Hospital from Mexico City via Florida and a lengthy rehabilitation process that followed, Andrew embarked upon his original plan and started his undergraduate course at King's College, University of London. After graduating with an upper second class degree and receiving the Jelf Medal (King's highest undergraduate accolade), Andrew then completed a Master's degree in finance at Cass Business School to distinction level. Andrew followed his interest in business and finance by earning a place on a notoriously competitive graduate recruitment programme at the Royal Bank of Scotland. Three years of hard work in the City then followed in several divisions of the bank. However, the financial crisis struck and Andrew along with thousands of other RBS employees was made redundant when the bank nearly collapsed under the weight of toxic debt it had built up during the boom years.
"Being made redundant was a massive blow. To make things worse there were hardly any jobs available in the market. But being redundant made me re-evaluate what I wanted in life"
To reassess his options, Andrew took some time off to go travelling and spent time with friends and family in Switzerland, Spain and South Africa before coming back to London.
"During my travels, I knew that I wanted to start my own business and when I came back it took a while to find the right people and the right opportunities."
A chance meeting with a friend who he had not met in a while changed everything. Renault Cohard was also on the lookout for a new business opportunity and had already teamed up with Petra Gombarova (who was already working in the care sector). Affection Homecare was born soon after.
Andrew's passion for his new venture is easily apparent and one can only be inspired by his determination to improve the quality of care received by one of the most vulnerable sections of society. However, Andrew is the first to admit that starting a business from scratch hasn't been easy both personally and physically. Andrew has to overcome the extensive physical challenges imposed on him by his spinal injury in order to accomplish tasks that an able-bodied person would naturally take for granted. Might he have missed working in a large organisation and support network that comes with working in such a place?
"Not at all" Andrew replies with a chuckle.
"Starting my own business is the best decision I have taken, and strongly recommend other disabled people to consider taking a similar chance. I now have full control over my working day, and can work flexibly around my physical needs, which has greatly benefited my health"
Andrew is one of the most determined people you will ever meet, and always seems to find a way to get what needs to be done, done.  Such an attitude is evident in his approach to life. This is effectively combined with a highly affable and personal manner, which makes him a chap very easy to get along with. And rest assured, a night out partying with Andrew will always be an experience not easily forgotten (mainly due to the massive hangover that seems to linger). Furthermore, despite the obvious logistical difficulties, he has travelled all over the world since his accident. A Christmas break last year in Singapore and Bali appears – from a flick through some photos – to have been thoroughly enjoyable.
Further travels this year potentially include a trip to Columbia for a wedding and a trip to Dubai to visit his father who works there.
Andrew's focus at the moment remains on turning Affection Homecare into one of the UK's leading care agencies but plans are already in the pipeline to develop another specialist agency called Tetra Live-In Care (dubbed "TLC") centred on providing live-in care to tetraplegic individuals with spinal injuries. All these separate ideas are for a day in the future though, and current efforts are primarily focused on the present and making the most of the good start that has been with Affection Homecare.
For more information on Affection Homecare, visit their website.

By Srin Madipalli