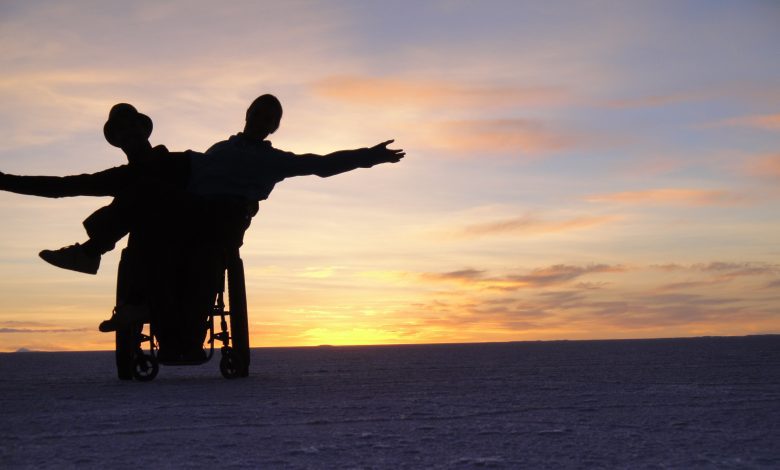 Rob Smith writes for DH about acquiring his disability and the journey he has taken since. This amazing journey has resulted with the creation of numerous businesses and world of difference to many disabled people.
I was very academic at school and achieved good exam results. I started at Warwick University studying Mechanical Engineering in 1994.  Between my second and third years I fell down a cliff whilst on holiday with friends in Devon. I sustained a C5/6 incomplete spinal injury and spent 9 months in Salisbury District Hospital. I left hospital walking on crutches for short distances or using a wheelchair for longer distances.  I also have very weak hands and fingers due to my injury.  I went back to university and graduated in 1998.
I took up wheelchair rugby soon after graduating and have played in the GB Development squad and at a high level in club rugby for many years.  In 2002 I started doing some wheelchair track and road racing as well. I have now completed about 18 half and 11 whole marathons and am the current British T52 record holder over 5,000 and 10,000 metres. I have won the T52 category in both the London and Berlin marathons for the past 2 years.
While I was in hospital I became very frustrated by my weak hands and how difficult it was to do certain tasks that needed a strong grip. After leaving hospital I used my Engineering knowledge to invent the "Active Hands gripping aids". I designed these to enable me to hold heavy items and perform activities I would not be able to do otherwise including: holding hand weights, playing pool, holding a kayak paddle or skiing outriggers, holding a hammer, saw or other objects where a strong grip is needed. Once other friends with disabilities saw them in use they also wanted a pair. Therefore in 2000 the "Active Hands Company" was born. We have grown since those starting days but we are still a family run business and produce various types of gripping aids for a number of disabilities and age groups. See www.activehands.co.uk for more information.  In 2010 I was one of 3 finalists in the Stelios and Leonard Cheshire "Disabled Entrepreneur of the year award".
Having always had a very keen interest in music, in 2001 I started running my own club night (called Delicatessen – a choice selection of fresh and funky flavours) at a local club. The night became very popular with over 600 people in attendance on some occasions. I organised everything from booking the venue, dj's (plus djing the events myself), extra acts, printed and other advertising information and flyer distribution. The club night ran for 4 years in the same club plus occasional trips into other clubs in the area, Coventry, Birmingham and London. I still dj today and usually have at least one gig per week. I dj Hip Hop, Funk, Soul, Latin, Reggae, Beats, Breaks, and Drum n' Bass. Due to running my club nights many people would ask me to organise their house parties and university society balls for them.  In 2005 when things became a little quiet on the club night front and I wanted a new challenge I started my own events management business – Delicatessen Events. Using contacts from running my club nights the company now provides sound and lighting systems, bands, dj's and entertainers, casino tables, chocolate fountains, ice sculptures, etc, for corporate and private parties, weddings and university balls. This has been growing steadily and is something I want to continue to grow and develop in the future.
Alongside active hands and my music projects I am a keen traveller, and I have completed many interesting projects in the media. I would love to share some of these stories with you in another edition. For now, I hope you enjoyed this article and please do get in touch if either of my ventures would be of benefit to yourself or someone you know.
By Rob Smith