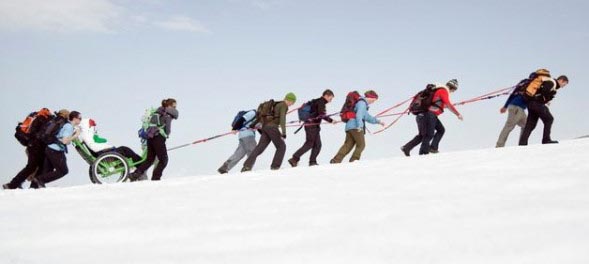 (photo taken by Lesley Brewin)
"You have one life, so live it!" says Barry West, the adventurer, extreme sports enthusiast and conqueror of the UK's tallest mountains. Despite a serious spinal injury at the age of 19, which left him paralysed from the neck down, Barry has accomplished many extraordinary challenges, which recently included reaching the peak of Ben Nevis (Britain's highest peak). He now prepares for his greatest challenge, to climb the awesome Mount Kilimanjaro, Africa's tallest mountain, and kindly takes some time from his busy schedule to speak to Disability Horizons.
The first question that probably springs to mind is, "how on earth does a paralysed man who uses a wheelchair get to the top of a mountain?!" It's a good question, since Mother Nature in all fairness never created mountains to exactly be "wheelchair friendly"!
The answer to this conundrum is a mixture of genius, ingenuity, imagination, dedication and compassion.
Designing his own wheelchair
Even though he has no formal technical qualifications or training, Barry designed his own special wheelchair to take on some of the world's toughest terrains. It started off as a simple sketch on Microsoft Paint (as he admits it was all he had on his PC at the time!), which captured the imagination of Barry's brother and a local welder who helped construct the prototype using simple aluminium tubes purchased from a hardware store and some make-shift wheels borrowed from a friend. Later on, Cyclone Mobility, a specialist manufacturer of sports wheelchairs provided some "monster" 29 inch wheels and reinforcements to the frame of the wheelchair.
Westy's Warriors
In addition to Barry's custom designed wheelchair, another equally important element is the assistance provided by Barry's team of dedicated human huskies, known as "Westy's Warriors". The Warriors wear a harness that is connected to Barry's wheelchair and simply tug him up the mountain and lift him over any ridges. For the Ben Nevis challenge, there were 18 amazing warriors!
Barry uploaded this video of the recent Ben Nevis challenge:
Prior to Ben Nevis
Reaching the top of Ben Nevis, was the latest achievement in a long line of incredible mountain challenges that Barry has completed with the help of his warriors. On 25 May 2008, Barry conquered his first mountain by completing the "Snowdon Push" at Mount Snowdon in Wales (an event organised by the Back-up Trust) and won several awards including the "Ultimate A-Team Award" for raising the most money for charity and being the most organised. Thereafter, Snowdon was conquered two more times along with Helvellyn in England's Lake District. Interspersed with these mammoth feats were tough "smaller" exercises in the Queen Elizabeth Country Park, which as Barry describes was "so steep that a mountain goat would have fallen over!"
Conquering Ben Nevis
Ben Nevis was the toughest challenge to date. Barry comments that since "nothing like this had ever been done before" plenty of people had told Barry that something like this was impossible and could not be done.  Despite this, and the fact Ben Nevis was as Barry describes a "monster worthy of huge respect" the team completed the task of getting to the summit in just over 12 hours.
The time taken to get to the top marked the end of a process that had been the culmination of many months of difficult training for both Barry and his team of Warriors which required an immense level of commitment and perseverance. Barry had to build up his strength and endurance to withstand the gruelling climb, which was no simple task for somebody with Barry's disability.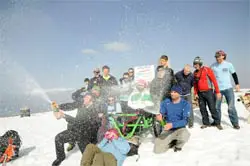 One of the methods of doing this was to attach weights to his head as pulling his head back and forwards to build up his strength, and also during training sessions  he was tugged though the rough terrain of the Ashdown Forest in East Sussex, England. In addition to getting themselves in the right condition, the Warriors would need to develop novel solutions to overcome the obstacles of pulling a customised wheelchair across rugged and mountainous terrain and this could only be done by a rigorous and intense period of preparation and training.
Nonetheless, all the time spent preparing and training, reaped its reward since when they got to the summit of the mighty Ben Nevis, Barry says that he and the team were "absolutely exhausted, but were thrilled they had done it".
The challenges coming up
Not one for taking it easy, Barry plans to climb Mount Snowdon but this time he and is warriors will be dressed as Spartans! Later this year he will attempt the Alternative Three Peaks Challenge where in 48 hours, he and the Warriors will attempt to climb Scafell Pike (the highest peak in England), Mount Snowdon and Carrauntoohil (the highest peak in Ireland).
You can support Barry's next challenge by visiting www.justgiving.com/barrywest
While all of these challenges are extraordinary in themselves, they will in effect be preparatory challenges for the Big One where Barry plans to take on the awesome Mount Kilimanjaro of Africa! Things are still in the planning stage, but the Mount Kilimanjaro climb is being pencilled for some time next year. The preparations for this climb will undoubtedly be intense and gruelling, and taking on Kilimanjaro will involve numerous additional logistical and physical challenges.
The inspirational adventurer
You might think with all these Barry's mountain climbing adventures that there would hardly be any time for anything else.
However, in between the mountain climbing, Barry is a qualified scuba diver, runs outdoor activity sessions for individuals with spinal injuries and frequently goes up and down the country giving inspirational talks about his extraordinary accomplishments.
Add in previous skydiving, paragliding and skiing courses, you have an individual with an amazing sense of adventure.
Edmund Hillary, the first man to conquer Mount Everest, famously said that "it is not the mountain we conquer, but ourselves".  With his astonishing achievements, Barry tries to inspire others to believe in themselves and conquer their own mountains in the metaphorical sense that lie deep down within and beyond, since as he rather profoundly says to me:
…"no matter how hard and tough things get in life, normally the tools we have inside of us are far greater than the obstacles in front of us, and all we need is self-belief to push us forward to overcome these obstacles to achieve what we want in life"….
By Srin Madipalli
For more information about Barry, please visit his personal website here.