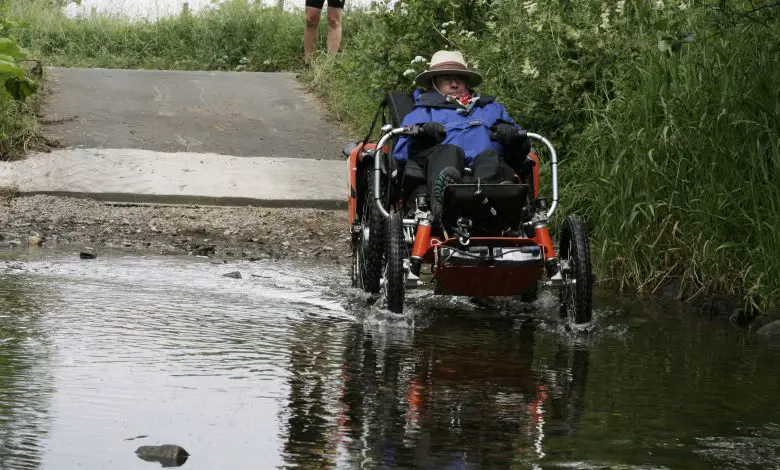 Martin Symons talks about the challenge he undertook in 2009 travelling across England in a specially adapted off road wheelchair.
I have a rare condition called Klippel-Feil Syndrome It creates a fusion in the cervical spine. Depending on the area of fusion, there can be related congenital conditions.
In my case, I was born with a cleft palate, hearing loss, underbite, short neck with webbing (trapezius muscles are extended from the mastoid areas to the shoulders), painless restriction of cervical movement, scoliosis, and kyphosis and a rare aplastic anaemia.
In June 2009, I undertook a Coast to Coast challenge using a motorised 'Boma' (an off-road wheelchair) and flanked by a support team of cyclists, I travelled an incredible 118 miles along Hadrian's Wall over seven days from Bowness on Solway to South Shields. I spent up to four hours in the 'saddle' each day, covering around 20 miles, and sleeping in a caravan (attached to a ventilator) overnight.
The weather was sunny on the whole and he and his nine-strong support team thoroughly enjoyed the challenge. A crew filmed me during the journey, adding to the footage they had of him over the previous 12 months. A documentary, 'Being Martin', is to be screened in the near future.
There were some access issues though. On parts of the cycle pathways there were some chicanes and kissing gates were slightly narrow and I had to be bumped around. There was bit along the Tyne where the 'Boma' had to be lifted a couple of times over some low bars. On one section there was some sort of anti-cyclist campaign going on as someone had thrown down a load of carpet tack across the track to cause punctures. The 'Boma' was lifted over this area.
It was an amazing week, something that I'd never thought I do. We all had barrels of banter, laughs and humour. The whole team mucked in and gelled. Someone commented that it was rare for a whole team to work so well together and get on and that was an important factor to get me from one side of England to the other."
I have raised approximately £4,500 for the Lane Fox Respiratory Unit Patients' Association at St Thomas' Hospital.
You can watch the award winning short documentary Being Martin, which follows me preparing for and the trip itself.
In July 2011, I'm undertaking my next challenge on the Boma this time doing the Devon Coast to Coast from Ilfracombe to Plymouth.
By Martin Symons
For more information on the Boma click here.