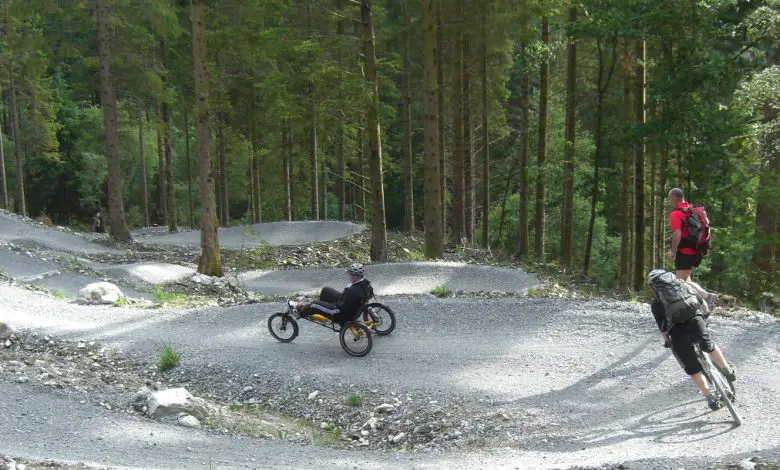 Ever thought of trying out Mountain biking?! Well… Graham O'Hanlon talks about the Adaptive Mountain Biking project he runs and the upcoming "Challenge your Boundaries" event.
What is Adaptive Mountain Biking?
You might argue that the whole point of adaptive sports is about NOT being defined by a label, but for the sake of having some terms of reference, it is worth trying to pin down what we mean when we use the term adaptive mountain biking (aMTB).  In its simplest terms, aMTB is about any adaptation or modification to equipment or provision of facilities that results in a wider range of disabled riders getting onto the trails and into the mountain environment. In short, it is about helping more riders get an authentic mountain biking experience.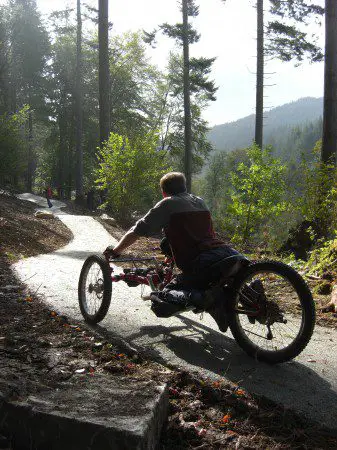 A difference, perhaps, from 'all-ability' cycling projects is that, like mountain biking on traditional bikes, gradients and trail features mean that suitably robust equipment and a degree of nerve, skill and fitness are required.  Just like traditional mountain biking, it will not be everyone's cup of tea, but for some it will provide the means to get away from the paved environment, challenge themselves physically, and feel the adrenaline buzz of speed and technical riding.
The 'Challenge your Boundaries' project in Southern Snowdonia talks about aMTB in terms of 'human powered journeys' and this definition suits the bikes, trails and facilities in use by the scheme. In contrast, the guys at Rough Riderz, who rely on vehicular uplift for their spectacular downhill quads, are undeniably engaged in a form of aMTB that falls outside of this simple definition.  Human powered off-road wheel chairs take us off in another similarly hard to define area.
aMTB is clearly a very subjective term, and ultimately it can mean whatever you want it to.  At the end of the day, if you get mud under your tyres and the wind in your hair (or indeed the other way around) then the rest is just detail.
You need wheels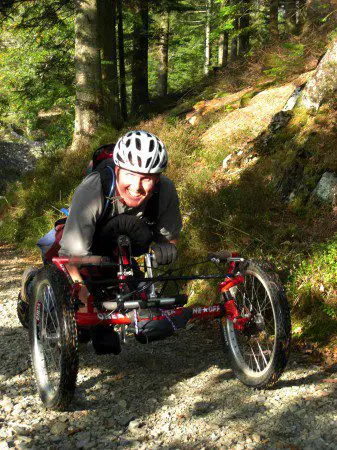 Long before mountain biking as we know it arrived in the UK, people were tweaking their existing cycles and riding off-road.  However, the appearance of purpose built equipment signalled the exponential growth of the sport and increased significantly the number of trails that were ridable, and also the quality of that ride.
aMTB has now just about arrived at a similar tipping point; it has been ticking along as an underground sport probably for as long as there have been adaptive cycles, but we have now reached the point where there is a reasonable choice of purpose built equipment to suit riders with a range of disabilities.
aMTB riders with spinal cord injuries and lower limb disabilities are making very effective use of hand-cranked trikes, and recumbent trikes are proving useful for riders with arm weakness or amputation, along with those experiencing balance or coordination issues. Tandems (or at least the rear 'stoker' position) are also enabling many riders with co-ordination problems or visual impairment to experience trail riding.  It should be noted that riders with disabilities such as below the elbow or knee amputations can make very effective use of standard MTBs.
As was the case in the early days of mountain biking, the USA is seemingly way ahead of the UK in the development of adaptive adventure sports, with a number of ski resorts offering adaptive skiing through the winter and aMTB facilities through the summer.
Consequently, many of the aMTB manufactures are based state-side, and small scale operations and transport costs result in a hefty price-tag on the finished product by the time it reaches the UK. This fact, together with little or no opportunity to try before you buy, has presented a significant barrier to the development of the sport in Britain. A core of aMTB riders are already out riding the trails, and there is a thriving exchange of information and opinion within this community, but some new projects have set about trying to open up the experience to a wider audience.
Challenge your Boundaries
One such scheme is the Discover Dolgellau 'Challenge your Boundaries' project which is based at the Coed y Brenin mountain bike centre, near Dolgellau in Southern Snowdonia, Wales.  The project, a partnership with the Snowdonia National Park, Sport Wales, and Forestry Commission Wales, aims to develop aMTB as a means by which active people with disabilities can regain access to the mountain wilderness, or experience it for the first time. Either in the company of one of the project's aMTB leaders, or (following an accreditation process) by renting the project's adaptive equipment, the intention is to provide an affordable means for riders to access aMTB.
The project coincides with the construction of the 'MinorTaur', a 'blue' or moderate grade trail.  This is a fairly unique facility in Britain in as much as it will be built wide enough to take adaptive mountain bikes along its entire 12 km length. Make no mistake though, this is no all-ability trail; for all riders the climbs and trail features will challenge and exhilarate.  Open every day of the year, this trail is able to offer genuine mountain biking experiences to a wider range of riders.
Footage of adaptive bikes on the MinorTaur trail can be seen here:
The launch of the 'Challenge your Boundaries' aMTB project is being held at the Coed y Brenin visitor's centre on Saturday 22nd October 2011. The launch will feature aMTB demonstrations and a chance to 'have-a-go' on a number of different adaptive bikes. The first four sections of the MinorTaur trail are already open, and the trail is due to be completed by the end of 2012.
By Graham O'Hanlon
The Challenge your Boundaries Project is being led by Graham and Jacky O'Hanlon who can be contacted via email.
Visit Adaptive Mountain Biking for more information on adapted Mountain Biking.
Info about disabled activities in the Mawddach Estuary area can be found here.