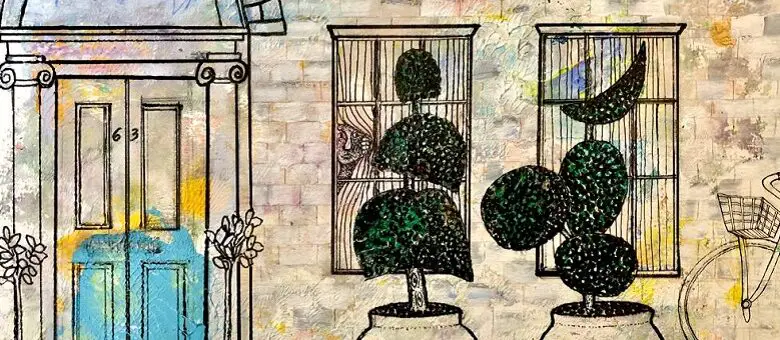 Wellbeing & Fitness
Shielding stories: disabled people and their families in extended self-isolation
Now in the third week of the second National lockdown, for many disabled people and those with health conditions who have shielded since March, nothing has changed.
In a series of articles, our writer Raya, a shielder herself, shares the stories of people who have remained in a form of lockdown since the Covid-19 pandemic hit the UK, many of whom have been left feeling frustrated, anxious and forgotten.
We're also sharing illustrations by disabled artists depicting what shielding feels like.
Head to our first article on shielding stories for more about our writer, and read on to learn how three more disabled people have found this extended lockdown.
Shielding our son is exhausting
Joseph Edwards, who has Dravet Syndrome (epilepsy, scoliosis and uses a non-invasive ventilator at night) has been shielding since March.
Because of Joe's impaired lung function, his dad Duncan – who runs our Disability Horizons Shop – along with his wife Clare, a wheelchair user herself, decided that he should not go back to school because of risk as Joe has impaired lung function.
In their view, nothing has really changed since March, so why stop shielding? "We're still very fearful of the effects of the disease itself and the risk of not being able to receive treatment by the NHS in a timely manner.
We're exhausted as we haven't had a proper break. We have carers most of the time, but it is usually much easier while Joe is at school."
Shielding also means that Joe is missing out on the social aspects of school and sensory stimulation from visiting Rainbows respite centre and school. He has become very sleepy and bored.
The family feel trapped and miss friends and family, only seeing the odd person socially distanced in their garden. Added to that, their relatives have different "tolerances" for what constitutes a risk for Joe, which has made seeing grandparents and cousins/nephews difficult.
They're incredibly grateful for their garden, which has had a very positive effect during this pandemic. However, with winter fast approaching, they know it will be much harder as it will be too cold to go outside.
Most of Joe's hospital check-ups have been cancelled, although he has had a few over the phone, and one where the respiratory technician agreed to come to the car park so Joe didn't have to go inside the hospital.
But a sleep study and x-ray have been postponed, which ultimately have an effect on monitoring his health, so they know that they won't be able to put it off forever.
You can read our interview with Duncan about his family and their invention of the Trabasack, a wheelchair lap tray.
I feel guilty, stressed and anxious
Kerry Thompson has a rare form of muscular dystrophy, an FHL1 gene mutation from the family of Myofribillar Myopathy.
She started shielding towards the end of February because "I could see the road where we were heading down and the lack of knowledge about Covid-19 was worrying. No one knew who it was affecting and how, and there was different information being thrown about".
As soon the first lockdown started, Kerry's two PAs didn't feel comfortable coming to work anymore, so her husband became her only carer. Although she admits that it is nice being just the two of them together, she knows it's incredibly hard for him.
"My husband is my full-time carer anyway, but the eight hours that the PAs were here gave him a break. It took that little bit of added pressure off. Now, he has to do everything.
I rely heavily on other people for every type of need, from feeding and having a drink, to going to the bathroom. I need help getting up in the morning and back into bed at night.
When this all has to be done by one person, it can become very stressful and they tend to forget about themselves"
As well as caring for her, he has had to keep the house sanitised and make sure that the food coming in is also cleaned and put away. As difficult as it has been for her husband, it's also been hard for Kerry to watch him have that pressure, making her feel extremely guilty.
Kerry's PAs are thankfully back at work, now that she is able to get a regular supply of PPE, but this took about three and a half months.
She has also faced frustrations around not receiving help with obtaining food shopping, making her anxious and stressed. She was sent emergency food parcels by the Government, but discovered that: "Because I am diabetic, everything in that box, other than the fruit, I couldn't eat."
It has meant that, on occasion, Kerry has had to go to her local shop, but found that people just didn't seem to want to social distance.
"As I was wheeling into my local Co-op, some guy and his family literally walked right by me. I thought: 'Hold on a minute, can you not wait? Can you not just hold on two minutes? Can't you keep two metres or even one-metre distance?'"
Despite all these struggles, Kerry is still quite positive and feels proud of herself for how far she has come with her mental health, having suffered from depression and anxiety in the past.
"With not being able to get out of the house, I didn't want my anxiety to flare up. It was a problem I experienced several years ago, where I locked myself away because I was scared of the outside world.
I've worked very hard to be in the position I am now mentally – I am disabled, I am beautiful, I own my disability. What you see is what you get.
But I'm definitely worried about my anxiety and my depression flaring up again if I'm not careful about the decisions that I make moving forward".
You can also buy a range of PPE on the Disability Horizons Shop, including these 8 useful and unique PPE.
Covid has brought some equality
Nirav Shah has non-progressive congenital muscular dystrophy, which means he has never stood or walked. He has been shielding since mid-March, a week before the official guidance on the national lockdown was issued by the government. He has been out twice since then.
"I live with my parents who both have their own medical conditions that mean they need to shield. My dad is a renal transplant patient and my mum has type 2 diabetes. Therefore, it's vital we all shield to look after each other."
Despite this, Nirav admits that he has two perspectives on shielding. On the one hand, he misses going out with friends and the day trips he used to have to London every other month. However, he is looking on the positive side.
"I love my food and Covid-19 has meant I have access to a whole host of ingredients delivered from all corners of the UK. Producers who would ordinarily mainly supply restaurants are now supplying to all.
Restaurants and Michelin star chefs are doing meal boxes for cooking/finishing at home, which has meant I can have food that I may normally have had difficulty trying because of access issues".
Nirav is not alone in this belief. Katherine Deane, a disability campaigner, also sees shielding as multi-faceted.
"Yes, the physical isolation sucks; as does the lack of real consideration of our needs and the management of our risks by the government etc.
However, the online communities are more vibrant, the ability to virtually tour many places I would otherwise never get to (museums etc) and see performances (gigs, dance etc) I would never have the energy to go to – even if I could get in – is amazing."
By Raya AlJadir
Illustration by Matilda and Chris, who call themselves Tumim and Prendergast. Matilda has a rare rheumatic autoimmune diseases. 
More on Disability Horizons…