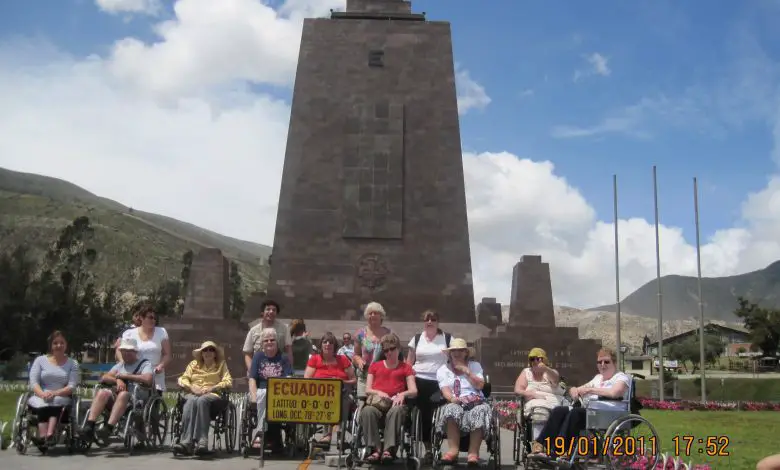 Wings on Wheels operate small, escorted group holidays worldwide for people with mobility problems and other disabilities. This January we took a group of 11 disabled people (10 being wheelchair users) to Ecuador, South America, for an action-packed break.
The adventure begins
During our time in Ecuador we planned to move locations so we could explore all that the country had to offer. Our journey started off in Quito, where our flight landed. The hotel we stayed in for this first night, Swissôtel, had wheelchair accessible rooms where they had even moved the king-sized double bed and replaced it with two Queen-sized ones placed sideways so we could make the most use of the adapted rooms. We had our first dinner out at a local restaurant, which we walked to as it was close by. There was a step at the entrance but this was manageable and we were brought a delightful selection of local fare.
Throughout the trip we used a converted school bus which included a ramp and tie downs. The driver was really good and very helpful with everything we needed. He stopped whenever we needed to for toilet stops, went really steadily on all trips and was on hand to help with loading and unloading all the time. We also hired a guide, obtained through a local Destination Management Company (DMC), to travel with us throughout.
San Pablo Lake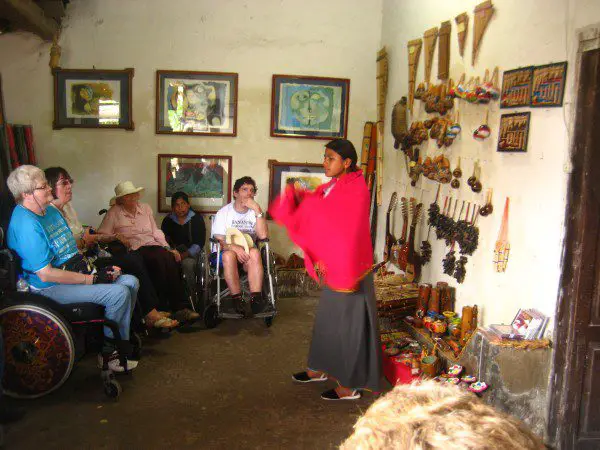 After Quito, we travelled to San Pablo Lake and stayed in a lodge, Cabañas Del Lago. This overlooked the lake, which had fabulous scenery. The staff there were great and couldn't do enough to help us with moving furniture, taking off doors to bathrooms, putting in ramps where needed, changing meals to suit diets and eating times, etc.
Whilst there, we visited Otavalo Market… a riot of colour and local goods made from llama and alpaca wool and local fabrics. The area was, thankfully, all totally flat and accessible. That afternoon we also visited a local village to see a family that made panpipes and other local instruments. We had to negotiate a cobbled ramped access but again this was manageable with the help of the bus driver and our guide. We enjoyed a demonstration of panpipes making followed by a singing and dancing show. We also visited the town and went to see a Marzipan Doll Factory at work making items from bread dough. This shop was up a steep step with another inside; however, we managed with our helpers.
The Amazon Rainforest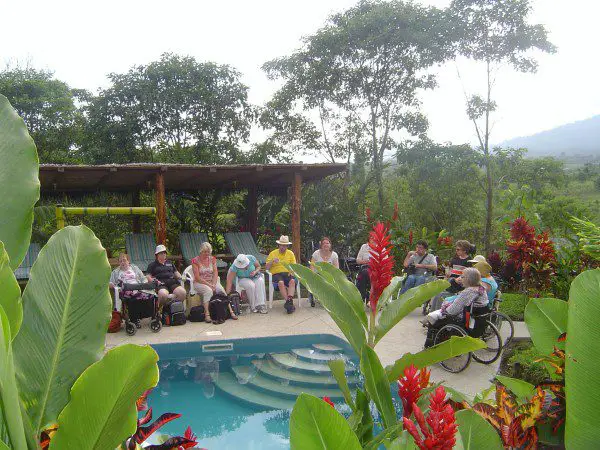 We then left on our journey to the Amazon Rainforest crossing two mountain ranges, including the Andes, and driving through seven different climate floors where the temperature and amount of oxygen varied dramatically. We stopped off for lunch in Baños in a local restaurant with steps to enter, but these were again manageable. The toilet was accessible with a small wheelchair and we coped well.
We later arrived at Huasquila Lodge on the edge of the Amazon Rainforest. This was an amazing place, owned by the brother of our guide and run by his parents. There are large cabanas set around the grounds in amongst the plants of the forest. All these have large bedrooms with moveable furniture and some have wheel-in bathroom areas. Each bathroom has a toilet at one end with rails, basins in the middle and a wheel-in shower area at the other end with a seat on the wall. They also have shower chairs, toilet raisers, walking frames, etc for your use.
The staff were wonderful and willing to help in any way possible; nothing was too much trouble. We had several nights here enjoying the local landscape, overlooking a lovely pool, watching the wildlife, just sitting in the open air restaurant/bar/lounge and having our meals and chatting with the staff and owners. They also have a swimming pool with Jacuzzi area and a shaded sitting. There is a hammock lift to get people in and out of the pool and the staff, bus driver and guide all helped our group in and out of the pool. Local people were brought in to help push the wheelchairs from the rooms to the restaurant and back as some of the paths are steep and uphill. We had a problem at night regarding the use of phones in an emergency. No facilities were in the rooms, but we were kindly given a satellite phone and the staff's mobiles to hand to clients so they could ring for help. We tried whistles but these did not work as the wildlife is so loud we could not hear them!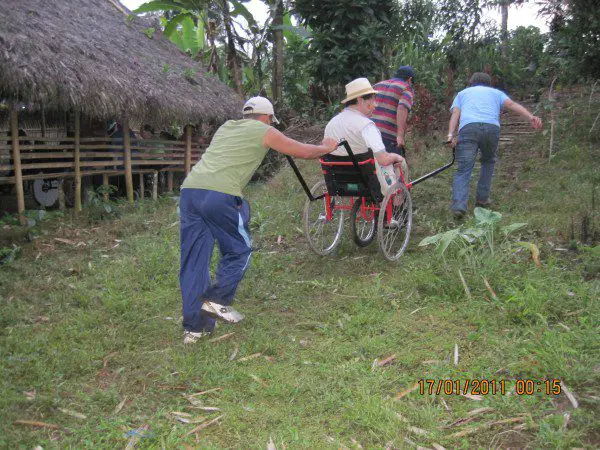 Whilst staying here we visited a local indigenous village, Rukullacta. The pathway down to the village hall consisted of steps built in the hillside, so it was a bit difficult to get everyone down, but with help we managed it. We were given a delightful show of how they make drinks and local dishes from roots and leaves of indigenous plants. We were able to sample some, and well as playing their instruments, one of which was a Turtle shell! We were then given a show of dancing and a wedding ceremony was played out with one of our clients playing the groom! To get everyone back up the hill we used the special rickshaw-type wheelchairs from the lodge, where there are handles on the back and on the front, one person pulls and one pushes, very ingenious and practical.
We also went in two groups into the forest, from the lodge with an indigenous guide who gave a demonstration and talk on the medicinal and culinary uses of the plants that grow in the forest. This was undertaken in the rickshaw-type chairs and we used a wooden board and a chair cushion to put behind one lady who needed back support.
Back to Quito
When we left the lodge it was another long journey back to Quito, again stopping at Baños for lunch. We stayed in Quito for two nights more before returning home. During this time we went out to another local restaurant on the first night, again within walking distance of the hotel and with good access, great food and a pub like atmosphere. The next day we visited the World Culture Heritage. Here we saw the beautiful squares and churches of the town, as well as the impressive Middle of the World Monument, which is located on the Equator. We also visited the Intinan Museum where we observed and tried out some experiments that proved we were in the middle of the world including watching water go down a plughole different ways and balancing an egg on the head of a nail!  We had lunch here in the village at a local restaurant and shop which was totally flat and accessible (as were the toilets).
It was sad to leave such a wonderful country and lovely people. The guide we used could not have been more helpful. It was great fun and really easy to overcome any little problems we came across with the help of truly kind and compassionate people.
Wing on wheels
Wings on Wheels have organised holidays like this around the world since 1998 and this proves that you can travel anywhere in the world as long as you have imagination and are willing to be adventurous. Sometimes we have really good facilities and sometimes we have to compromise with what is available in the country we are visiting. However, many of our clients come back year after year because they know they can visit places they couldn't otherwise go in a wheelchair or without some help. We also organise tailor made holidays for individuals, families, groups, clubs, etc to their specifications.
For more information please contact: Jean Burdett, Director of Wings on Wheels on 01945 871111 or by email via the website.
By Jean Burdett
Want more holiday inspiration? Visit our Travel section to read first hand holiday experiences, including an African safari adventure, Partying in Las Vegas and a Road trip through Switzerland.