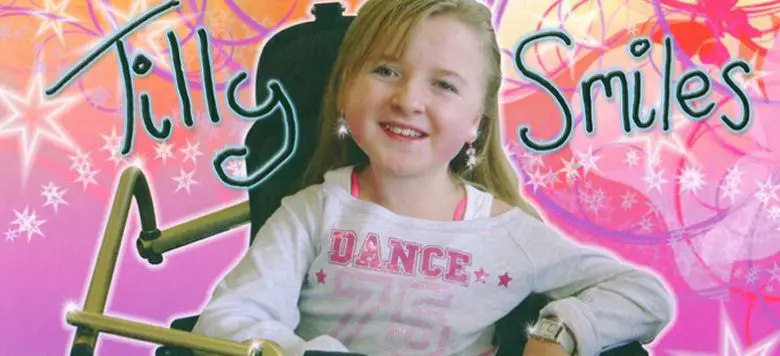 Following on from the inspiring story of how twelve-year-old, Tilly Griffiths, never lets her disability get in the way of adventure, we're thrilled to hear about Tilly's book, Tilly Smiles, and how she hopes it will encourage other disabled children to be adventurous.
Despite having Spinal Muscular Atrophy, Tilly has never said that it is a shame she cannot do an activity, but just wonders how she can do it. Her chair is instrumental in enabling her to take part in seemingly impossible tasks, and allows her to achieve her goals. It was donated to Tilly by Caudwell Children at a cost of £20,000. The following year Tilly created a piece of artwork to auction at a Caudwell Children's Ball as a thank for this life changing gesture.
In order to ensure that another child would be able to benefit in the same way, she cheekily put a reserve on the artwork of £20,000. She told the audience that she had based it on a butterfly because, like her favourite story The Hungry Caterpillar, when she received the chair, she felt like she had turned into a beautiful butterfly.  The audience was in stunned silence and then a bidding frenzy began and Tilly raised a staggering £330,000. Since then, Tilly has gone on to raise over £2million for Caudwell Children.
Always thinking abou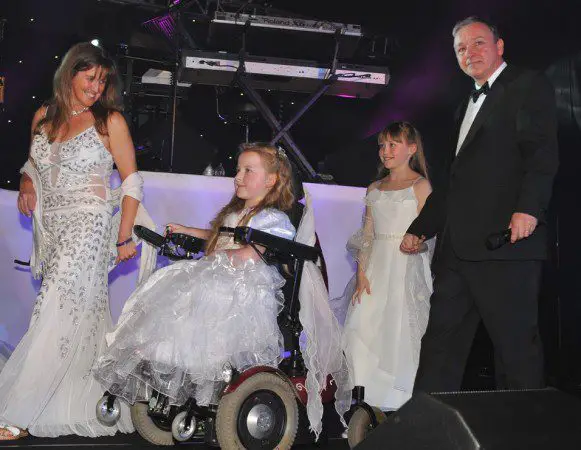 t ways she can help other disabled children, Tilly had another brainwave. After noticing a distinct lack of children's books featuring disabled children, Tilly was encouraged by her teacher, Kathy Walker, to create her own book based on her life and experiences. The Jennifer Trust for spinal muscular atrophy funded the project and the Caudwell Children design team worked alongside Tilly to complete the book, named Tilly Smiles.  The book is now given to all newly diagnosed families with SMA and is on sale (£10) to raise funds for The Jennifer Trust. It is hoped that the book will provide inspiration and information to those living with disability and also give a positive and enlightening image of living with disability. It aims to smash a few myths, shine a bit of light and sprinkle some 'Tilly dust' onto those who have not had the opportunity to ponder all that can be achieved whilst living with disability.
For this work, and all that she has done to raise money for charity, Tilly has been awarded a Pride of Britain Child of Courage Award. Bruce Forsythe presented her with the trophy and has since become an Ambassador for the Caudwell Children and written the forward of Tilly Smiles.
Tilly has appeared on Daybreak to promote the book, and has spoken to many a large audience in support of a variety of charities including Caudwell Children, Donna Louise Hospice, Special Matters and Rudyard Sailability. Each time Tilly speaks it is without notes but instead from her heart and therefore has all the more profound effect.
By Jackie Griffiths
Make sure you read Tilly's full story of her adventure, from rock climbing to ballet.
Let us know if you have a story to tell by emailing us at editor@disabilityhorizons.com, tweeting us @DHorizons or sending us a Facebook message.