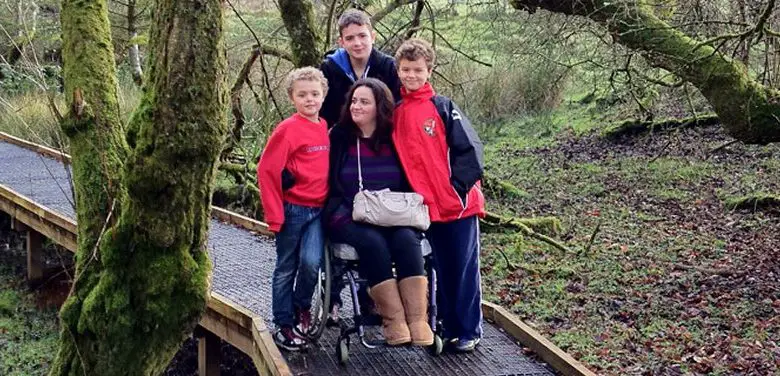 In the third of our Nokia Accessibility technology series, new Disability Horizons contributor, Linda Barlow, talks about her new website – 'Accessible Living' – which aims to provide disabled people with the freedom of choice when they travel across the UK.
My name is Linda Barlow.  I am married to Neil and we have four sons (and a golden retriever). In 2008 I found myself needing a wheelchair due to paraplegia following a series of medical problems.
After extensive alterations at my place of work, I was able to continue as a part-time legal secretary following an absence of fourteen months.
It is fair to say my confidence had taken a knock and it took all of my courage to agree to join colleagues at a work's Christmas party at an accessible hotel.  Sadly 'accessibility' seems to mean different things to different people!
After a lovely evening, I bid farewell with "no, don't come out in the cold. I can manage, I'll be fine," I entered the external lift and began to ascend. But two hours later I was still in the lift, which was stuck fast.
A guest returning late heard my shouts, somewhat hoarse by this time. Staff with blankets came to my rescue until I could be released – so much for slipping away without a fuss! Not the best introduction to trips in my wheelchair. It certainly helped me focus my mind. How could people with a disability be sure that their needs would be catered for and that they could safely enjoy outings with friends and family? I wanted to help.
Because I was determined to carry on as 'normal' for my husband and boys, I was opened up to a whole host of situations, ranging from fantastic, welcoming , encouraging times to thoughtless, discouraging and downright dangerous incidents.
Right, I thought, it was time to think positively and carry out some research. Before becoming a legal secretary I had spent many years in the hospitality industry and had worked as a receptionist in many superb hotels around the country. So I devised the idea for a website that would enable those with a disability to be able to make an informed choice as to where they could enjoy some of the finer things in life.
I had the vision. I certainly believed in the need for such a facility and I had the determination to provide a service. I started by testing the water and trying to communicate my enthusiasm for a website I intended to name "Accessible Living".
One of my first tasks was to make contact with several hotels where I had worked. They showed interest but wanted to see the site before agreeing to be listed. Fair enough. They were looking for professionalism. I can do professionalism! I checked out different sites and looked into the work of web designers. I was full of enthusiasm and must have conveyed this energy as I found a designer who was happy to help me provide the service I required.
A major stumbling block was finance. I would need a computer, desk, chair, stationery, business cards and money for the web designer. After all, the conservatory had to double as an office now. I don't suppose I could add sun blinds to my list! I approached several organisations hoping for a grant but had no success. So instead I took out a small business bank loan. That has added pressure but as I am determined to work hard and my family are very supportive, I hope it won't be too long before I can repay the loan.
The money borrowed enabled me to get started. I had meetings with the web designer and settled on a layout I could confidently offer to businesses. The hotels I had approached during initial marketing were pleased to be associated with the site and came on board.
I continue to work hard and believe that I exercise good judgment based on the very simple premise "would I be happy with the service offered?"
I have every confidence that businesses advertising on my site will be able to meet the needs of those people with disabilities.  Please check them out so you can see the scope available for making an informed choice. When you visit Accessible Living you will find accessible hotels, restaurants, pubs, self-catering accommodation, B&B's and visitor attractions. Enjoy my site.
This is a new venture and my aim is to be able to offer a broad selection under each category in the coming months.
I envisage many hours spent in my office/conservatory with my boys and dog frequently passing through to the garden.
Hopefully I have been able to convey some of the enthusiasm I have for creating this enterprise.
By Linda Barlow
For more information on accessible accommodation, visit our Resources section, and our Travel section for articles about travelling to the far flung corners or the world, such as Africa, Thailand and Sydney.

This article was part of the Nokia Accessibility series. For information on the work of Nokia Accessibility check out their website.