As London welcomes the world this summer for the Queen's Diamond Jubilee, the Paralympics and Olympics, we at Disability Horizons have been compiling a list of the most accessible tourist spots around this great city. So, if you're planning a trip to London, first check out what Co-Editor, Srin Madipalli, has to say about these 10 must-see accessible London attractions.
This is one of my favourite tourist sites in London. On a clear day or evening, you get stunning views across the city of most of the major landmarks. There were no issues driving my wheelchair into the capsule, which was step-free.
London Eye website:  Details of all accessible facilities and access, as well as information about the priority service allowing you to avoid the queues.
Contact: email accessiblebooking@londoneye.com or call + 44 (0)871 222 0188
Cost: adult £18.90 at the ticket office and £17.01 online. Children £9.90 at the ticket office and £8.91 online. Children under 4 or carers FREE.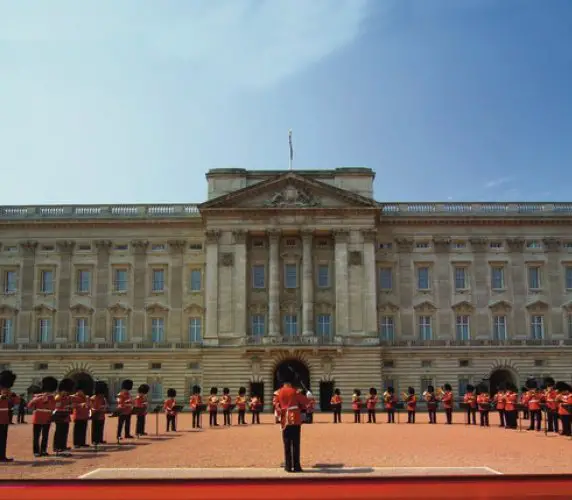 Buckingham Palace
It's been a long time since I went there (about 10 years ago!), but I remember being able to go everywhere. There was a small delay with one of the stairlifts, which struggled to lift my very heavy powered wheelchair. I also vaguely recall there not being any accessible bathrooms.
Buckingham Palace website: access information for all forms of disability, including a map of the layout. As well as the Buckingham Palace State rooms, you can also visit the Royal Mews, the Queen's Gallery, and Clarance House. There are guided tours, and if you select "disabled" when you book, you will be called to see if you need adjustments to be made.
Contact: email specialistsales@royalcollection.org.uk or call +44 (0)20 7766 7324.
Cost: adult £18. Children £10.50.
The Natural History Museum, V&A Museum and Science Museum
All three museums are right by one another in South Kensington. They are big, fascinating and insightful places that have some fantastic exhibitions. Access is generally very good, but on busy days, or for special exhibitions, working through the crowds can be a bit difficult. All the major public museums in the UK are completely FREE so you can go as many times as you want.
Natural History Museum website (call +44 (0)20 7942 5011), V&A Museum website, Science Museum website (specialist contact information for each area on both websites): all 3 websites provide comprehensive access information including how adjustments can be made for specific needs.
Cost: All 3 museums are FREE, except for special exhibitions.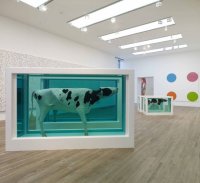 Tate Modern
For those of you who are like me, and know very little about the arts, or are generally unfamiliar with anything related to modern art, the Tate is perfect. Its accessible, spacious, easy to navigate and its exhibitions are well-presented. As it is free to enter, you can wander in and out as you wish.
It's in a great location, on London's South Bank, right by Shakespeare's Globe and opposite St Paul's Cathedral, so if you get bored of the art, there are other things in the vicinity to see. There is also a really good pub right by the Tate Modern called the Founder's Arms which overlooks the Thames. Great place to have a beer on a warm summer's day!
Tate Modern website: comprehensive advice about access facilities for a wide range of disabilities. Provides specialist tours such as Touch tours as well as online resources.
Contact: email ticketing@tate.org.uk or call +44 (0)20 7887 8888 (Monday–Friday, 10.00–17.00)
Cost: FREE, except for special exhibitions.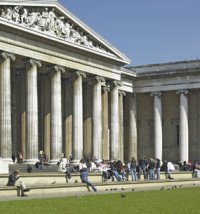 The British Museum
Another one of the big mega museums of London that is free to enter. My law school was a two minute walk from the British Museum, so when I used to have periods of free time between lectures, I sometimes went for a wander around.
While it is fully accessible, it is also one of those museums that is difficult to fully see in just a day. If time is limited, I'd recommend going to one of the special exhibitions. Like with London's other museums, they can get really crowded on certain busy days, which can make it difficult to fully appreciate what you are seeing.
Also, just be wary that is a big museum, so if have any difficulties with fatigue or tiredness, be sure to plan your visit and identify in advance any particular exhibitions or galleries that you would prefer to visit.
British Museum website: a key to accessible facilities accompanies their floor plans. The key is explained in detail in the Access information section. They also have website accessibility information, BSL videos and audio descriptions.
Contact: email tickets@britishmuseum.org or call +44 (0)20 7323 8181 (Monday–Thursday, 10.00–17.30)(Friday, 10.00–20.30)
Cost: FREE, except for special exhibitions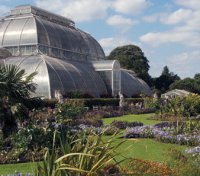 Kew Gardens
One of London's real gems. In a city with little open space and parks that are usually rammed with people, the vast expanse of Kew Gardens can be a great day out. As it is more towards the edge of the city, you will need to consider transport more carefully.
I recall Kew Gardens station being step free, but as there would be a big step to get onto the train, I had to arrange assisted travel with South Western Railway, who organised a ramp to be placed. I found the most interesting bit of Kew Gardens to be the special greenhouses, where the controlled conditions enable plant-life that usually can't grow in a British climate. Like with the museums, Kew Gardens is pretty big – over 300 acres in fact – so if this is likely to cause any difficulties, plan your day.
Kew Gardens website: information about the facilities, grounds, its pathways and terrain for wheelchair users. They also provide bus and walking tours for people with limited mobility.
Contact: email info@kew.org or call +44 (0)20 8332 5655
Cost: adult £11.90 for disabled visitor, FREE for blind and partially-sighted visitor and essential carers. Children enter FREE.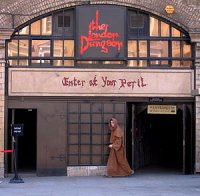 London Dungeon
I really like London Dungeon. It is a bit cheesy, but it is a good laugh and a good way to spend a couple of hours. While accessible, and near London Bridge station (which is a major transport interchange that is step-free in most parts), some parts of the London Dungeon can be quite dark, which could make it difficult for some. I recall people  in costumes and waxwork exhibits jumping out from nowhere trying to 'scare' you, which I found utterly hilarious, but imagine that some people wouldn't!
London Dungeon website: A large amount of information on restrictions, such as some pathways being uneven and those with difficulty walking not being allowed on the Boat Ride, Drop Ride, Extremis or Vengeance. It does offer special tours for those with hearing impairments. We suggest calling the venue to talk through specific disabilities and whether you would be able to enjoy the full experience.
Contact: call +44 (0)207 234 8675
Cost: adults £24 at the ticket office and £15 online. Children £ 18.60 at the ticket office and £9 online.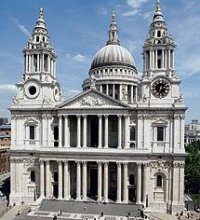 St Paul's Cathedral
St Paul's Cathedral is a tranquil and peaceful place that sits within the hustle and bustle of the busy financial district of central London known as the 'square mile.' Once a upon a time, I used to go through the grounds of St Paul's as short-cut on my way home. Most parts are accessible, but there are some areas that aren't, such as the Whispering, Golden and Stone galleries, due to its age.
St Paul's Cathedral website: access information including which entrances are best to use and some details of travel to the cathedral.
Contact: different contact information for days of the week – see the website.
Cost: wondering around the outside of the building is FREE, but to see inside the cathedral adults £15 and children £6.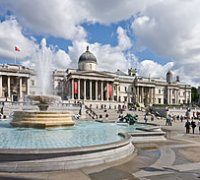 National Gallery and Trafalgar Square
The National Gallery is one of the smaller of London's premier galleries, but it is still very impressive. I recently visited the National Gallery for a special collection of the works of Leonardo Da Vinci.
Again, they are both free to visit and accessible but, like all museums in London, can be a pain to make the most of when busy. Trafalgar Square and Nelson's Column is one of the those must-see public squares and is within walking distance of Buckingham Palace, Horse Guards Parade, the Houses of Parliament, Leicester Square and Piccadilly Circus. Trafalgar Square is step-free with an accessible route to the National Gallery which sits right behind it.
The National Gallery website: good accessibility information for differing disabilities, including a signed video.
Contact: email education@ng-london.org.uk or call +44 (0)20 7747 5820.
Cost: both FREE, except for special exhibitions.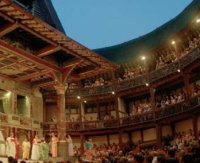 Shakespeare's Globe
I went to The Globe on a kind of date many years ago. I strongly recommend watching a performance there. I loved the fact that I could choose to be in the wheelchair platform in the covered stands or in the open standing area near the stage. I chose to position my wheelchair in the standing area by the stage, which was exposed to the elements!
The atmosphere in the audience was a lot of fun the pouring rain made it just that much more a novelty. The performances at the Globe are a world away from the boring and static way in which Shakespeare is taught in the classroom and watching a modernised play live with its characteristic audience participation is a really enjoyable experience.
Shakespeare's Globe website: details for people with a variety of disabilities and how to access the performances.
Contact: email access@shakespearesglobe or call +44 (0)20 7902 1409
Cost: prices range depending on the performance and where you want to sit.
By Srin Madipalli
We'd love to hear your thoughts on London hot spots. Let us know your thoughts by leaving your comments below, emailing us at editor@disabilityhorizons.com, tweeting us @DHorizons or sending us a message on Facebook.