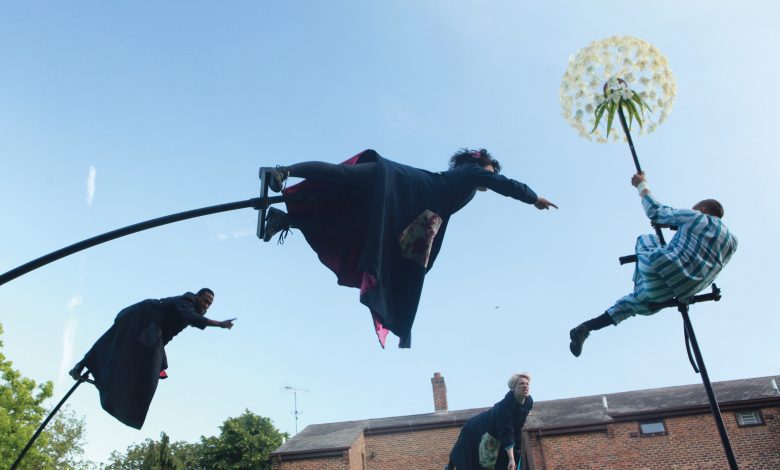 From 6th to 9th September, Graeae will be showcasing a new accessible outdoor production called The Garden at the Riverside Terrace, Southbank Centre. We speak to writer, Alex Bulmer, who is partially sighted, about the production and its background.
For those of you who haven't come across Graeae before, it is a fantastic and innovative organisation based in London and is at the forefront of inclusive theatre productions open to everybody. As Graeae assert, they "force for change in world-class theatre, breaking down barriers, challenging preconceptions and boldly placing disabled artists centre stage."
With that in mind, Graeae were commissioned to put together an original and exciting production as part of Unlimited, an exhibition that celebrates disability arts, culture and sport for London 2012.
In collaboration with Strange Fruit, a performing arts company from Australia, Graeae has produced a gravity defying outdoor production that takes place on four metre high giant swaying poles (yes, poles in the air that sway!), telling three stories of love, innocence and hope.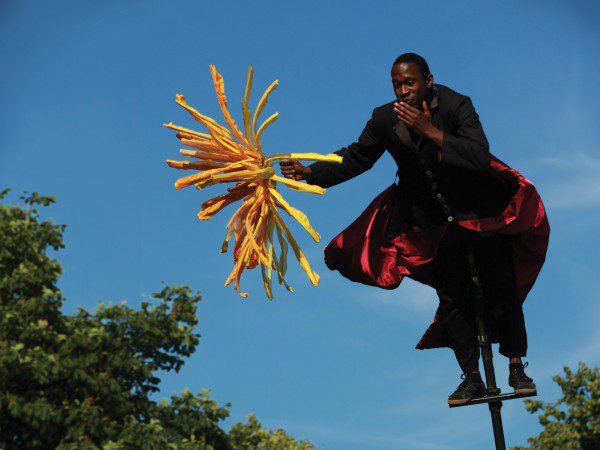 The Garden started as an idea by Jenny Sealey and Bradley Hemming – both artistic directors for last night's spectacular Paralympic Opening Ceremony – who were interested in creating a production based on the poetry of William Blake.
They had a site in mind for where the performance would take place, a rough idea of certain characters, a desire for song and music but it was Alex Bulmer who was then brought on board to help bring a collection of ideas together into a fully-fledged production.
Alex had been working with Graeae since 1992, when studying at the Central School of Speech and Drama. At the time, Alex was starting to lose her sight and became drawn to the work that Graeae was doing to pioneer inclusivity in the performing arts.
Despite her experience, writing a script for an outdoor production was something that Alex describes as a massive challenge, especially as she wanted the production to achieve a meaningful spectacle.
Alex says:
"When writing for a large scale performance, especially one that involved a kind of circus element as The Garden does, you have to really think about how the story will be told and then make decisions on what story best suits those dynamics. I think an easier way to articulate this might be to imagine that outdoor theatre is like a giant character in a cast, and so I wrote for that big character. I also needed to know a lot about the technical elements so I don't write lines of dialogue for everyone when only one person will have a microphone. Sounds obvious, but you'd be amazed at how such things get overlooked"…
In addition to making the production a technical possibility, Alex also highlights the challenge in ensuring that the performance has meaning and thematic core and doesn't just rely on a 'wow' factor. She firmly believes that: …"the dazzle of spectacle and the depth of story can and should co-exist"….
Alex hopes that through her work with Graeae – and productions such as The Garden – more disabled people will want to get involved in the performing arts; …"don't let anyone tell you that you can't because you are disabled or for whatever reason. If you can breathe you can create" says Alex.
I totally agree, and have the feeling The Garden will be a fantastic success. Make sure you go see it!
By Srin Madipalli
Check out…
• Paralympic Games 2012: Disability Horizons' definitive guide.
• Paralympics Games 2012: Archery is an adaptable sport.
• Paralympic Games 2012: Boccia requires skills rather than strength.
We're putting together a collection of articles with your pictures from Summer 2012. Whether at the Paralympic Games, enjoying some of the events around the UK, or participating in local sporting events, we'd love to hear from you.
Email us at editor@disabilityhorizons.com, tweet us @DHorizons or send us a message on Facebook. Share your experiences with our community for a monumental Summer 2012!