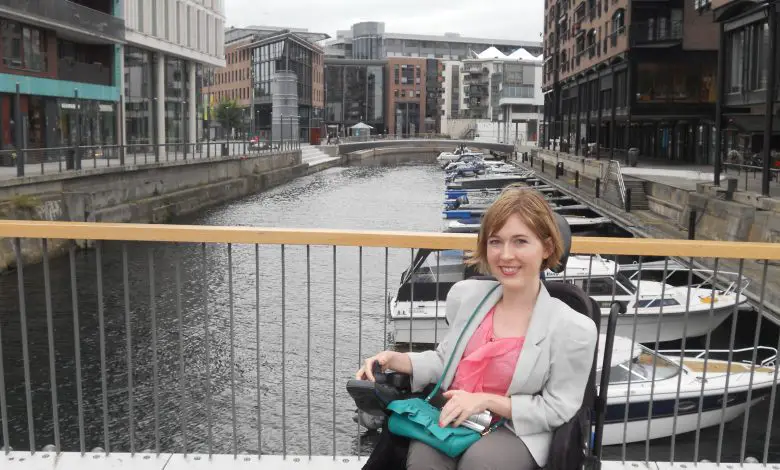 Tempted to visit Scandinavia but not sure how accessible it will be? Wheelchair user and commercial accessibility consultant, Sarah Rennie, tells us about her trip to the capital city of Norway, Oslo, giving us her top tips for travelling to and staying in Norway.
I'd been looking forward to my trip to Oslo for some time because I've never had the guts to take my powered wheelchair on a plane and Scandinavia, with its reputation for inclusive design, seemed a good place to start.  The promise of the country's brown goat's cheese sealed the deal!
Planning the trip and flying out

Everyone's heard the horror stories of damage caused to powered wheelchairs by airlines, including to that of Disability Horizons very own Srin Madipalli. I spoke to Martyn too beforehand for some last minute tips. Much to his amusement, I made a big set of instructions to stick on the back of my chair (in both English and Norwegian) to explain the braking/free-wheeling system to the baggage handlers!
Originally, as this was a last-minute extra holiday, we planned to travel pretty cheaply as living costs in Norway are high. We wanted to fly with a budget airline to Rygge airport but were warned that the airport shuttle bus to the train station was not accessible.
After a few weeks of not overcoming this barrier, we switched to a more expensive airline that flew to Gardenmoen, the main airport in Oslo. We have since learned that, although the shuttle bus is indeed inaccessible, the airport will always book an accessible taxi instead free of charge. Worth bearing in mind guys!
The flight from Heathrow was fine and no different procedure-wise to travelling with my manual wheelchair. On arrival at Oslo, my chair was in perfect condition and waiting for me at the aircraft door.
But, potential disaster awaited me as I went to travel from the airport on to my hotel. 'Little Miss Control-Freak' that I am, I practically had a panic when we found out that the trains to, and around, Oslo city centre had been cancelled for the summer, and shuttle buses were inaccessible. But, with no fuss at all the train operator booked us an accessible taxi instead. Disaster averted!
Take a look at my video of the trip from my home town all the way to Oslo for a few handy tips:
Hotel
I still couldn't relax until I'd seen the hotel. We stayed at the Scandic Byporten which is bang in the centre by the train station. I chose this Scandinavian chain because they employ an access consultant full-time and they have very transparent policies about access and information provision. Any company that puts dimensions on its website to save me the time of ringing up to ask silly little things like whether I can get my knees under the sink, wins my custom no questions asked! Take a look at the Scandic Hotels' accessibility policy to find out more.
We were thrilled with the facilities which included a roll-in shower, a shower chair (with armrests) and plug sockets by the bed for my respirator. The breakfasts were awesome too! I tucked into four courses every morning. We couldn't be bothered to arrange a hoist for four days so my friend, who was lifting me during the trip, was most annoyed that I seemed to gain weight by the day…
But it wasn't all about the hotel, of course! Take a look at my video of the transport around Oslo, from taxis to ferries:
If you're planning a trip to Oslo, I suggest checking out the Visit Oslo website, as I found the accessibility information there really useful.
By Sarah Rennie
Part 2 of Sarah's article about her trip to Oslo will be published next week!
Sarah Rennie owns Rennie Consulting, a company that supports businesses to be fully accessible and inclusive. Contact her by email.
Check out…
• Martyn Sibley's Epic European Disability Roadtrip: part 1.
• Top 5 accessible walks on the South West Coast.
• Airline accessibility: a campaign that's taking off.
Travelled recently and have some tips to share with Disability Horizons readers? Get in touch by emailing us at editor@disabilityhorizons.com, tweeting us at @DHorizons or messaging us on Facebook.