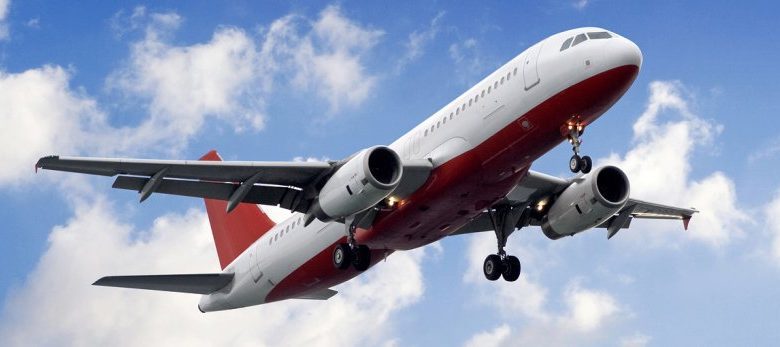 Philip Bryant, who has Multiple Sclerosis and uses a wheelchair, shares his experience of flying to France and how he managed to get around the barriers posed by MS.
Wheelchairs, a leg splint, having the use of only one hand, an inability to walk and flying an aeroplane are not an ideal combination. My flight in a glider some time ago proved that with a bit of determination and some willing hands a lot of difficulties can be overcome.
That flight was back when I could walk a few yards to the toilet, although anything over 50 yards was simply not possible. But, for around two years now, I have been unable to walk unaided. I have become a full-time wheelchair user. The obstacles I face now are, therefore, different.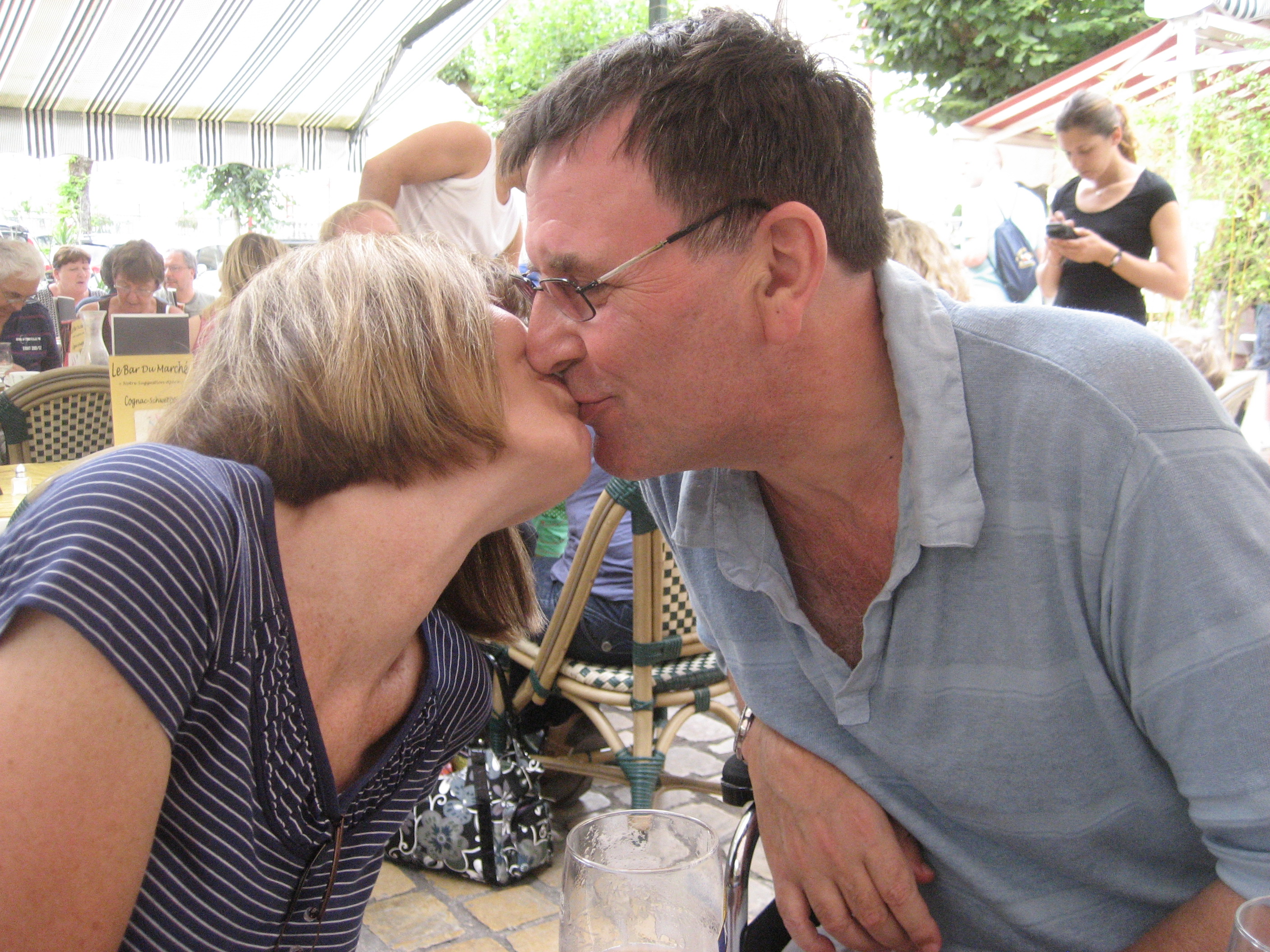 A close friend suggested to my wife and I that we take a week's holiday in France, Limoges to be precise, to celebrate my wife's 50th birthday and to see some old school friends. Once in France he would drive and be our aide de assistance (I was already into suitable French lingo). But could we manage a 1 ½ hour flight from Stanstead to Limoges alone, even thought I wasn't flying it this time?! So I started to investigate what was involved.
Ryanair informed me that I would be loaded onto the plane via a covered lift. Once on board I would then be transferred to a narrow isle wheelchair and wheeled to designated seats in rows 1 and 2 at the rear of the plane. A seemingly straight forward plan, so we booked the plane tickets along with a large hire car from a company that was only 25 yards from the airport terminal.
I later found out that because of EU regulations I couldn't sit in my favoured isle seat where I could stand and stretch without being hampered by overhead lockers. Apparently this was because I would have been a hindrance to the quick exit of more agile passengers in the event of an emergency; say no more!
In addition I had to transfer myself out of the isle wheelchair to the seat and then slide myself along to the window seat with no assistance from the cabin crew; health and safety wouldn't allow it. Tucked in the corner was where I was to remain for another 2 hours.
As we arrived at Limoges airport I was interested to see how I would disembark from the plane. The answer was a wheelchair that had 3 wheels on each side at the back, which enabled the wheelchair and my handler to go down the steps from the plane to the tarmac effortlessly thanks to gravity!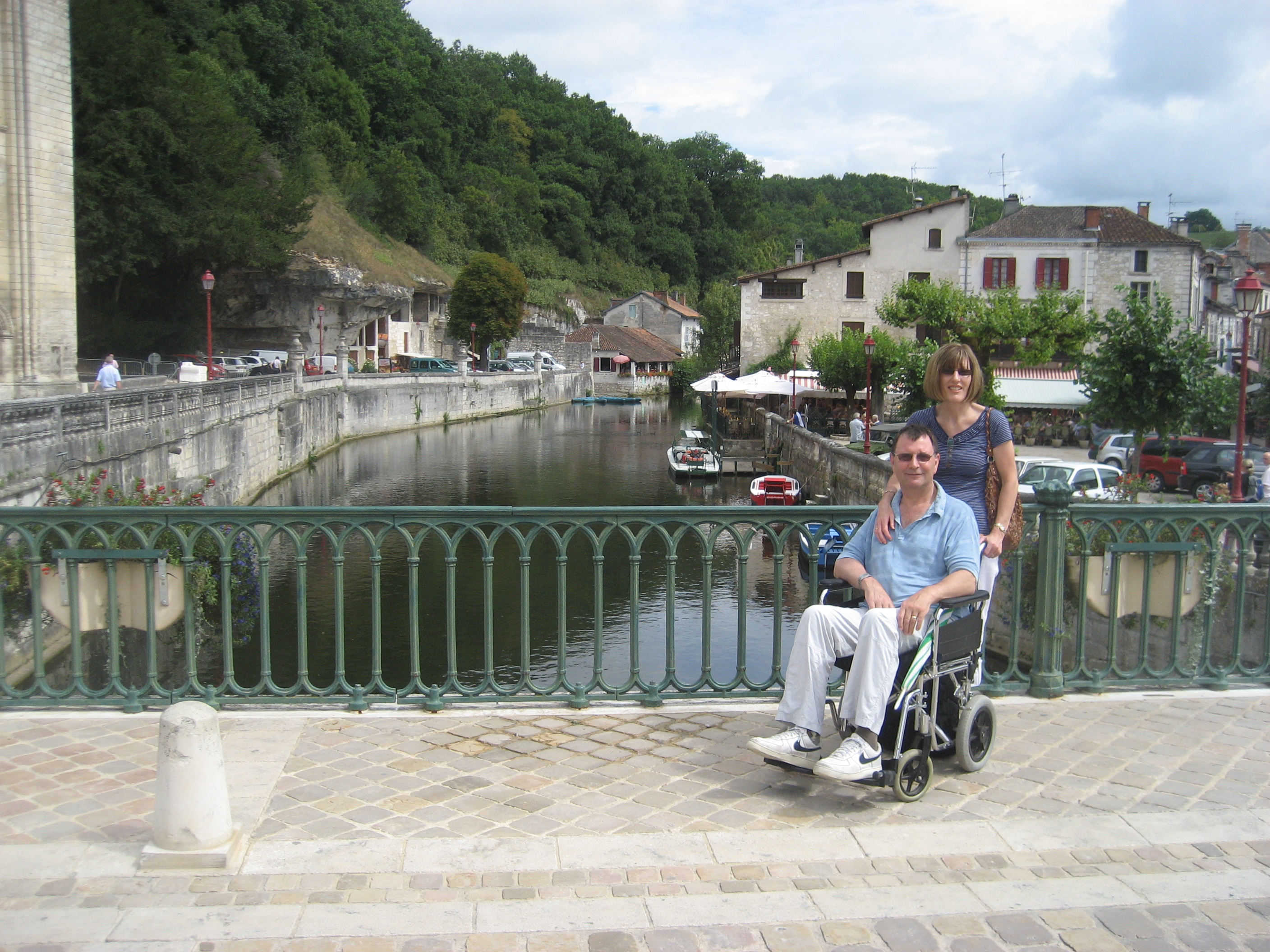 Thankfully the weather was fine so no problems on this occasion, but I did ask the assistant what would happen if it was raining. I'm sure he was grinning when he said with English sarcasm and in a broad Birmingham accent: "we'll get wet, won't we?" This was followed by a pause, and then; "we have wet weather gear and golfing umbrellas to keep us dry." But we would still get wet and my wife doesn't like the shade of yellow! He took us to the terminal and as he walked away he turned, winked and said: "I was just joking about the umbrella!"
Once in Limoges, there were plenty of wheelchair-friendly places, restaurants and cafes to visit in and around the area and our week soon went by. Our most memorable day out was a visit to Oradour-Sur-Glane, a unique WWII memorial near Limoges. The original village was destroyed in 1944, when 642 of its inhabitants were massacred by Nazis.
I will never forget the village and the museum; it has left an unbelievable impression on the 3 of us. I urge you to take time out when in the area, which is very wheelchair friendly. However, the trip through the village itself was a little bumpy, but well worth this minor discomfort.
You are asked to walk in silence through the empty streets, passing ruin after ruin. Signs are posted to indicate what type of shop or residence had once existed. Ruins of bicycles, sewing machines, cars, and telephone poles serve as a reminder that people like you and I once lived there. I couldn't get my wheelchair into the church because of the steps so I waited outside. Although there were families milling about, the silence was deafening, even the birds were silent. Eerie but very fitting.
On the return flight I met my Birmingham assistant again when he and 2 helpers, dressed in yellow wet weather gear, wheeled me up the steps to the plane.
The holiday had been wonderful, the journey both ways was effortless and efficient – despite the tiny annoyances – and the service from Ryanair was 5 star.
By Philip Bryant
Check out…
• Top 5 accessible walks in the Lake District: part 1.
• Planning an accessible Caribbean holiday.
• Snow-capped mountains of Austria
We want to ensure that all Disability Horizons readers have as much accessible information about their chosen destination as possible. So, if you have a trip to tell us about, get in touch by emailing us at editor@disabilityhorizons.com, messaging us on Facebook, tweeting us @DHorizons or leaving your comments below.