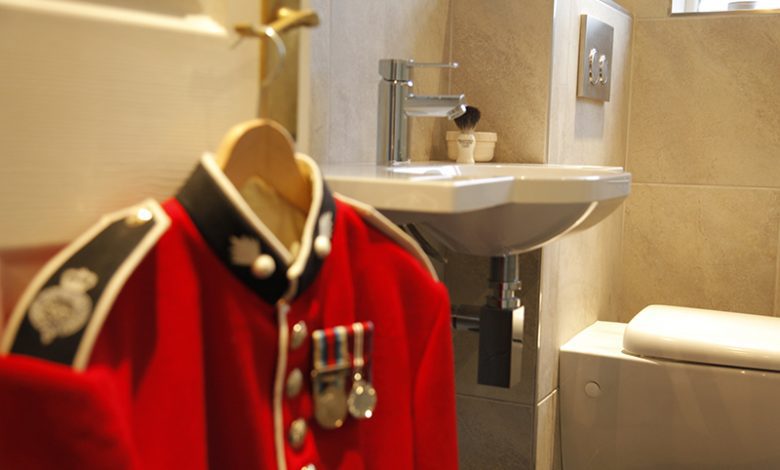 Lifestyle
Motion: stylish accessible interiors
Let's face it, accessible bathrooms, or accessible interiors in general, can sometimes look a little clinical? Well not if they're installed by Motion, a company that specialises in beautiful home renovations to support independent living.
Earlier this year, co-founder of Motion, James Taylor, told us about how becoming disabled inspired him to create this accessible interior design company. Here, we hear the story of amputee Scott Blaney, who commissioned Motion to create a new accessible wet room.
Back in 2007, Grenadier Guardsman Scott Blaney stepped on an IED (Improvised Explosive Device) whilst on a routine foot patrol in Afghanistan. The injuries he sustained in the explosion resulted in the amputation of his right leg and he also suffered shrapnel damage to his right arm and eye.
On his return home, Scott found he could no longer use the bathroom in his home in Nuneaton. Scott, who uses a prosthetic leg and has since trained as a Paralympic golfer and completed a cross-channel swim since the accident, said that getting in and out of the bath was more difficult than any of his sporting achievements.
With the existing bath and shower arrangement being inaccessible, Scott required additional support, both when showering and in other areas of the bathroom. But he wanted to return to the independent lifestyle he enjoyed before his injury.
Scott contacted Motion for advice about creating an accessible wet room after hearing about its services. An occupational therapy home assessment was organised for Scott, conducted by a therapist from the OT Practice, which Motion uses to assess and give advice to its customers nationwide.
As well as offering occupational therapy advice, Motion provided an installation team to carry out all work on Scott's wet room, from the removal and disposal of the old bathroom, to plumbing, lighting, tiling and decoration. Take a look at his video to see how his bathroom was transformed:
Co-founder of Motion, Ed Warner, strongly believes that seeking the right advice and installation is vital to achieving a high quality accessible bathroom renovation:
One of most important conclusions of hosting regular feedback sessions with our customers was the importance of fitting a product in the right place and in the right way. We're particularly proud of Scott's wet room, which provides all the necessary support but also looks stunning and has been fitted to last.
Since the project was completed in February, Scott commented:
It's made such a difference; it's just so much easier to use the shower now. The fit and finish is superb. Motion has done a great job.
With further products in the pipeline, Motion is expanding to provide accessible solutions across the home as well as in the bathroom. For more information visit the Motion website, follow Motion on Twitter or Facebook.
By Motion
Check out…
Get in touch by emailing us at editor@disabilityhorizons.com, messaging us on Facebook, tweeting us @DHorizons or leaving your comments below.