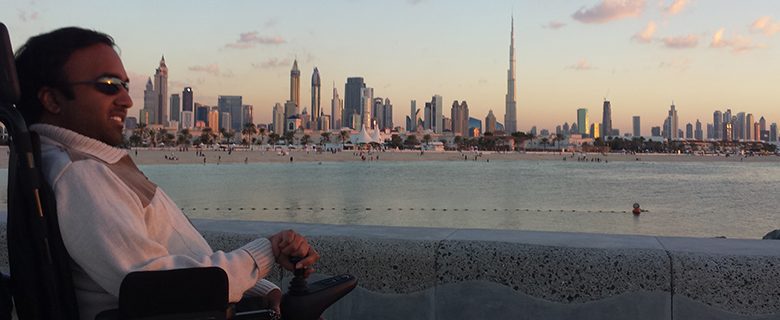 Travel & Holidays
Accessibility in Dubai: the great, the good, the bad and the annoying
Dubai sounds like a luxurious place to jet off to. But how accessible is it? Disability Horizons Co-editor Srin Madipalli recently visited for some winter sunshine. Here he shares a summary of the great, the good, the bad and the annoying with regards to accessibility in Dubai.
The great
Dubai is a very modern and new city, so the majority of buildings, shops, attractions and restaurants have great wheelchair access. A new metro system has recently been built and has excellent accessibility too. Dubai, with its extraordinary engineering marvels, basically feels like one big quirky and amusing theme park on the edge of the desert.
The good
International hotel chains dominate Dubai and it appeared that most of these had adapted rooms with accessible bathrooms. We stayed at the Conrad Dubai (part of the Hilton Group of hotels) on the Sheikh Zayed Road. The accessible room was very good, very spacious and had a roll-in shower.  But when booking the hotel room, staff weren't entirely clear on what the accessible room was. To book it, I had to speak to the hotel manager, which was just a little irritating.
The Dubai Taxi Corporation has a fleet of accessible taxis, which can be ordered with several hours' notice. However, the quality of these taxis varies. In the taxi I travelled to the airport in the roof was pretty low; I'm only 5ft 5, but I had to duck and remove my headrest in order to fit.
The bad
Dubai is gigantic sprawl. Nothing is near to anything, so to get anywhere you really need a car. You could use the metro, but it still doesn't cover all parts of the city, and you will have a long walk to get anywhere from the various metro stations. While there are accessible taxis, there is a limited supply, so you need to plan your days out.
I was only there for five days, but as a tourist, you can quickly feel you have run out of new things to do and see. If you love shopping (which I don't!) or love expensive swanky bars (which I don't mind!), then you'll have lots to do. Additionally, some of the more fun things such as the desert safaris or skiing at Ski Dubai, aren't practical for me.
The annoying
No drop-downs at kerbs ever seemed to exist!!  This was a bloody nightmare. I used a lightweight OttoBock A200 so two people could just about lift me up each kerb. But this was tiring and very annoying for all concerned. If I was to ever go again, I'd have to take some portable ramps.
Equipment I took:
OttoBock A200 wheelchair
MoLift Smart Hoist
Borringia Chameleon ShowerChair
By Srin Madipalli
Check out…
• Virgin Atlantic: disability and accessiblilty
• Deaf and volunteering alone in Africa
• Accessible Barcelona: part 1
Been on holiday recently? We'd love to hear about it. Get in touch by messaging us on Facebook, tweeting us @DHorizons, emailing us at editor@disabilityhorizons.com or leaving your comments below.