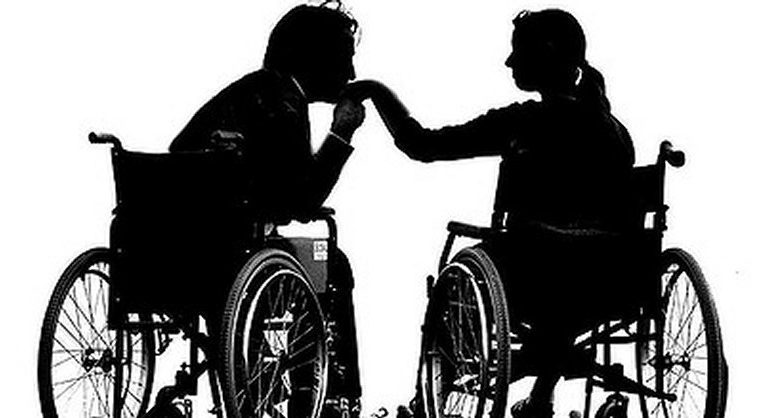 Valentine's week is upon us, and whether you love it or loathe it, your mind will probably be reverting to love. So the Muscular Dystrophy Campaign Trailblazers have used this opportunity to launch a report that looks to bust the myths about dating and disability. This Valentine's Day the group would like to open up a frank discussion and help people to think differently about disability and romance.
While I dislike our commercialised version of the holiday, I think it's an unused platform for people with disabilities to break down social barriers.
Trailblazers Project Manager, Tanvi Vyas, says:
Young disabled people have seen a number of high-profile portrayals of disability and dating in the media in recent years, but this tends to follow a very narrow line.

We also encounter a lot of myths out there – that disabled people only date other disabled people and that severe disability is a barrier to a happy relationship.

In the build-up to Valentine's Day we set out to ask people of all ages about their relationship experiences, advice and issues and to use these stories to get a frank and open discussion going. We want to encourage young disabled people to have the confidence to put themselves out there and find out what is right for them.
Growing up with muscular dystrophy means I have spent a considerable amount of time in hospital, and ultimately away from friends. Although now I usually manage to get that hospital treatment at home, I still have to hibernate and keep extra germs to a minimum. But along with this inevitable fact of my disability, I am your average 23 year old.  I love music, Disney films and I'm known to keep an eye on American Idol for the next good looking man with a musical instrument to play.
While I've never even so much as considered going on a date, I know that when I do it probably won't be the typical love story. Asides from issues surrounding social venues like cinemas, pubs and coffee shops and their accessibility, people's individual perceptions of people with disabilities often inhibit relationships and could be a source of anxiety for us living with them.
I'm renowned for being the renegade in the family – and sometimes my body struggles to keep up with my spirit. You can almost always find me out on the trek with family members. When it comes to going out with a friend, confidence is harder to find.
I've had my wheels go into push mode, needed my chest held for a bump on the footpath and had to give a verbal map of my bag so we can find that all-elusive last straw for my tea.
As someone who has always had someone who knew what to do when anything happened, to go into a situation where I have to ask for the help off someone who isn't familiar with my situation is always a tough move.
Being at university has put me in that position more often than not, and diving in head first has helped to erase a lot of the anxiety I used to experience.
It certainly helped to remove my inhibitions. However, it hasn't removed the societal perceptions that disability isn't desirable, or that those of us with the conditions seek love just like everybody else.
Shows like Channel 4's The Undateables set out with good intentions and have made people think. But there's still a long way to go before society fully accepts the fact that people with disabilities are perfectly normal romantic partners with no more baggage than anyone else.
More disabled people are turning to online dating, with apps like OKCupid opening up opportunities for us to meet more people. As a slightly old school person, the internet has brought me more than enough friends, with Facebook and Twitter ever expanding the connections I can make with people who are already open minded about disability.
Many of my friends with disabilities around the world are married, including some right here in the UK. The key to a healthy relationship isn't legs that work, or lungs that breathe properly. Having a good friendship has been the starting point for all my friends in long-term relationships – disabled or not.
Use Valentine's Day this year to spread a little love of a different kind – let people know that even if you have a disability, you are just as lovable as the next person. If you're like Olaf (from Disney's 'Frozen'), and me, and you like warm hugs, go out there and find that person worth melting for!  Wall-e got his Eva, and he didn't need to lose his tracks to do it.
If you want to find out more about the Trailblazers' myth busting campaign, visit the Trailblazers website.
By Michaela Hollywood
Don't forget to enter our Valentine's Day competition to win a £24.95 Lush gift set. All you have to do it retweet our competition tweet and follow @DHorizons to win. The competition closes tonight at 6pm 14th February. So what are you waiting for! 
Check out…
• Dating confessions of a 20-something disabled guy: part one
• Faiza Siddiqui: my sex life after injury
• Is it OK for disabled people to visit an escort?

Dating or in a relationship and want to tell your story? Get in touch by messaging us on Facebook, tweeting us @DHorizons, emailing us at editor@disabilityhorizons.com or leaving your comments below.