Lifts for the home may have once seemed unusual but more and more people with mobility issues are opting for a domestic lift instead of a stairlift. Here Lachlan Faulkner, from Stiltz Lifts, explains why home lifts have grown in popularity and what the benefits are compared to a product that has been available for more than 80 years.
For years people with mobility problems or in wheelchairs have invested in buying a stairlift to help them move around their homes more freely but many are discovering that a 'real' home lift is now a realistic – and surprisingly affordable – alternative.
Stairlifts have for decades adequately lifted people up and down stairs, however, sometimes the user may require assistance getting on and off the mechanical device.
A home lift, however, offers the individual complete independence to manoeuvre around their home unaided. A domestic lift is also reliable, does not take up an abundance of space or spoil the aesthetics of a home.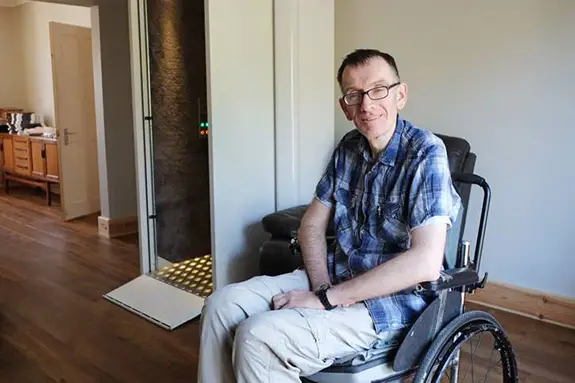 Through floor lifts are also quicker than stairlifts – lifts can take one passenger up to one floor in less than 30 seconds – and there are no expensive maintenance costs.  A stairlift can only transport the individual and not their wheelchair to the upper level of the home.
With a bespoke curved stairlift costing between £4,000 and £7,000, the price of a home lift starts from less than £9,000 (excluding building work) so are not that much more expensive. A Disabled Facilities Grant is also available.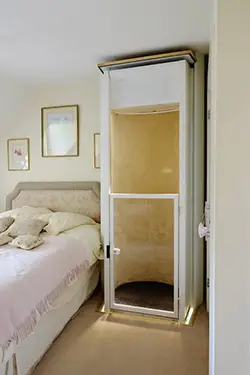 The cost of investing in a domestic lift may also pale into insignificance compared to the cost of moving house or if an elderly disabled person has to go into care.
Stiltz's range of home lifts are also unique as they are non-hydraulic lifts and don't require load bearing walls unlike their hydraulic lift counterparts. The reason for this is Stiltz lifts uses a roped drum braked gear motor driver system – which is hidden from view inside the lift – and simply plugs straight into the wall using a normal 13-amp power socket.
The lifts do not require load bearing walls because they use a unique dual rail system which creates a completely self-supporting structure. The lift is carried in compression via the rails and into the floor of the home with no extra external mechanisms needed.
Stiltz's through floor lifts includes lots of intelligent safety features with lots of colours and finishes available. The Stiltz wheelchair lifts version of the home lift is deeper and wider allowing extra space to accommodate a standard wheelchair.
For more information visit www.stiltz.co.uk or contact 0800 471 4719.
Check out…
• Blingsticks: designer walking sticks
• Q&A with Paralympian Anna Turney
• Accessing Center Parcs
Get in touch by messaging us on Facebook, tweeting us @DHorizons, emailing us at editor@disabilityhorizons.com or leaving your comments below.