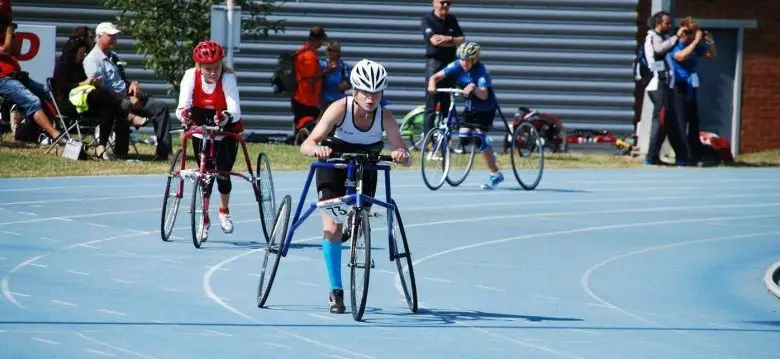 I'm Hannah and I'm a RaceRunner. I'm more than just an athlete, more than just a runner – I have the ability to transform. Every morning I wake up and before I open my eyes I plan where I'll run, when I'll run and then, I do it. When I first get there I look at the track: it is so close, so deeply red, the longing burns me.
There is still often a moment of fear flashing through my mind: what if this is the day I can't run on that track anymore? Not too long ago, that was my daily reality.
Hushing those thoughts in times of panic, my mantra always comes to me: "You will never let yourself go back to that, you can push forward."
I climb on the saddle, the chestplate embraces me. Sometimes I lean against it so hard that when my heart beats the RaceRunner beats too. I reach out and grab the handlebars, my legs land on the track.
My body takes its time. At first I am a separate body and it is the frame I lean upon. I can feel my body stuck and heavy. Everything is always contracting: tendons coil in on themselves trying to disappear, muscles pull towards each other. But then I can feel the RaceRunner's engineering, my body beginning to curl up, back to a foetal world where there is no brain injury, where movement is just floating.
Like a newborn I am held by the RaceRunner – one side stabilises my pelvis and one steadies my abdomen. Safe in the two great hands of my carer, my lifegiver, I am presented to the world of sport. As my legs dangle, they stretch and start to kick. The rhythm is hopeless to begin with, but my hips eventually learn to join my knees. The muscles in between greet the Earth's energy.
Suddenly I am running. My legs spin, the wheels whirl – I am a blur. I can feel the energy course out of me as my muscles release, regain, release. My lungs crush into me. I can feel the oxygen hit my bloodstream. Sparking, it ignites my muscles, the energy returns to me. I am the source of my power.
There is no disability here. I move easily – graceful, strong, an athlete. I am transformed.
This is life, everything else is just waiting.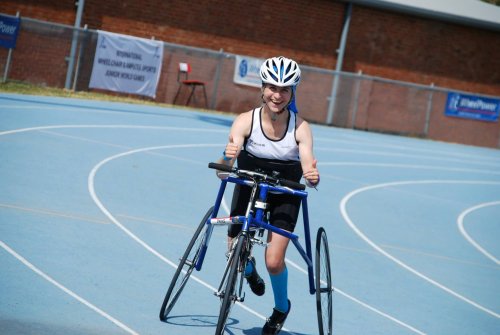 You can never take it for granted. There are always fear of moments this will be taken away from me. The moment a mainstream club books all eight lanes or too many athletes get there before me, when my joints hurt too much or my RaceRunner breaks.
If any one of those things happen, I am imprisoned in this false body, the one that cannot exercise, the one that has no sport. My true life is taken from me.
I have heard lots of people say that the determination of physically disabled athletes is incredible, something rarely seen in the able-bodied. Perhaps if we could have athletic movement any time we wanted, we would not be so perpetually desperate.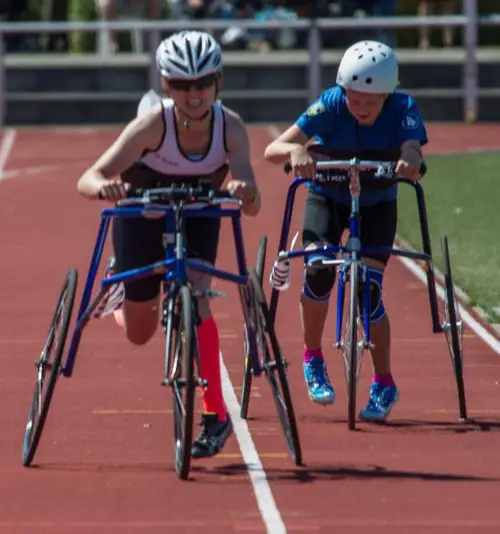 How many times I have wished I could pull on some trainers and hit the pavement when the mood took me. But so much has to come together to allow me to – so much money, so many dedicated parents, immaculately scheduled days.
Sport is a privilege, often denied to the physically disabled. So we value every moment we are given, live them to the full and stop only when fatigue demands it.
Not every physically disabled person is an athlete, but there are a significant number of us out there.
Each disabled athlete has had to fight for that identity.
To become an athlete you might have had to buy or loan assistive equipment before you were actually fit enough to use it properly. You might have had to go through intensive lessons to align your traitorous bodies to even the most basic of activities. You might have had to bargain with councils for storage space and convince clubs that they should integrate. You might have had to learn to drive huge vehicles to carry equipment, learnt how to lift and dismantle it or implored your family to spend hours doing it for you.
Each of these battles will have commenced before you looked like an athlete, before you knew what fitness felt like.
A sporty person on the inside, you will have to assure a doubtful world that you will one day become what you know you are. The leaps of faith are endless, the sacrifices for what is barely visible are huge.
The preliminary battle is realising, as a physically disabled athlete, that your disability within sport is not your medical disability. Your disability is one far more psychologically baffling and yet entirely curable.
The 'sporting dysmorphia' and 'athletic locked-in syndrome,' heal with a consistent training programme provided by voluntary coaches (thanks Janice and Red Star AC) and the chance to race others (thanks SDS and CP Sport) like you. With the sport you love as your guide, you are slowly taken into the world you have longed for.
Every race is a celebration. Every race means regaining your freedom.
I learnt that I could RaceRun one and half years ago, on August the 2nd 2012, aged nineteen. I have filled most of my days since then with RaceRunning. I have raced in almost all of the local, national and international races available to me.
I have gained muscle and confidence, diminished my fat stores and self-loathing, gained at least two inches in lengthened muscle and pride, became aerobically fit and have been included in an official team for the first time in my life.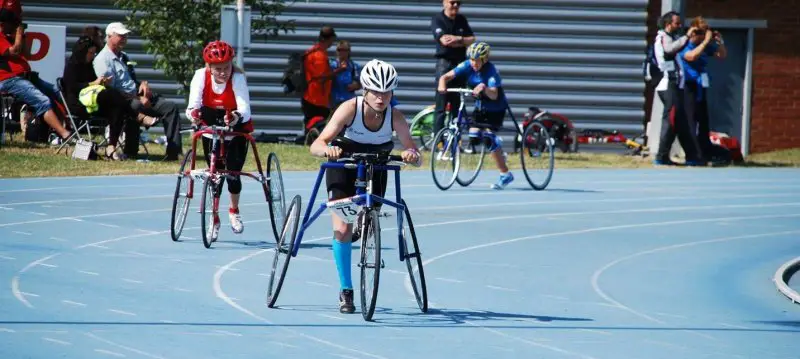 Quite by surprise, this enabled me to also join British cycling as an athlete. I now attempt to take on a bigger sporting challenge, a different sporting challenge. I was selected in a GB Paracycling trial in October of 2013 with the aim to become an endurance athlete with their development squad – their first female trike racer.
The ambitious decision satisfied my mantra completely. With my growth as a sportswoman, my mantra has grown too. I will never go back and I will always move forward, embracing my sporting world in as many ways as I can, as much as I can! I am now pedalling towards the Paralympics and getting closer every day.
By Hannah Dines
Check out…
• National Paralympic Day 2014
• Stand up! But what if you can't?
• The Last Leg: a review of the alternative Paralympics show
Do you take part in any sports? We'd love to hear about it. Get in touch by messaging us on Facebook, tweeting us @DHorizons, emailing us at editor@disabilityhorizons.com or leaving your comments below.