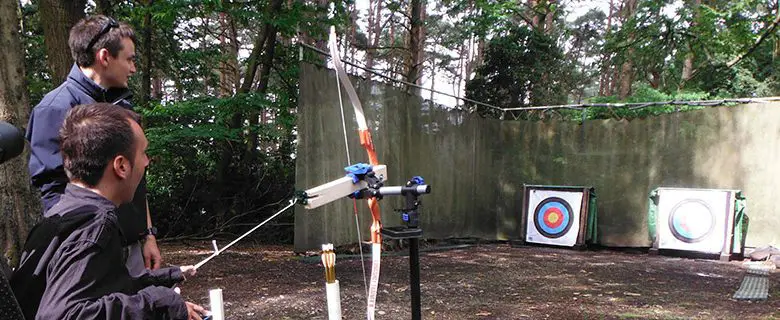 Recently Disability Horizons co-editor Martyn Sibley took a trip to the New Forest National Park to explore the huge range of accessible activities on offer. Here's what he discovered…
The New Forest has come a long way since William the Conqueror first began using the land as his private hunting ground in 1079. A natural haven in the heart of Hampshire, the New Forest is one of the most accessible national parks I've ever visited, and there's a huge range of accessible activities on offer, whatever your disability or impairment. Easily accessible from Brockenhurst train station, the New Forest National Park encourages you to leave the car at home, so you can make the most of the fresh air.
My journey into the heart of the New Forest began at the New Forest Centre, the National Park's main information hub, which is fully accessible to wheelchair users and those with limited mobility, with accessible toilets on both floors and an accessible lift.
The New Forest Centre houses the New Forest museum, and is a great place to hide out and learn some history if the weather takes a turn for the worse. Thankfully for me though, the sun was shining, so I decided to check out some of the more adventurous activities that the New Forest has to offer.
My first port of call was Cyclexperience, a cycle hire company that offers a range of inclusive bikes, trikes and tandems from just £4 an hour. It has a lot of inclusive options available for just about everyone, including those with balance and visual impairments, as the range of bikes can be steered by using the upper or lower body only. With miles and miles of accessible off-road cycle routes to explore throughout the New Forest, the freedom that Cyclexperience are able to offer to everyone is really excellent.
After learning about accessible cycling, I was ready to tackle something even more adventurous, so I headed off to the Avon Tyrrell Activity Centre to try out some of the accessible activities on offer. As part of the UK Youth Charity, Avon Tyrrell offer activity courses to schools and the general public, and many of their activities are also adaptable for disabled people.
Although we were nearly 200 miles from Sherwood Forest, I decided to embrace my inner Robin Hood and try out some archery. If like me you're unable to pull the string back yourself, there are staff and gadgets on hand to help you, giving you the option of aiming and releasing the arrows yourself, which was great fun.
My adventure wasn't over yet though, and next it was time to try something I never thought I'd get to experience – tree climbing! Both my wheelchair and I were hoisted high into the trees via a rope pulley system, in what was definitely a surreal but exhilarating experience, and one that I'd certainly be up for trying again. There's so much on offer at Avon Tyrrell, including swimming, canoeing and fishing and the sky is really the limit, as I proved with my tree top adventure!
Avon Tyrrell isn't the only accessible activity centre in the New Forest though, and although I didn't have time to visit it, Calshot Activities Centre offers a range of activities for all the family and for people of differing abilities. If you have kids to entertain, there's also Paultons Park, a theme park in the heart of the forest with many rides and attractions that are accessible for disabled children and adults.
Home to a stunning stretch of historic coastline, the New Forest certainly isn't new, but it is definitely maturing well with age, especially when it comes to its attitudes to accessibility. For my final adventure of this trip, I headed to Lymington SailAbility, which to date has helped every disabled person who has turned up at their door to get out on the water. With options available for sailing using your hands, legs or even just via breathing if you have no movement, Lymington SailAbility really is an excellent way to experience the thrill of the open water, and with over 15 years experience you can trust that you'll be in safe hands.
For those who prefer to stay on dry land though, there are also many spots of great natural beauty to explore in the New Forest, including the elegantly landscaped Exbury Gardens. With its own steam train, which has accessible carriages for wheelchair users, the gardens are fully accessible and there's even the option of a chauffeur driven buggy service if you feel like travelling in style.
Whatever pace you wish to travel at, the New Forest has something to suit everyone, including the Beauilieu National Motor Museum, the New Forest Wildlife Park and the historic Breamore House. Many of these destinations are easy to access on foot or via the open top New Forest Tour bus, which has three routes covering the whole National Park.
All in all, my time in the New Forest was a real eye opener and it was great to see how accessible England's countryside can really be. All the activity centres that I visited had accessibility at the heart of what they do, and it was amazing to try some things I never thought I'd get the chance to experience. If you want to find out more about everything, visit New Forest NPA's website.
By Martyn Sibley
Check out…
• Top 10 tips for a hassle-free accessible holiday
• Accessible walks: take a walk on the wheeled side
• Accessibility in Tokyo: the great, the good, the bad and the annoying
Have you been on any exciting travels or activities recently? We'd love to hear about it, so get in touch by messaging us on Facebook, tweeting us @DHorizons, emailing us at editor@disabilityhorizons.com or leaving your comments below.