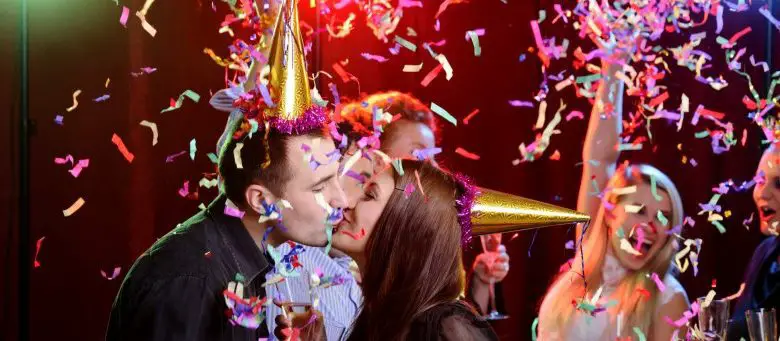 Relationships & Sex
Disability, sex and relationships: making the most of New Year celebrations
In our series on disability, sex and relationships, expert and resident agony aunt Tuppy (who runs Outsiders – a private club for disabled people looking for a relationship) answers your questions. This month, New Year's Eve…
Dear Aunty Tuppy,
I am going out on the town with a group of girls from work on New Year's Eve and I want to make the most of this opportunity as I don't get out socialising that often. Please can you give me some tips on how to meet a guy on this special night, when one is partially sighted and a wheelchair user.
Thanks, Madeline
———- ———- ———- ———- ———- ———- ———- ———- ———- ———- ———-
Dear Madeline,
I wouldn't build up your hopes too much, as this night is one where people go a bit mad, tend to stick to their groups, and don't take things seriously. Aim to have fun and if you hook up with someone, that's a bonus.
What you can do in advance to increase your potential is look your very best. Have a fab hair cut or hair do, great make-up, flattering clothes and present yourself in a way which expresses your personality.
As life out there will be quite wild, ensure you keep your phone and purse somewhere totally safe, in a pocket or elsewhere secreted on your body. Arrange to have a means of getting home at any stage, should you get stranded. This might be difficult as taxis will be expensive and in short supply on New Year's Eve, and friends and family may be busy and/or too drunk to drive, so all the more reason to prepare something in advance.
Obviously, if you go to clubs, bars and such places they need to be accessible (unless you don't mind being lifted  by a member of staff – not by a member of the public in case they are pissed), but a club cannot refuse you entrance as this is discrimination. Bouncers are usually stubborn, so threaten to report the club if they won't let you in and look serious about it.
Clubs are usually very crowded and dark, which makes navigation and seeing even more difficult for a wheelchair using person with impaired vision. What I do in a crowded place, such as at Outsiders' fundraising balls, when I'm with a wheelchair user who wants to get through a crowd, is walk through in front of them going "beep beep beep" very loudly, or you could do this yourself. This will certainly get you noticed, and maybe get people talking to you!
If you don't have a PA coming with you, ask one special friend (or more) if she/they can support you. This will mean reassuring you they are close-by and vowing not to desert you. She/they can be on the look-out for guys who are looking at you admiringly, describing them to you and bringing them over to meet you. This needn't be a full time job for them, but just now and then.
If a guy starts chatting to you, it may be noisy and he'll be shouting in your ear. Ask him to bring his ear to your mouth and tapping you to say it's there, so you can talk back. You could hold his head. Ask him to keep his hand on your arm so you know he's still beside you, as you can't see very well – ideal for speeding up the flirting process as things could get quite touchy-feely quite quickly! Kissing is OK, but you may be thrown out if you try shagging in the club (as I found out in London's Hippodrome!).
Talk about interesting things rather than dwelling on your impairments, but if he asks about them, reply in a jovial way. Ask him things like; "what are you doing tomorrrow​?" out of interest, to see what kinds of things he likes doing. If he's going to play golf and you hate the idea of golf, you know he's not for you!
Don't be afraid to be proactive – men may be cautious with you if they are unused to disabled people, so be reassuring, flirty, suggestive and as forward as you like. This is your night to have fun!
By Tuppy Owens
Check out…
• Disability and sex: let's be frank about sex toys
• Employment and disability: advantages of being disabled
• Top tips to be the sexiest queer 'crip'

Have you got a question about relationships or sex that you would like to ask Tuppy? Get in touch by messaging us on Facebook or emailing us at editor@disabilityhorizons.com.