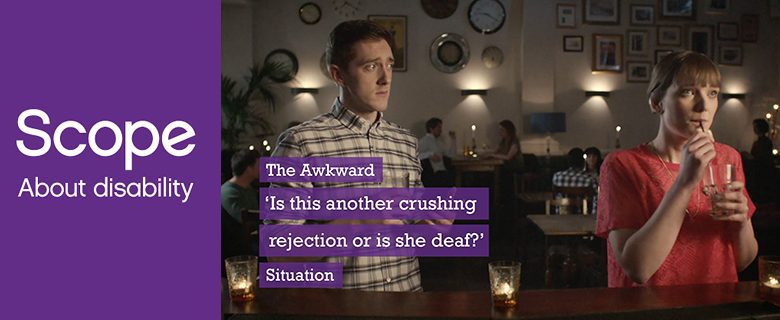 Have you ever experienced an awkward moment around disability? As a wheelchair user I know I have. 
It could be, for example, in a moment of hesitation around whether or not to bend down when greeting me in my wheelchair, or going on a date at a restaurant and finding there are steps inside.
I'm not alone. Friends tell me that when they're out socialising their disability can often feel like the elephant in the room.  Scope research shows that a significant majority (67%) of the  British public feel awkward around disabled people, and as a result they panic or worse – avoid contact altogether.
For me this is the worst thing to do, as it's only through talking can we learn more about each other and end those awkward moments.
Staggering new research by Scope reveals that only 5% of Brits have ever dated a disabled person.
With Valentine's Day approaching, we've created some tongue in cheek cards that challenge perceptions around disability and relationships and will hopefully bring people together.
A fear of seeming patronising or saying the wrong thing is often why most people feel awkward about disability issues, but it's incredibly important that we all stop worrying and start talking. That's why I'm incredibly proud to say that last year we launched our End the Awkward campaign, aimed at encouraging people to move past those seemingly difficult moments and help to make our society all the more inclusive.
This campaign uses humour to get people thinking differently about disability. Scope's adverts with disabled comedian Alex Brooker highlight some of the most awkward (and often hilarious) moments people tend to experience.
I lead a busy life and working in campaigning means meeting new people and buildings relationships to get the job done. I always try to address any concerns head-on and that way hopefully put people at ease by suggesting more accessible ways of working together.  I take this approach to my personal life too.  All of my relationships have been with men who aren't disabled and I could write a book on the 'awkward' and downright hilarious moments we've experienced together.  I have never asked anyone on a date (I'm old fashioned that way) but I have always openly talked about my impairment and how it may impact on a relationship.  I'm married now, so something must have worked!
So my advice this Valentine's day would be 'what are you waiting for?'  Go for that date and let's make this Valentine's Day inclusive for everyone, disabled or not. Let's end the awkward, together.
Help us break down these barriers and bring people together by sharing the cards with your followers on Twitter or Facebook using the #EndTheAwkward hashtag.
By Rosemary Frazer – Campaigns Manager at Scope
Check out…
• Disability, sex and relationships: condoms
• First Dates: has it raised questions for you too?
• Disability doesn't have to get in your way
Get in touch by messaging us on Facebook, tweeting us @DHorizons, emailing us at editor@disabilityhorizons.com or leaving your comments below.