A recent review by consumer research charity, Rica shows experiences of the Passenger Assist service you can book for train travel are mostly positive. But is this accurate and what does this mean for disabled people? Lorraine Gradwell looks at the findings…
I sat on the platform at Euston train station, watching people running past me, clutching bags and Starbucks paper cups, jumping on the train with just minutes to go. I'd arrived at the station early and so had asked to be put on an earlier train, which was already at the platform. Despite staff in the Passenger Assistance office sending me down to the platform, the staff there said they didn't have time to get the ramp out for me. So I watched, angry and frustrated as the train pulled out without me.
Despite my negative experience, according to Rica's recent report people are mostly satisfied with the Passenger Assist service. Rica's review, which was commissioned by the Association of Train Operating Companies (ATOC), looks at the levels of satisfaction with its booked Passenger Assist service and any changes to this over time. The findings are based on a two-year study, for which Rica has published its first year report and will publish a full report in 2016.
Rica recruited a sample of 51 people with a range of impairments for the study, which covers all aspects of the passenger journey – from booking through to leaving the destination station. It also looked at the usefulness and accessibility of each stage of the journey. It found that generally passengers are satisfied with the assistance provided, with 69% of journeys being rated as 'good' or 'very good'.
If, like me, you've done a lot of travelling on trains – both in the UK and abroad – then you'll be able to tell tales of wonderful experiences (the Rocky Mountaineer Railroad comes to mind) and possibly a few horror stories too(Basingstoke, in the sidings, don't ask!).
At the end of year one the Rica findings, though, are mostly positive: on 90% of journeys people received 'all or some' of the assistance they had booked. Assistance on to the train was there for 92% of journeys and, where a ramp was requested, it was provided on 93% of journeys.
However, assistance to the seat was lower at 77% and help getting off the train was provided for just 78%. Passengers found it easy to find information on routes and times (84%), but less so on facilities (68%) and accessibility (65%).
Confidence is a large part of how we experience our journeys and Rica found that on 59% of journeys passengers felt 'confident' or 'very confident', though older passengers and those with learning disabilities were less likely to feel confident. Very relevant to this, people rated staff behaviour highly, although the breakdown is uneven with booking staff receiving 80% satisfaction rating, station staff 70% and on-train staff 60%.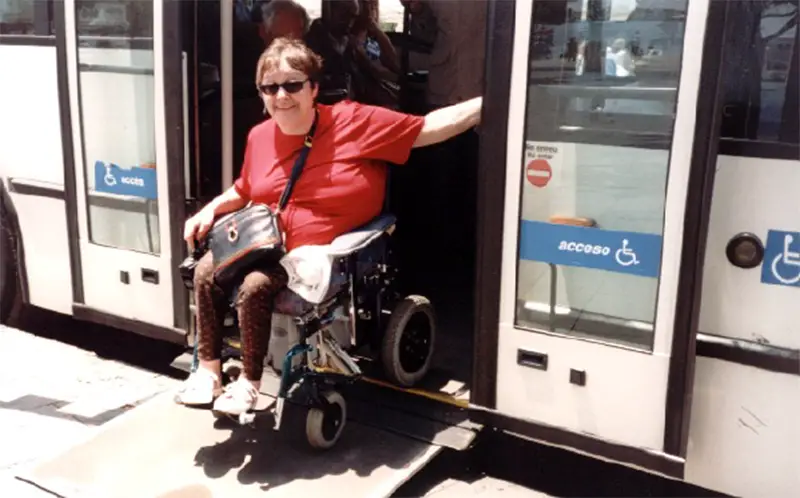 This study is a very welcome development and will hopefully flag up areas for improvement for all stages of the passenger journey. It's regrettable that it doesn't cover access to on-board facilities, such as refreshments and toilets. Nor does it deal with how people leave the destination stations; I've been very grateful in the past when staff have helped me commandeer a London taxi. The study also doesn't highlight the fact that many smaller stations do not provide assistance at all, meaning of course that you can't use them.
As a child I usually travelled in the guards van on train journeys, with my dad drawing the short straw and travelling with me while the rest of the family had the luxury of seats in a compartment with other people. Actually it's probably only about seven or eight years since I last travelled in a guards van, between London and Croydon in my capacity as a Chief Executive – no first class guards van exists that I know of!
I can't help comparing these experiences to my use of the Metrolink tram system in Manchester – in essence an urban railway system. I live near a station, I don't book assistance, I just turn up. If it's busy I squash in with my powered wheelchair with everyone else. Two of us (in wheelchairs) can travel together, with our friends or family, our children or work colleagues. The difference is that the system was planned and built to be accessible, with mega-input from disabled people and their organisations.
And this point is crucial: as long as our journeys are 'special' rather than mainstream, then we will experience difficulties and delays that the average passenger does not have to deal with. Of course we'll also encounter helpful and courteous assistance: hopefully the Rica study will highlight these two 'opposing' facts and propose ways to improve and even to 'mainstream' our train journeys.
Read the Rica report here.
Interested in becoming a member of Rica's research panel: find out more here.
By Lorraine Gradwell
Have you got a story to tell about public transport? Get in touch by messaging us on Facebook, tweeting us @DHorizons, emailing us at editor@disabilityhorizons.com or leaving your comments below.
If you're planning your next holiday, why not visit our new travel site, Accomable, to find accessible accommodation not just in the UK, but across the world.