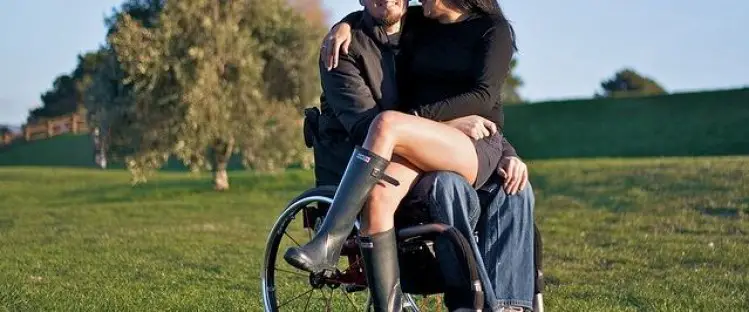 In our series on disability, sex and relationships, expert and resident agony aunt Tuppy (who runs Outsiders – a private club for disabled people looking for a relationship) answers your questions. This week, hearing loss.
#DHgurus
Dear Aunty Tuppy,
I am a young woman with 70% hearing loss. I use two hearing aids which I am now quite comfortable with. I have just started my first sexual love affair and seek your advice. So far, I have only had sex with my man in the daytime, as I fear sex in the dark in bed without my hearing aids in. Also, I am finding my tinnitus really distracting while having sex, I don't know why. Do you have any ideas on ways to put my fears and bothers to rest?
Susie
———- ———- ———- ———- ———- ———- ———- ———- ———- ———- ———- ———- —-
Dear Susie,
Yes, I have gathered some ideas from deaf girlfriends and hope this will help. I will discuss the tinnitus first. I don't know how much support you have had for dealing it, but things can make it less troublesome.
If you take a low dose of Fluoroxetine to help you chill – it decreases the stress hormones and helps you relax and sleep.
Counselling and peer support are useful. They may suggest something like you accept it into your life as a family member. There are also homeopathic and natural and dietary remedies that can help. Your hearing aids can actually help with tinnitus as well as balance.
Stress makes the tinnitus more important (loud) so it is vital to be relaxed and go at a pace good for you. Take charge, so that it is up to you when you take your aids out, what lighting there is. Make good use of mirrors to see what you cannot hear. When you are really deaf you can still "hear" through bone, so when your boyfriend talks to you, ask him to speak (or moan with pleasure) against your skin. Most people find it great to get such feedback.
Have good relaxing chilled out music that numbs the tinnitus. Consider hearing your favourite tracks on a loop system, using i-tunes to scramble the order of his and your own music – sexy in itself!
Sound Oasis is great. It has a clock on it too so can wake up to thunder, waves or whatever floats your boat. Sound Oasis is available from AOHL Action on Hearing Loss, formerly RNID.
Discuss with your boyfriend being in the dark with him, in bed with your hearing aids out. Some people do not want to communicate verbally during sex but it's probably best to have the means to communicate.
Fix your bedroom up with low-level lighting which you may be able to keep on all night. Dimmers could be installed (by an electrician) instead of on-off switches. That way you can still see each other's expressions etc.
You could have fun creating physical signs (like pinching an elbow) you can use in bed that say things like 'I love you', 'I am about to come!' and 'I need to be back at work in 15 minutes!' or whatever you might wish to communicate.
Get into the habit of discussing sex when you are relaxing together, and by texts etc., swapping desires and fantasies. Once you get used to communicating openly about sex, you will be delighted in where life leads you!
You might find it hard to believe but there is a book which describes how a deaf women uses her impairment in sexual activity! The book is called 'Playing with Disabilities' It describes how a sub with a hearing impairment had her hearing aid thrown in the bin before being manhandled, fingered and pushed down onto the floor. She had a safe word which would indicate the dom must stop, in case she needed to use it. She tells of how good it is to know the erotic nature of her deafness and use it like a sex toy.
Another contributor to the book points out that it's sometimes useful to look upon your impairment, especially if it includes something limiting, as being another dominant in your life, if you are sub, as it's part of your sexual dynamic.
Co-editor of this book, Angela Stassinopoulos, recognised that this phenomenon is a great leap and she felt 'the shock of the new' when she personally played with some of the disabled individuals herself. She says that she needed to spend a little more time talking before playing (or 'scening' as she calls it). She described what I had already heard, that sometimes disabled people find lovers are afraid to touch them, and Angela found that an extreme sensation can feel doubly wonderful. She writes about how very much touch can convey emotion and acceptance, and found such experiences 'poetic'.
I am not suggesting you get into BDSM, but trying to show you there are positive ways to enjoy sex when you are deaf so think about it, discuss everything with your boyfriend so there are no secrets, no embarrassments and nothing holding you back.
It's just worth noting that the law presumes that you cannot actually consent to having sex with a partner, because of your deafness. This law is there to protect vulnerable people (usually those with severe learning impairment) and is never acted upon with deaf people. What counts is that you both consent – you could even put this in writing.
He may find the sex more exciting for knowing this! Like back in the old days before the 2nd world war, Alexander Woollcott wrote 'Everything I like is either illegal, immoral or fattening.'!
By Tuppy Owens
Outsiders is a FREE social, peer support and dating club, run by and for socially and physically disabled people. Its members have a wide range of impairments, including visual and hearing impairment. 
Get in touch by messaging us on Facebook, tweeting us @DHorizons, emailing us at editor@disabilityhorizons.com or leaving your comments below.