To help you plan a day out or few nights away this Bank Holiday Monday or half term, we've asked Blue Badge Style, which assesses accessible and stylish venues across the UK, to round up 10 of the best accessible pub restaurants and B&Bs for foodies.
The Fox at Willian, Hertfordshire
Near to London, nestled in the Hertfordshire countryside, is The Fox at Willian. It's an award-winning pub and fine dining restaurant located in a picturesque village of Willian near Letchworth. It won Gastro Pub of the Year 2014 and was awarded a place on the Budweiser Budvar Top 50 Gastropub Awards 2015.
Part of the group that owns The White Horse at Brancaster (see below), it's a picturesque country pub with friendly staff, good beer and excellent food in an airy and spacious dining area. It's very much a country gastro with a nice mixture of high quality, classic pub grub (fish and chips etc) and fancier dishes – pan fried gilt head bream, rosemary and white bean puree and seared scallops. There's been a lot of praise for the pub's food and general ambiance, which makes it worth a trip.
And crucially, the access at The Fox is good too. The building is fully wheelchair accessible and it has a fully-equipped disabled toilet. It also has disabled parking at the rear of pub. We gave it 2.5 Blue Badge Style Ticks (BBS Ticks) out of a maximum of 3 for style, access and facilities.
The White Horse, North Norfolk
As mentioned above, The White Horse at Brancaster on the North Norfolk coast is another great pub, which also has rooms, with stunning views of the North Sea. It's somewhere that will definitely blow away the cobwebs. Serving beautiful fresh seafood, it's disabled-friendly and accommodates dogs in the bar.
Everywhere is accessible, including the terrace, and there's a disabled toilet. It's also close to the very trendy Burnham Market, known as 'Little Chelsea'. With Hunter wellies abound, the shopping offers an interesting collection of high class boutiques and seaside paraphernalia.
Pipe and Glass Inn, Yorkshire
Further inland and north is the Pipe and Glass Inn, East Yorkshire, which also has rooms. There are a number of Michelin Starred restaurants that have scant regard for someone with a disability, but not this one. The Michelin Awarded Pipe and Glass Inn is not only accessible, it's also got a disabled toilet. It won the 2012 Michelin Eating Out in Pubs Guide – Pub of the Year and has had a Michelin star since 2010. It is also the Good Pub Guide's National Dining Pub of the Year for 2015.
The former coaching inn stands on the site of the original gatehouse to Dalton Park on the beautiful Dalton Estate, with parts of the current building dating back to the 17th century. The food sounds great, such as the roast rump of lamb with barley, beer and broad bean risotto, and mutton belly fritter. It's not too expensive either and has a great vegetarian menu – again unusual for a pub.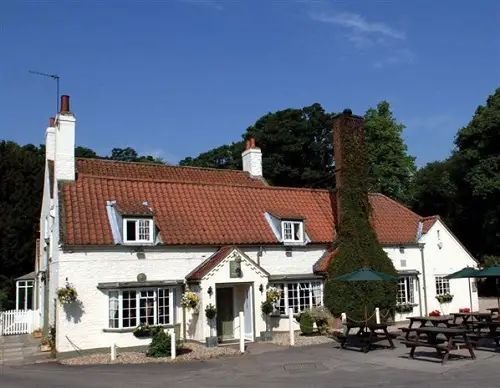 The Church Green, Cheshire
Further west you may want to try Aiden Byrne's The Church Green pub in Lymm, Cheshire. He won the fish course in The Great British Menu 2013 for Comic Relief. He served 'A Culinary Joke', which was a reworked prawn cocktail under a red nose of a passion fruit sphere.
Jay Rayner of The Observer said: "He is, without doubt, one of the new stars of Britain's food world." He was the youngest chef, at 22,, to win a Michelin Star.
The Church Green menu looks good with dishes such as corn fed chicken, truffle macaroni, glazed shallot and hazelnut sauce. Its Sunday roast dinners are booked well in advance. With regards to accessibility, it has a side door with a permanent ramp (the main door has steps), its tables accommodate wheelchairs and there is a fully equipped disabled toilet.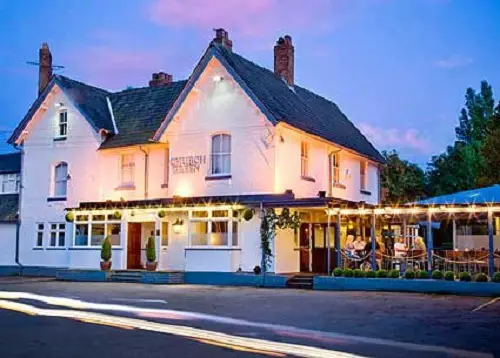 The Punch Bowl, Cumbria
If you travel further north then The Punch Bowl, Cumbria, is the place to visit. Located in the Lake District at Crosthwaite, it's been awarded the Cumbria Dining Pub of the Year for 2015 and 2016. It's positioned in the heart of the Lyth Valley, with spectacular views of the countryside from its terrace garden.
The food sounds lovely and is very reasonably priced at £6.95 for a starter of twice baked mature cheddar souffle and £17.95 for saddle of rabbit with a crayfish mousse main course.
However, access is tricky as the Inn element of the venue is pretty much out of bounds for the less-able. The staff at The Punch Bowl told us that because it's an old building there is just no space for a lift, so there are no disabled hotel rooms. The restaurant is a bit more accessible though. It has a disabled toilet in the bar area and there are two tables in that section of the building, which could be used for a party with a wheelchair user (or users).
Alternatively, it is possible to get into the main restaurant area through the back door. But then to go to the toilet you have to go back outside and round to the front door again. The same goes for getting from the terrace to the toilet. Perhaps you should only go on a sunny day?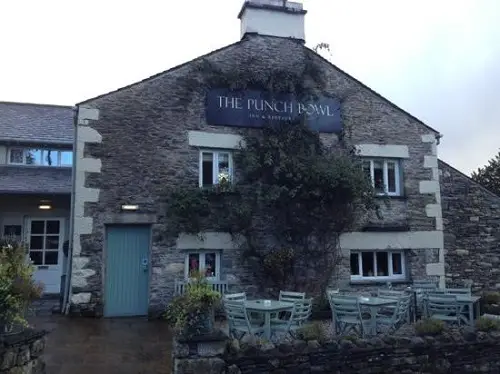 The Pony & Trap and the Salt & Malt, Bristol
If you're wanting to go somewhere that isn't too far into the chilly north, The Pony & Trap and The Salt & Malt are a pub and cafe near Bristol. We've put them together as they are both run by Michelin chef Josh Eggleton.
The Pony & Trap is in Chew Magna and won a Michelin star in 2011, which has been maintained. It actually has information about access on its website. Unfortunately, there are four steps down to the restaurant in the 200-year-old building. However, in the front pub part, it is accessible and has tables for diners with disabilities. There's no disabled toilet, but it promised to add one in Oct 2014 – still not got one! As a result, it only got 2 BBS Ticks.
The sister café, the Salt & Malt by Chew Valley lake, has to be visited as it's 10 minutes by car from The Pony & Trap and has a disabled toilet – so you need to keep your legs crossed! It's also a must as it does a great mix of food – it's a fish cafe, tearoom and takeaway, all in a beautiful waterside setting.
Everything is handmade on site with fish delivered each day from Cornwall. It also offers a gluten free fish and chip menu, as well as fresh mussels, squid, crab and line caught fish dishes. Handmade burgers and bangers are also sourced locally.
Benn Tunnicliffe Restaurant, Cornwall
Another south west coast restaurant/bar that we particularly love is the Ben Tunnicliffe Restaurant at Sennen Cove, Cornwall, a dog walker and surfer hangout. The terrace overlooking Sennen Cove is a great place to feel good breathing in the sea air. It's fully accessible, has great seafood and a good disabled toilet. There's also a huge car park nearby and often a live band in the restaurant and the staff are very friendly and helpful.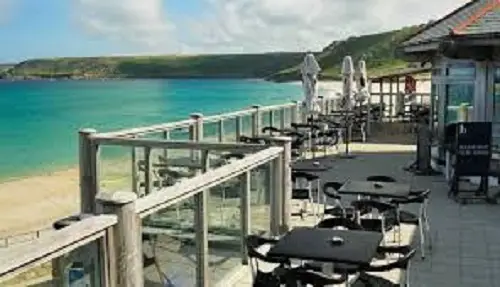 Not forgetting the rest of the UK, we've reviewed many places in Wales, Scotland and Ireland on our website too, but here are just three:
Bryn Williams at Porth Eirias, Wales
Bryn William's at Porth Eirias in Colwyn Bay on the North Wales coast has only recently opened and is run by Bryn Williams, one of Britain's top chefs, who regularly appears on BBC's Saturday Kitchen and has worked with Marco Pierre White and Michel Roux.
This café come bar come restaurant is a big open space with informal dining. It has flat access throughout and a disabled toilet. The ethos of the Bryn Williams is you 'can do what you like'. It serves breakfast, small grazing plates or a full dinner menu, and all a few minutes from the beach.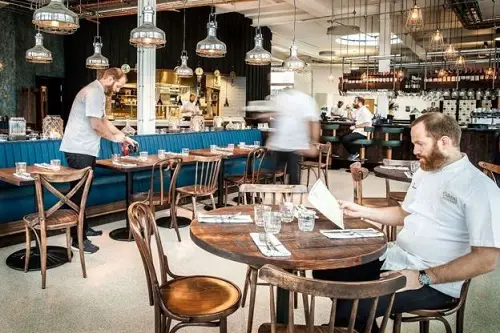 The Kitchin, Edinburgh
Our Scottish pick is The Kitchin on the Leith waterfront in Edinburgh. This is Tom Kitchin's restaurant where dining; "is relaxed but welcoming with the food in focus." This restaurant opened in 2006 and serves; "modern British cuisine influenced by French cooking techniques."
He is another young winner of a Michelin star and The Kitchin was voted the best restaurant in Scotland in 2012. Its sister pub, The Scran & Scallie in Stockbridge in Edinburgh, is also worth a visit.
With regards to access at the Kitchin, there are no steps into the restaurant or anywhere inside, but there are cobbles near the front door. However, they've never been a big problem for visitors, according to the lady we spoke to (she's obviously never walked in heels or with a stick!).
There is space to move around and some tables are more accessible than others, so let them know if you're visiting. They also have a disabled toilet with grab bars!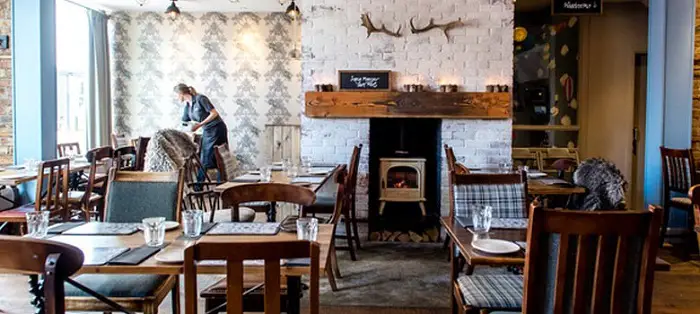 The Old Schoolhouse Inn, Belfast
Last but not least is The Old Schoolhouse Inn at Newtownards just outside Belfast, Northern Ireland, which also has rooms. It sits beside the beautiful scenery of Strangford Lough and serves locally sourced food and seafood in a "light and imaginative way".
A newly refurbished building, it's a winner in the accessibility stakes as it has flat access and a disabled toilet – the staff there sounded bemused that we should even ask such a question! The chef Will Brown has worked with Marco Pierre White and the restaurant won a Michelin Bib Gourmand 2014, 2015 and 2016. Regarded as one of the best restaurants in Northern Ireland, you can submerse yourself in the beautiful countryside and then eat it's produce.
We hope this has encouraged you to go out and indulge this Bank Holiday without worrying about the accessibility of the Great British countryside – as long as you pick one of these recommendations. You can find many more on our website and app www.bluebadgestyle.com.
By Blue Badge Style
Have you visited any of these venues, or know of one that Blue Badge Style should include on its website? Let us know by messaging us on Facebook or tweeting us @DHorizons and @bluebadgestyle.